 Anastomosis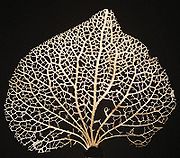 An
anastomosis
is the reconnection of two streams that previously branched out, such as blood vessels or leaf veins. The term is used in
medicine
Medicine
Medicine is the science and art of healing. It encompasses a variety of health care practices evolved to maintain and restore health by the prevention and treatment of illness....
,
biology
Biology
Biology is a natural science concerned with the study of life and living organisms, including their structure, function, growth, origin, evolution, distribution, and taxonomy. Biology is a vast subject containing many subdivisions, topics, and disciplines...
,
mycology
Mycology
Mycology is the branch of biology concerned with the study of fungi, including their genetic and biochemical properties, their taxonomy and their use to humans as a source for tinder, medicinals , food and entheogens, as well as their dangers, such as poisoning or...
and
geology
Geology
Geology is the science comprising the study of solid Earth, the rocks of which it is composed, and the processes by which it evolves. Geology gives insight into the history of the Earth, as it provides the primary evidence for plate tectonics, the evolutionary history of life, and past climates...
.
Medicine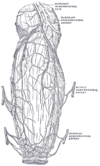 Anastomosis is the connection of two structures. It refers to connections between
blood vessel
Blood vessel
The blood vessels are the part of the circulatory system that transports blood throughout the body. There are three major types of blood vessels: the arteries, which carry the blood away from the heart; the capillaries, which enable the actual exchange of water and chemicals between the blood and...
s or between other tubular structures such as loops of
intestine
Intestine
In human anatomy, the intestine is the segment of the alimentary canal extending from the pyloric sphincter of the stomach to the anus and, in humans and other mammals, consists of two segments, the small intestine and the large intestine...
. In
circulatory anastomoses
Circulatory anastomosis
A circulatory anastomosis is a connection between two blood vessels, such as between arteries , between veins or between an artery and a vein . Anastomoses between arteries and between veins result in a multitude of arteries and veins, respectively, serving the same volume of tissue...
, many arteries naturally anastomose with each other, for example the
inferior epigastric artery
Inferior epigastric artery
In human anatomy, inferior epigastric artery refers to the artery that arises from the external iliac artery and anastomoses with the superior epigastric artery...
and
superior epigastric artery
Superior epigastric artery
In human anatomy, superior epigastric artery refers to a blood vessel that carries oxygenated blood and arises from the internal thoracic artery...
.The circulatory anastomosis is further divided into arterial and venous anastomosis. Arterial anastomosis includes actual arterial anastomosis (e.g. palmar arch, plantar arch) and potential arterial anastomosis (e.g. coronary arteries and cortical branch of cerebral arteries). An example of
surgical anastomosis
Surgical anastomosis
In surgical jargon, to create an anastomosis is to join together two hollow organs , usually to restore continuity after resection, or to bypass an unresectable disease process. Historically such procedures were performed with suture material, but increasingly mechanical staplers and biological...
occurs when a segment of intestine is resected and the two remaining ends are sewn or stapled together (anastomosed), for example
Roux-en-Y anastomosis
Roux-en-Y anastomosis
In general surgery, a Roux-en-Y anastomosis, less formally and precisely Roux-en-Y, is a surgically created anastomosis. Typically, it is between small bowel and small bowel that is distal from the cut end.-Overview:The name is derived from the surgeon who first described it and the stick-figure...
. The procedure is referred to as intestinal anastomosis.
Pathological
Pathology
Pathology is the precise study and diagnosis of disease. The word pathology is from Ancient Greek , pathos, "feeling, suffering"; and , -logia, "the study of". Pathologization, to pathologize, refers to the process of defining a condition or behavior as pathological, e.g. pathological gambling....
anastomosis results from trauma or disease and may involve
vein
Vein
In the circulatory system, veins are blood vessels that carry blood towards the heart. Most veins carry deoxygenated blood from the tissues back to the heart; exceptions are the pulmonary and umbilical veins, both of which carry oxygenated blood to the heart...
s,
arteries
Artery
Arteries are blood vessels that carry blood away from the heart. This blood is normally oxygenated, exceptions made for the pulmonary and umbilical arteries....
, or intestines. These are usually referred to as
fistula
Fistula
In medicine, a fistula is an abnormal connection or passageway between two epithelium-lined organs or vessels that normally do not connect. It is generally a disease condition, but a fistula may be surgically created for therapeutic reasons.-Locations:Fistulas can develop in various parts of the...
s. In the cases of veins or arteries, traumatic fistulas usually occur between artery and vein. Traumatic intestinal fistulas usually occur between two loops of intestine (entero-enteric fistula) or intestine and
skin
Skin
-Dermis:The dermis is the layer of skin beneath the epidermis that consists of connective tissue and cushions the body from stress and strain. The dermis is tightly connected to the epidermis by a basement membrane. It also harbors many Mechanoreceptors that provide the sense of touch and heat...
(enterocutaneous fistula).
Portacaval anastomosis
Portacaval anastomosis
A portacaval anastomosis is a specific type of anastomosis that occurs between the veins of portal circulation and those of systemic circulation....
, by contrast, is an anastomosis between a vein of the portal circulation and a vein of the
systemic circulation
Systemic circulation
Systemic circulation is the part of the cardiovascular system which carries oxygenated blood away from the heart to the body, and returns deoxygenated blood back to the heart. This physiologic theory of circulation was first described by William Harvey...
, which allows blood to bypass the liver in patients with
portal hypertension
Portal hypertension
In medicine, portal hypertension is hypertension in the portal vein and its tributaries.It is often defined as a portal pressure gradient of 10 mmHg or greater.-Causes:Causes can be divided into prehepatic, intrahepatic, and posthepatic...
, often resulting in hemorrhoids,
esophageal varices
Esophageal varices
In medicine , esophageal varices are extremely dilated sub-mucosal veins in the lower esophagus...
, or
caput medusae
Caput medusae
Caput medusae is the appearance of distended and engorged paraumbilical veins, which are seen radiating from the umbilicus across the abdomen to join systemic veins...
.
Evolution
In
evolution
Evolution
Evolution is any change across successive generations in the heritable characteristics of biological populations. Evolutionary processes give rise to diversity at every level of biological organisation, including species, individual organisms and molecules such as DNA and proteins.Life on Earth...
, anastomosis is a recombination of evolutionary lineage. Conventional accounts of evolutionary lineage present themselves as the simple branching out of species into novel forms. Under anastomosis, species might recombine after initial branching out, such as in the case of recent research which shows that ancestral populations along human and chimpanzee lineages may have interbred after an initial branching event. The concept of anastomosis also applies to the theory of
symbiogenesis
Symbiogenesis
Symbiogenesis is the merging of two separate organisms to form a single new organism. The idea originated with Konstantin Mereschkowsky in his 1926 book Symbiogenesis and the Origin of Species, which proposed that chloroplasts originate from cyanobacteria captured by a protozoan...
, in which new
species
Species
In biology, a species is one of the basic units of biological classification and a taxonomic rank. A species is often defined as a group of organisms capable of interbreeding and producing fertile offspring. While in many cases this definition is adequate, more precise or differing measures are...
emerge from the formation of novel symbiotic relationships.
Mycology
In
mycology
Mycology
Mycology is the branch of biology concerned with the study of fungi, including their genetic and biochemical properties, their taxonomy and their use to humans as a source for tinder, medicinals , food and entheogens, as well as their dangers, such as poisoning or...
, anastomosis is the fusion between branches of the same or different hyphae. Hence the bifurcating fungal hyphae can form true reticulating networks. By sharing materials in the form of dissolved ions, hormones, and nucleotides, the fungus maintains bidirectional communication with itself. The fungal network might begin from several origins; several spores (
i.e.
by means of
conidial anastomosis tubes
Conidial anastomosis tubes
Conidial anastomosis tubes are cells formed from the conidia of many filamentous fungi. These cells have a tubular shape and form an anastomosis that allows fusion between conidia....
), several points of penetration, each a spreading circumference of absorption and assimilation. Once encountering the tip of another expanding, exploring self, the tips press against each other in pheromonal recognition or by an unknown recognition system, fusing to form a genetic singular that can cover hectares called a
genet
Genet
-Aircraft:*Armstrong Siddeley Genet, aircraft engine*Armstrong Siddeley Genet Major, aircraft engine-Animals and Plants:*Genet , a colony of plants, fungi or bacteria that come from a single genetic source....
or just microscopical areas.
For fungi, anastomosis is also a component of
sex
Sex
In biology, sex is a process of combining and mixing genetic traits, often resulting in the specialization of organisms into a male or female variety . Sexual reproduction involves combining specialized cells to form offspring that inherit traits from both parents...
. In some fungi, two different haploid mating types — if compatible — merge. Somatically, they form a morphologically similar mycelial wave front that continues to grow and explore. The significant difference, is that in each septated unit is binucleate, containing two unfused
nuclei
Cell nucleus
In cell biology, the nucleus is a membrane-enclosed organelle found in eukaryotic cells. It contains most of the cell's genetic material, organized as multiple long linear DNA molecules in complex with a large variety of proteins, such as histones, to form chromosomes. The genes within these...
, i.e. one from each parent that will eventually undergo
karyogamy
Karyogamy
Karyogamy is the fusion of pronuclei of two cells, as part of syngamy, fertilization, or true bacterial conjugation.It is one of the two major modes of reproduction in fungi...
and meiosis to complete the sexual cycle.
Geology
In
geology
Geology
Geology is the science comprising the study of solid Earth, the rocks of which it is composed, and the processes by which it evolves. Geology gives insight into the history of the Earth, as it provides the primary evidence for plate tectonics, the evolutionary history of life, and past climates...
, anastomosis refers to
quartz
Quartz
Quartz is the second-most-abundant mineral in the Earth's continental crust, after feldspar. It is made up of a continuous framework of SiO4 silicon–oxygen tetrahedra, with each oxygen being shared between two tetrahedra, giving an overall formula SiO2. There are many different varieties of quartz,...
(or other)
veins
Vein (geology)
In geology, a vein is a distinct sheetlike body of crystallized minerals within a rock. Veins form when mineral constituents carried by an aqueous solution within the rock mass are deposited through precipitation...
displaying this property, which is often related to shearing in
metamorphic
Metamorphism
Metamorphism is the solid-state recrystallization of pre-existing rocks due to changes in physical and chemical conditions, primarily heat, pressure, and the introduction of chemically active fluids. Mineralogical, chemical and crystallographic changes can occur during this process...
regions.
Anastomosing streams are a type of organic-rich
anabranching river
Anabranch
An anabranch is a section of a river or stream that diverts from the main channel or stem of the watercourse and rejoins the main stem downstream. Local anabranches can be the result of small islands in the watercourse...
that consist of multiple channels that divide and reconnect and are separated by such cohesive material that they would likely not be able to migrate from one channel position to another. Rivers with anastomosed reaches include the
Magdalena River
Magdalena River
The Magdalena River is the principal river of Colombia, flowing northward about through the western half of the country. It takes its name from the biblical figure Mary Magdalene. It is navigable through much of its lower reaches, in spite of the shifting sand bars at the mouth of its delta, as...
in
Colombia
Colombia
Colombia, officially the Republic of Colombia , is a unitary constitutional republic comprising thirty-two departments. The country is located in northwestern South America, bordered to the east by Venezuela and Brazil; to the south by Ecuador and Peru; to the north by the Caribbean Sea; to the...
, the upper
Columbia River
Columbia River
The Columbia River is the largest river in the Pacific Northwest region of North America. The river rises in the Rocky Mountains of British Columbia, Canada, flows northwest and then south into the U.S. state of Washington, then turns west to form most of the border between Washington and the state...
in
British Columbia
British Columbia
British Columbia is the westernmost of Canada's provinces and is known for its natural beauty, as reflected in its Latin motto, Splendor sine occasu . Its name was chosen by Queen Victoria in 1858...
,
Canada
Canada
Canada is a North American country consisting of ten provinces and three territories. Located in the northern part of the continent, it extends from the Atlantic Ocean in the east to the Pacific Ocean in the west, and northward into the Arctic Ocean...
, and the upper Narew River in
Poland
Poland
Poland , officially the Republic of Poland , is a country in Central Europe bordered by Germany to the west; the Czech Republic and Slovakia to the south; Ukraine, Belarus and Lithuania to the east; and the Baltic Sea and Kaliningrad Oblast, a Russian exclave, to the north...
.