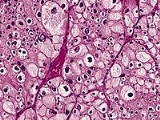 Pathology
Pathology
is the precise study and
diagnosis
Medical diagnosis
Medical diagnosis refers both to the process of attempting to determine or identify a possible disease or disorder , and to the opinion reached by this process...
of
disease
Disease
A disease is an abnormal condition affecting the body of an organism. It is often construed to be a medical condition associated with specific symptoms and signs. It may be caused by external factors, such as infectious disease, or it may be caused by internal dysfunctions, such as autoimmune...
. The word
pathology
is from
Ancient Greek
Ancient Greek
Ancient Greek is the stage of the Greek language in the periods spanning the times c. 9th–6th centuries BC, , c. 5th–4th centuries BC , and the c. 3rd century BC – 6th century AD of ancient Greece and the ancient world; being predated in the 2nd millennium BC by Mycenaean Greek...
,
pathos
, "feeling, suffering"; and ,
-logia
, "the study of".
Pathologization
, to pathologize, refers to the process of defining a condition or behavior as pathological, e.g. pathological gambling.
Pathologies
is synonymous with diseases. The suffix "path" is used to indicate a disease, e.g.