 American Judicature Society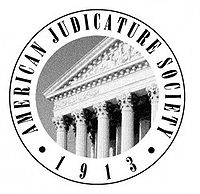 The
American Judicature Society
(
AJS
) (founded 1913) is an independent, nonpartisan, national organization of judges, lawyers, and interested members of the public whose mission is to improve the American justice system - to "secure and promote an independent and qualified judiciary and fair system of justice." Its membership roster includes renowned members of the legal profession, including U.S. attorneys general and Supreme Court justices.
Its primary focus areas are:
Judicial independence
Judicial conduct and ethics
Judicial selection
The jury
Criminal justice system
Public understanding of the justice system
In order to accomplish its mission, AJS supports research, publications, and educational programs. It also sponsors several annual awards recognizing achievement by state and federal judges.
The AJS main offices are located at The Opperman Center at
Drake University
Drake University
Drake University is a private, co-educational university located in Des Moines, Iowa, USA. The institution offers a number of undergraduate and graduate programs, as well as professional programs in law and pharmacy. Today, Drake is one of the twenty-five oldest law schools in the country....
,
Des Moines, Iowa
Des Moines, Iowa
Des Moines is the capital and the most populous city in the US state of Iowa. It is also the county seat of Polk County. A small portion of the city extends into Warren County. It was incorporated on September 22, 1851, as Fort Des Moines which was shortened to "Des Moines" in 1857...
.
Current events
On September 10, 2005 the AJS announced the establishment of the Institute of Forensic Science and Public Policy to research and provide education on issues leading to wrongful convictions in the U.S. The institute will be led by former U.S. Attorney General
Janet Reno
Janet Reno
Janet Wood Reno is a former Attorney General of the United States . She was nominated by President Bill Clinton on February 11, 1993, and confirmed on March 11...
and David Dorn, MD, former dean of the Stanford Medical School. The institute will be located in Greensboro, NC.
http://releases.usnewswire.com/GetRelease.asp?id=56513
On September 9, 2005 the AJS weighed in on the Senate hearings on the nomination of John G. Roberts as the Chief Justice of the U.S.
Supreme Court
Supreme Court of the United States
The Supreme Court of the United States is the highest court in the United States. It has ultimate appellate jurisdiction over all state and federal courts, and original jurisdiction over a small range of cases...
, saying that Roberts was ethically bound not to make promises on his future votes.
September 9, 2005 opinion
2005-2006 Board of Directors
Gordon L Doefer, Associate Justice, Massachusetts Appeal Court
Marc T. Amy, Louisiana Court of Appeals, Third Circuit
William W. Baker, Washington Court of Appeals
Denise Courtland Hayes, General Counsel, NAACP
Janet Reno

Janet Reno

Janet Wood Reno is a former Attorney General of the United States . She was nominated by President Bill Clinton on February 11, 1993, and confirmed on March 11...


(former Attorney General of the United States)
Kevin S. Burke, Fournt Judicial District Court of Minnesota
John L. Hill, Jr., former Chief Justice (retired), Texas
R. Gil Kerlikowske, Chief, Seattle Police Department
Ricard B. Teitelman, Missouri Supreme Court
Peter D. Webster, Florida First District Court of Appeals
Former directors/board members/members
William Ramsey Clark

Ramsey Clark

William Ramsey Clark is an American lawyer, activist and former public official. He worked for the U.S. Department of Justice, which included service as United States Attorney General from 1967 to 1969, under President Lyndon B. Johnson...


, 66th U. S. Attorney General
Tom C. Clark

Tom C. Clark

Thomas Campbell Clark was United States Attorney General from 1945 to 1949 and an Associate Justice of the Supreme Court of the United States .- Early life and career :...


, U. S. Attorney General (1945–1949), Associated Justice of the Supreme Court of the United States (1949–1967)
Robert A. Katzmann, United States Circuit Judge for the U.S. Court of Appeals for the Second Circuit.
William French Smith

William French Smith

William French Smith was an American lawyer and the 74th Attorney General of the United States.-Biography:...


(74th Attorney General of the United States)
Warren Austin

Warren Austin

Warren Robinson Austin was an American politician and statesman; among other roles, he served as Senator from Vermont....


, former U.S. Senator, Vermont, former U. S. Ambassador to the United Nations
Thomas R. Phillips, former Chief Justics of the Texas Supreme Court
Becky Cain

Becky Cain

Rebecca "Becky" Cook Cain-Ceperley was the president of the League of Women Voters from 1992-1998. Cain is currently the president and CEO of The Greater Kanawha Valley Foundation in Charleston, West Virginia...


, former president of the League of Women Voters

League of Women Voters

The League of Women Voters is an American political organization founded in 1920 by Carrie Chapman Catt during the last meeting of the National American Woman Suffrage Association approximately six months before the Nineteenth Amendment to the United States Constitution gave women the right to vote...



Albert E. Jenner, Jr.

Albert E. Jenner, Jr.

Albert Ernest Jenner, Jr. was an American lawyer and one of the name partners at the law firm of Jenner & Block. He served as assistant counsel to the Warren Commission; as a member of the U.S...


, prominent Chicago attorney
External links