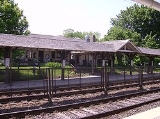 Ambler, Pennsylvania
Ambler
is a
borough
Borough
A borough is an administrative division in various countries. In principle, the term borough designates a self-governing township although, in practice, official use of the term varies widely....
in
Montgomery County
Montgomery County, Pennsylvania
Montgomery County is a county located in the U.S. state of Pennsylvania, in the United States. As of 2010, the population was 799,874, making it the third most populous county in Pennsylvania . The county seat is Norristown.The county was created on September 10, 1784, out of land originally part...
,
Pennsylvania
Pennsylvania
The Commonwealth of Pennsylvania is a U.S. state that is located in the Northeastern and Mid-Atlantic regions of the United States. The state borders Delaware and Maryland to the south, West Virginia to the southwest, Ohio to the west, New York and Ontario, Canada, to the north, and New Jersey to...
, in the United States, approximately 16 miles (26 km) north of
Philadelphia
Philadelphia, Pennsylvania
Philadelphia is the largest city in the Commonwealth of Pennsylvania and the county seat of Philadelphia County, with which it is coterminous. The city is located in the Northeastern United States along the Delaware and Schuylkill rivers. It is the fifth-most-populous city in the United States,...
.
Village of Wissahickon
Ambler was originally known as the Village of
Wissahickon
Wissahickon Creek
Wissahickon Creek is a stream in southeastern Pennsylvania. Rising in Montgomery County, Pennsylvania, it runs about 23 miles passing through and dividing Northwest Philadelphia before emptying into the Schuylkill River at Philadelphia...
, named for the North Pennsylvania Railroad depot established there in the mid-1850s. The town was renamed to Ambler in 1869 in honor of Mary Johnson Ambler, a local Quaker woman who heroically assisted during
The Great Train Wreck of 1856
The Great Train Wreck of 1856
The Great Train Wreck of 1856 occurred between Camp Hill and Fort Washington, Pennsylvania, on July 17, 1856. Two trains, traveling on the same track in opposite directions, collided, killing between 59 and 67, and injuring over 100. The incident was referred to as The Camp Hill Disaster in...
, a local train accident in which 59 people were killed instantly and dozens more died from their injuries.
Legacy of asbestos
In 1881, the
Keasbey and Mattison Company
Keasbey and Mattison Company
Keasbey and Mattison Company was a manufacturing company that produced asbestos and related building products before being purchased by Turner & Newall in 1934. The company was founded in 1873 by Henry G. Keasbey, a businessman, and Dr. Richard V. Mattison, a chemist/pharmacist...
, whose business included the manufacture of
asbestos
Asbestos
Asbestos is a set of six naturally occurring silicate minerals used commercially for their desirable physical properties. They all have in common their eponymous, asbestiform habit: long, thin fibrous crystals...
, moved to Ambler from Philadelphia. The company invested heavily in the town. However, the
Great Depression
Great Depression
The Great Depression was a severe worldwide economic depression in the decade preceding World War II. The timing of the Great Depression varied across nations, but in most countries it started in about 1929 and lasted until the late 1930s or early 1940s...
took its toll on the company, and it was sold to an
English
England
England is a country that is part of the United Kingdom. It shares land borders with Scotland to the north and Wales to the west; the Irish Sea is to the north west, the Celtic Sea to the south west, with the North Sea to the east and the English Channel to the south separating it from continental...
concern, Turner & Newhall, in 1934. Newhall operated the factory until it closed in 1962.
Federal-Mogul
Federal-Mogul
Federal-Mogul Corporation is a global automotive supplier based in Southfield, Michigan, USA. It is one of the leading engine-parts suppliers in the United States, including engine bearings, pistons, piston pins, piston rings, cylinder liners, valve seats and guides, transmission products and...
, an American automotive supplier, purchased the assets of Turner & Newhall, and is itself in
Chapter 11
Chapter 11, Title 11, United States Code
Chapter 11 is a chapter of the United States Bankruptcy Code, which permits reorganization under the bankruptcy laws of the United States. Chapter 11 bankruptcy is available to every business, whether organized as a corporation or sole proprietorship, and to individuals, although it is most...
bankruptcy due to asbestos
liability
Legal liability
Legal liability is the legal bound obligation to pay debts.* In law a person is said to be legally liable when they are financially and legally responsible for something. Legal liability concerns both civil law and criminal law. See Strict liability. Under English law, with the passing of the Theft...
. Contamination remains an issue in Ambler. One area was declared a Superfund site and remediated by the
United States EPA
United States Environmental Protection Agency
The U.S. Environmental Protection Agency is an agency of the federal government of the United States charged with protecting human health and the environment, by writing and enforcing regulations based on laws passed by Congress...
. Another remains unremediated. The derelict factory and smokestack remain as symbols of asbestos' legacy. Local government has made redevelopment of the sites a priority. One proposal, for a 17-story
condominium
Condominium
A condominium, or condo, is the form of housing tenure and other real property where a specified part of a piece of real estate is individually owned while use of and access to common facilities in the piece such as hallways, heating system, elevators, exterior areas is executed under legal rights...
tower, was withdrawn after community opposition to the project.
Geography
Ambler is located at 40°9′18"N 75°13′13"W (40.155099, -75.220160).
According to the
United States Census Bureau
United States Census Bureau
The United States Census Bureau is the government agency that is responsible for the United States Census. It also gathers other national demographic and economic data...
, the borough has a total area of 0.8 square miles (2.1 km²), all of it land.
Demographics
As of the 2010 census, the borough was 76.5% White, 12.8% Black or African American, 0.2% Native American, 3.8% Asian, 0.3% Native Hawaiian, and 3.4% were two or more races. 7.9% were of Hispanic or Latino ancestry, an almost four-fold increase since the 2000 census
http://www.usatoday.com/news/nation/census/profile/PA#locality-tab
.
As of the
census
Census
A census is the procedure of systematically acquiring and recording information about the members of a given population. It is a regularly occurring and official count of a particular population. The term is used mostly in connection with national population and housing censuses; other common...
of 2000, there were 6,426 people, 2,510 households, and 1,598 families residing in the borough. The
population density
Population density
Population density is a measurement of population per unit area or unit volume. It is frequently applied to living organisms, and particularly to humans...
was 7,605.8 people per square mile (2,953.7/km²). There were 2,605 housing units at an average density of 3,083.3 per square mile (1,197.4/km²). The racial makeup of the borough was 83.29% White, 12.03% African American, 0.25% Native American, 2.47% Asian, 0.06% Pacific Islander, 0.50% from
other races
Race (United States Census)
Race and ethnicity in the United States Census, as defined by the Federal Office of Management and Budget and the United States Census Bureau, are self-identification data items in which residents choose the race or races with which they most closely identify, and indicate whether or not they are...
, and 1.40% from two or more races. Hispanic or Latino of any race were 2.13% of the population.
There were 2,510 households out of which 29.9% had children under the age of 18 living with them, 45.7% were
married couples
Marriage
Marriage is a social union or legal contract between people that creates kinship. It is an institution in which interpersonal relationships, usually intimate and sexual, are acknowledged in a variety of ways, depending on the culture or subculture in which it is found...
living together, 13.9% had a female householder with no husband present, and 36.3% were non-families. 30.2% of all households were made up of individuals and 11.2% had someone living alone who was 65 years of age or older. The average household size was 2.45 and the average family size was 3.08.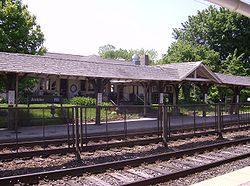 In the borough the population was spread out with 23.5% under the age of 18, 7.0% from 18 to 24, 32.5% from 25 to 44, 19.7% from 45 to 64, and 17.4% who were 65 years of age or older. The median age was 37 years. For every 100 females there were 86.5 males. For every 100 females age 18 and over, there were 81.8 males.
The median income for a household in the borough was $47,014, and the median income for a family was $51,235. Males had a median income of $40,305 versus $30,735 for females. The
per capita income
Per capita income
Per capita income or income per person is a measure of mean income within an economic aggregate, such as a country or city. It is calculated by taking a measure of all sources of income in the aggregate and dividing it by the total population...
for the borough was $21,688. About 2.4% of families and 5.5% of the population were below the poverty line, including 6.8% of those under age 18 and 4.9% of those age 65 or over.
Politics and government
Ambler has a
city manager
City manager
A city manager is an official appointed as the administrative manager of a city, in a council-manager form of city government. Local officials serving in this position are sometimes referred to as the chief executive officer or chief administrative officer in some municipalities...
form of government with a
mayor
Mayor
In many countries, a Mayor is the highest ranking officer in the municipal government of a town or a large urban city....
and a nine-member borough council. The mayor is Charles "Bud" Wahl. The borough is part of the Thirteenth Congressional District (represented by Rep.
Allyson Schwartz
Allyson Schwartz
Allyson Young Schwartz is the U.S. Representative for , serving since 2005. She is a member of the Democratic Party. The district includes parts of Montgomery County and Northeast Philadelphia...
), the 151st State House District (represented by Rep.
Rick Taylor
Rick Taylor
Rick Taylor is a former Democratic member of the Pennsylvania House of Representatives for the 151st legislative district. He was elected in 2006.Taylor attended University of Minnesota and interned for Minnesota House of Representatives and with Paul Wellstone...
) and the 12th State Senate District (represented by Sen.
Stewart Greenleaf
Stewart Greenleaf
Stewart J. Greenleaf is a Republican member of the Pennsylvania State Senate, representing the 12th District since 1979. His district includes portions of Montgomery and Bucks Counties.-Biography:...
).
Education
The Borough of Ambler is served by the Wissahickon School District. In 2004, the Wissahickon School District had 4,535 students. Wissahickon School District has seven schools: five elementary, one middle (grades 6-8) and one
high school
Wissahickon High School
Wissahickon High School is the sole public high school of the Wissahickon School District, and is located in Ambler, Pennsylvania, in the United States.-Academics:...
(grades 9-12).
Temple University
Temple University
Temple University is a comprehensive public research university in Philadelphia, Pennsylvania, United States. Originally founded in 1884 by Dr. Russell Conwell, Temple University is among the nation's largest providers of professional education and prepares the largest body of professional...
, whose main campus is in nearby urban Philadelphia, has a suburban campus in Ambler which offers an array of undergraduate, graduate, and non-credit programs.
Act II Playhouse
Act II Playhouse
is a 130-seat professional theatre founded in 1999. Act II has been nominated for 31 Barrymore Awards and has won six.
Ambler Symphony Orchestra
Founded in 1951, the
Ambler Symphony Orchestra
performs several concerts per year under the musical direction of
WRTI
WRTI
WRTI is a public radio station in Philadelphia, Pennsylvania. It is a service of Temple University.WRTI began in 1948 as an AM carrier current station. It was founded by John Roberts, professor emeritus of communications at Temple and long-time anchorman at WFIL-TV . He'd helped found the School...
program director Jack Moore.
Ambler Theater
Originally opened in 1928 as a Warner Brothers
movie theater
Movie theater
A movie theater, cinema, movie house, picture theater, film theater is a venue, usually a building, for viewing motion pictures ....
, the recently restored and renovated
Ambler Theater
is a non-profit, community owned movie theater that shows
independent
Independent film
An independent film, or indie film, is a professional film production resulting in a feature film that is produced mostly or completely outside of the major film studio system. In addition to being produced and distributed by independent entertainment companies, independent films are also produced...
,
art
Art film
An art film is the result of filmmaking which is typically a serious, independent film aimed at a niche market rather than a mass market audience...
and limited-distribution films.
Transportation
Ambler is served by SEPTA's
Lansdale-Doylestown rail line
Lansdale/Doylestown Line
The Lansdale/Doylestown Line is a SEPTA Regional Rail line connecting Center City Philadelphia to Doylestown in Bucks County.-Route:The Lansdale-Doylestown segment of the R5 line utilizes what is known as the "SEPTA Main Line", a four-track line that has been owned by SEPTA since 1983...
;
Ambler station
Ambler (SEPTA station)
Ambler is a station along the SEPTA Lansdale/Doylestown Line . The station is officially located at the intersection of Butler Avenue and Main Street in Ambler, Pennsylvania, however the actual location is on Butler Avenue and Short Race Street, a block west of Main Street. The station includes a...
is a major park-and-ride facility on the line. SEPTA bus routes 94, 98 and 134 also serve Ambler.
External links