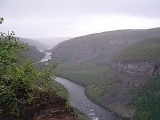 Alta, Norway
Birdlife
For those interested in bird watching, the river outlet, known locally as Altaosen is well worth a visit. This tidal area is used as a stopover for many wetland species.
Transportation
Alta is a transportation center in Finnmark.
Alta Airport
Alta Airport
Alta Airport is the airport of Alta, Norway. It is located about northeast of the town center of Alta, near the community Elvebakken on the southern shore of the Altafjord. The airport has a single paved runway. The government-owned Avinor is responsible for operations...
served 334,132 passengers in 2009. There are direct flights to
Oslo
Oslo
Oslo is a municipality, as well as the capital and most populous city in Norway. As a municipality , it was established on 1 January 1838. Founded around 1048 by King Harald III of Norway, the city was largely destroyed by fire in 1624. The city was moved under the reign of Denmark–Norway's King...
. Alta also has
port
Port
A port is a location on a coast or shore containing one or more harbors where ships can dock and transfer people or cargo to or from land....
facilities in the town center, and
European route E6
European route E6
European route E 6 is the designation for the main north-south road in Norway, and the west coast of Sweden, running from the southern tip of Sweden, at Trelleborg, into Norway and through almost all of the country north to Finnmark. The route ends close to the Norwegian border with Russia...
passes through Alta. The distance to southern Scandinavia is considerably shorter over road 93 and northern Finland.
Economy
Main activities in Alta include trading, small industry, education, and public service. The town is also famous for its
slate
Slate
Slate is a fine-grained, foliated, homogeneous metamorphic rock derived from an original shale-type sedimentary rock composed of clay or volcanic ash through low-grade regional metamorphism. The result is a foliated rock in which the foliation may not correspond to the original sedimentary layering...
industry.
Finnmark University College
Finnmark University College
Finnmark University College is a university college with three campuses throughout Finnmark, Norway. The Faculty of Education and Liberal Arts and the Faculty of Business and Social Work is located in Alta, while the Faculty of Nursing is located in Hammerfest. The Barents International School,...
is situated in Alta, and there is also a research institution (Norut NIBR Finnmark). The town has the most northern
Ice hotel
Ice hotel
An ice hotel is a temporary hotel made up of snow, sculpted blocks of ice, and some steel framing. They are promoted by their sponsors and have special features for travelers who are interested in novelties and unusual environments, and thus are in the class of destination hotels...
in Europe.
Notable residents
Klaus Pettersen, Norwegian football player
Egil Rasmussen

Egil Rasmussen

Egil Rasmussen was a Norwegian author, literature critic and musician.Born in Bossekop village, Alta municipality, his family moved to Tromsø when Rasmussen was 3 years old, and he grew up there....


, author

Author

An author is broadly defined as "the person who originates or gives existence to anything" and that authorship determines responsibility for what is created. Narrowly defined, an author is the originator of any written work.-Legal significance:...


(1903–1964)
Bjørn Wirkola

Bjørn Wirkola

Bjørn Wirkola is former ski jumper and footballer from Norway.He became World Champion in Oslo in 1966, winning both the large and normal hill competitions...


, Norwegian ski jumper

Ski jumping

Ski jumping is a sport in which skiers go down a take-off ramp, jump and attempt to land as far as possible down the hill below. In addition to the length of the jump, judges give points for style. The skis used for ski jumping are wide and long...



Finn Hågen Krogh, Norwegian cross-country skiier
Tommy Wirkola

Tommy Wirkola

Tommy Wirkola is a Norwegian filmmaker.-Biography:Wirkola's first film was 2007's Kill Buljo that he co-wrote with Stig Frode Henriksen...


, Norwegian filmmaker
Twin towns — sister cities
Alta is
twinned
Town twinning
Twin towns and sister cities are two of many terms used to describe the cooperative agreements between towns, cities, and even counties in geographically and politically distinct areas to promote cultural and commercial ties.- Terminology :...
with:
Oulu
Oulu
Oulu is a city and municipality of inhabitants in the region of Northern Ostrobothnia, in Finland. It is the most populous city in Northern Finland and the sixth most populous city in the country. It is one of the northernmost larger cities in the world....
,
Finland
Finland
Finland , officially the Republic of Finland, is a Nordic country situated in the Fennoscandian region of Northern Europe. It is bordered by Sweden in the west, Norway in the north and Russia in the east, while Estonia lies to its south across the Gulf of Finland.Around 5.4 million people reside...
(since 1948)
External links