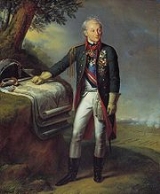 Alexander Suvorov
Alexander Vasilyevich Suvorov
(transliteration:
Aleksandr Vasil'evič Suvorov
; sometimes rendered as
Aleksandr
,
Aleksander
and
Suvarov
),
Count
Count
A count or countess is an aristocratic nobleman in European countries. The word count came into English from the French comte, itself from Latin comes—in its accusative comitem—meaning "companion", and later "companion of the emperor, delegate of the emperor". The adjective form of the word is...
Suvorov of
Rymnik
Râmnicu Sarat
Râmnicu Sărat is a city in Buzău County, Romania. It was declared a municipality in 1439. On December 21, 1994 it celebrated its 555th anniversary....
,
Prince
Prince
Prince is a general term for a ruler, monarch or member of a monarch's or former monarch's family, and is a hereditary title in the nobility of some European states. The feminine equivalent is a princess...
in Italy, Count of the
Holy Roman Empire
Holy Roman Empire
The Holy Roman Empire was a realm that existed from 962 to 1806 in Central Europe.It was ruled by the Holy Roman Emperor. Its character changed during the Middle Ages and the Early Modern period, when the power of the emperor gradually weakened in favour of the princes...
( – ), was the fourth and last
generalissimo
Generalissimo
Generalissimo and Generalissimus are military ranks of the highest degree, superior to Field Marshal and other five-star ranks.-Usage:...
of the
Russian Empire
Russian Empire
The Russian Empire was a state that existed from 1721 until the Russian Revolution of 1917. It was the successor to the Tsardom of Russia and the predecessor of the Soviet Union...
.
One of the few great generals in history who never lost a battle along with the likes of
Alexander the Great
and
Genghis Khan
Genghis Khan
Genghis Khan , born Temujin and occasionally known by his temple name Taizu , was the founder and Great Khan of the Mongol Empire, which became the largest contiguous empire in history after his death....
, he was famed for his military manual
The Science of Victory
and noted for the sayings "What is difficult in training will become easy in a battle", "The bullet is a fool, the bayonet is a fine chap", "Perish yourself but rescue your comrade!".