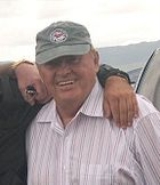 Alan Bond (businessman)
Alan Bond
is an Australian businessman noted for his criminal convictions and high-profile business dealings, including what was at the time the biggest corporate collapse in Australian history. Bond was born in the
Hammersmith
Hammersmith
Hammersmith is an urban centre in the London Borough of Hammersmith and Fulham in west London, England, in the United Kingdom, approximately five miles west of Charing Cross on the north bank of the River Thames...
district of
London
London
London is the capital city of :England and the :United Kingdom, the largest metropolitan area in the United Kingdom, and the largest urban zone in the European Union by most measures. Located on the River Thames, London has been a major settlement for two millennia, its history going back to its...
,
England
England
England is a country that is part of the United Kingdom. It shares land borders with Scotland to the north and Wales to the west; the Irish Sea is to the north west, the Celtic Sea to the south west, with the North Sea to the east and the English Channel to the south separating it from continental...
, and emigrated to Australia with his parents and sister Geraldine in 1950. Beginning his career as a
signwriter
Signwriter
Signwriters design, manufacture and install signs, including advertising signs for shops, businesses and public facilities as well as signs for transport systems....
, he formed what was to be Bond Corporation in 1959. He became a public hero in his adopted country after bankrolling challenges for an international
Yacht racing
Yacht racing
Yacht racing is the sport of competitive yachting.While sailing groups organize the most active and popular competitive yachting, other boating events are also held world-wide: speed motorboat racing; competitive canoeing, kayaking, and rowing; model yachting; and navigational contests Yacht racing...
trophy, the
America's Cup
America's Cup
The America's Cup is a trophy awarded to the winner of the America's Cup match races between two yachts. One yacht, known as the defender, represents the yacht club that currently holds the America's Cup and the second yacht, known as the challenger, represents the yacht club that is challenging...
, which resulted in his selection in 1978 as
Australian of the Year
Australian of the Year
Since 1960 the Australian of the Year Award has been part of the celebrations surrounding Australia Day , during which time the award has grown steadily in significance to become Australia's pre-eminent award. The Australian of the Year announcement has become a very prominent part of the annual...
(awarded jointly with
Galarrwuy Yunupingu
Galarrwuy Yunupingu
Galarrwuy YunupinguAM is a leader in the Australian Indigenous community, and has been involved in the fight for Land Rights throughout his career...
). In 1983, his
Australia II
Australia II
Australia II is the Australian 12-metre-class challenge racing yacht that was launched in 1982 and won the 1983 America's Cup for the Royal Perth Yacht Club...
syndicate won the
trophy
1983 America's Cup
The 1983 America's Cup was the occasion of the first winning challenge to the New York Yacht Club who had successfully defended the cup over a period of 132 years...
, which had been held by the
New York Yacht Club
New York Yacht Club
The New York Yacht Club is a private social club and yacht club based in New York City and Newport, Rhode Island. It was founded in 1844 by nine prominent sportsmen. The members have contributed to the sport of yachting and yacht design. The organization has over 3,000 members as of 2011. ...
since 1851.
In 1992, Bond was declared bankrupt with personal debts totalling A$1.8 billion. He was subsequently convicted of fraud and served four years in prison. Following release, he became active in mining investment, and was included in
Business Review Weekly
Business Review Weekly
BRW is an Australian weekly business magazine published by the Fairfax Media group. It regularly compiles lists which rank corporations and individuals according to various criteria, similar to Fortune magazine in the United States.BRW provides news and commentary on the economy, business and...
s "Rich 200 List" in 2008. But this apparent success soon proved to be hollow and built on speculative investments by associates, one of whom, in December 2010, described Bond as "a master manipulator who should be stopped before he does any more damage to anyone."
History
The
Perth
Perth, Western Australia
Perth is the capital and largest city of the Australian state of Western Australia and the fourth most populous city in Australia. The Perth metropolitan area has an estimated population of almost 1,700,000....
-based Bond made his fortune initially in property development and at one time was one of Australia's most prominent businesspeople. In 1970 he bought three America's Cup bid yachts from Sir
Frank Packer
Frank Packer
Sir Douglas Frank Hewson Packer, KBE , was an Australian media proprietor who controlled Australian Consolidated Press and the Nine Network.-Biography:...
. He later extended his business interests into other fields including
brewing
Brewing
Brewing is the production of beer through steeping a starch source in water and then fermenting with yeast. Brewing has taken place since around the 6th millennium BCE, and archeological evidence suggests that this technique was used in ancient Egypt...
(he controlled Castlemaine
Tooheys
Tooheys
Tooheys is a brewery in the suburb of Lidcombe, in Sydney, New South Wales, Australia. It produces beers under the Tooheys and Hahn trademarks, and is part of the New Zealand Lion Nathan beverages group.-History:...
and
G. Heileman Brewing Company
G. Heileman Brewing Company
The G. Heileman Brewing Company of La Crosse, Wisconsin, USA, was a brewery firm that operated in 1858-1996. It was acquired in the latter year by Stroh's, and its independent existence ended...
in
La Crosse, Wisconsin
La Crosse, Wisconsin
La Crosse is a city in and the county seat of La Crosse County, Wisconsin, United States. The city lies alongside the Mississippi River.The 2011 Census Bureau estimates the city had a population of 52,485...
, USA),
gold mining
Gold mining
Gold mining is the removal of gold from the ground. There are several techniques and processes by which gold may be extracted from the earth.-History:...
,
television
Television
Television is a telecommunication medium for transmitting and receiving moving images that can be monochrome or colored, with accompanying sound...
, and
airships
Airship Industries
Airship Industries was a British manufacturer of modern non-rigid airships active under that name from 1980 to 1990 and controlled for part of that time by Alan Bond. A predecessor company, Aerospace Developments, had been founded in 1971, and a successor, Hybrid Air Vehicles, remains active...
. Australia's first private university,
Bond University
Bond University
Bond University is a private university located in Robina, Gold Coast, Queensland, Australia. It is also the first private university established in Australia...
, bears his name.
He purchased
QTQ-9
QTQ-9
QTQ is an Australian television station, licensed to, and serving Brisbane, Queensland. It is owned by the Nine Entertainment Co., and is part of the Nine Network. It broadcasts on VHF channel 9 and VHF channel 8 . QTQ began broadcasting on 16 August 1959, the first of the Brisbane stations to...
,
Brisbane
Brisbane
Brisbane is the capital and most populous city in the Australian state of Queensland and the third most populous city in Australia. Brisbane's metropolitan area has a population of over 2 million, and the South East Queensland urban conurbation, centred around Brisbane, encompasses a population of...
and settled an outstanding
defamation
Slander and libel
Defamation—also called calumny, vilification, traducement, slander , and libel —is the communication of a statement that makes a claim, expressly stated or implied to be factual, that may give an individual, business, product, group, government, or nation a negative image...
dispute the station had with the
Queensland
Queensland
Queensland is a state of Australia, occupying the north-eastern section of the mainland continent. It is bordered by the Northern Territory, South Australia and New South Wales to the west, south-west and south respectively. To the east, Queensland is bordered by the Coral Sea and Pacific Ocean...
premier,
Joh Bjelke-Petersen
Joh Bjelke-Petersen
Sir Johannes "Joh" Bjelke-Petersen, KCMG , was an Australian politician. He was the longest-serving and longest-lived Premier of Queensland, holding office from 1968 to 1987, a period that saw considerable economic development in the state...
by paying out
A$
Australian dollar
The Australian dollar is the currency of the Commonwealth of Australia, including Christmas Island, Cocos Islands, and Norfolk Island, as well as the independent Pacific Island states of Kiribati, Nauru and Tuvalu...
400,000. He said in a television interview several years later that he paid because "Sir Joh left no doubt that if we were going to continue to do business successfully in Queensland then he expected the matter to be resolved".
In 1987, Bond purchased
Vincent Van Gogh
Vincent van Gogh
Vincent Willem van Gogh , and used Brabant dialect in his writing; it is therefore likely that he himself pronounced his name with a Brabant accent: , with a voiced V and palatalized G and gh. In France, where much of his work was produced, it is...
's renowned painting,
Irises
Irises (painting)
Irises is a painting by the Dutch artist Vincent van Gogh. Irises was painted while Vincent van Gogh was living at the asylum at Saint Paul-de-Mausole in Saint-Rémy-de-Provence, France, in the last year before his death in 1890....
, for $54 million—the highest-ever price for a single painting. However the purchase was funded by a substantial loan from the auctioneer,
Sotheby's
Sotheby's
Sotheby's is the world's fourth oldest auction house in continuous operation.-History:The oldest auction house in operation is the Stockholms Auktionsverk founded in 1674, the second oldest is Göteborgs Auktionsverk founded in 1681 and third oldest being founded in 1731, all Swedish...
, which Bond failed to repay. The transaction was criticised by art dealers as possibly a manipulated sale designed to artificially inflate values generally (which it seems to have done). The painting was subsequently re-sold in 1990 to the
J. Paul Getty Museum
Getty Center
The Getty Center, in Brentwood, Los Angeles, California, is a campus for cultural institutions founded by oilman J. Paul Getty. The $1.3 billion center, which opened on December 16, 1997, is also well known for its architecture, gardens, and views overlooking Los Angeles...
in
Los Angeles
Los Ángeles
Los Ángeles is the capital of the province of Biobío, in the commune of the same name, in Region VIII , in the center-south of Chile. It is located between the Laja and Biobío rivers. The population is 123,445 inhabitants...
.
Also in 1987, he bought the Bond Center in
Hong Kong
Hong Kong
Hong Kong is one of two Special Administrative Regions of the People's Republic of China , the other being Macau. A city-state situated on China's south coast and enclosed by the Pearl River Delta and South China Sea, it is renowned for its expansive skyline and deep natural harbour...
. It is currently known as the
Lippo Centre, Hong Kong
Lippo Centre, Hong Kong
The Lippo Centre is a pair of twin office towers in Hong Kong, previously known as the Bond Center . The buildings are located at 89 Queensway, in Admiralty on Hong Kong Island. They were taken over by the Lippo Group after the collapse of the Bond Corporation...
.
Purchasing the Nine Network
In 1987 he paid $1 billion for the Australia-wide Channel Nine television network from
Kerry Packer
Kerry Packer
Kerry Francis Bullmore Packer, AC was an Australian media tycoon. The son of Sir Frank Packer and Gretel Bullmore, the Packer family company owned controlling interest in both the Nine television network and leading Australian publishing company Australian Consolidated Press, which were later...
's
PBL
Publishing and Broadcasting Limited
Publishing and Broadcasting Limited was one of Australia's largest companies, with interests primarily in media and gaming. The company demerged in late 2007, spinning out its gaming interests into Crown Limited...
. In a 2003 interview with Andrew Denton, Bond described the negotiations as follows:

"...when we first sat down, we said, 'We're either going to sell our stations to you for $400 million, or you're going to sell your stations to us.' And he said, 'Well, I don't really want to sell my stations.' And I said, 'Oh, is that right?' So, anyway, after much discussion, Kerry thumped the table and said, 'Listen, if you can pay me $1 billion, I'll sell them to you, otherwise bugger off...' then I rang the National Australia Bank

National Australia Bank

National Australia Bank is one of the four largest financial institutions in Australia in terms of market capitalisation and customers. NAB is ranked 17th largest bank in the world measured by market capitalisation...


. I said, 'Look, I'm in discussions here to buy these television stations. Kerry will sell to me, and what I want to do is put our stations together and then, with Sky Channel

Sky Channel

Sky Channel can refer to any of the following.* In Europe, Sky Channel was a satellite television channel that was broadcast in the 1980s, it went on to become Sky1....


, I'm going to float it off as a separate entity and raise the capital to pay for it... [Packer] said $1 billion [was his asking price], but I think I'll get it for $800 million...' [The bank manager] duly rang back and said yes. I said, 'Thank God. I'll go and have some further negotiations with Kerry,' which I did. And true to his word, he never budged one penny off it. So I settled the deal with $800 million and a $200 million note. So he put his own $200 million in. So I had $1 billion. And we put our other two stations up as collateral, which were worth probably $400 million."

Bond later ended up selling the network back to PBL in 1990 for $700 million in the midst of his business empire collapsing. Packer was quoted as saying "You only get one Alan Bond in your lifetime, and I've had mine".
Bankruptcy
In 1992 Bond was declared bankrupt with personal debts totalling A$1.8 billion. In 1995 Bond's family bought him out of bankruptcy, with creditors accepting a payment of A$12 million, a little over half a cent per dollar.
In 1997 Bond was sentenced to 7 years in prison after pleading guilty to using his controlling interest in Bell Resources to deceptively siphon off A$1.2 billion into the coffers of Bond Corporation. The funds were used to shore up the cash resources of the ailing Bond Corporation, which spectacularly collapsed, leaving Bell Resources in a precarious situation. Bond was released in 2000, having served four years in prison.
Return to investment activities
In 2003, Bond was inducted into the
America's Cup Hall of Fame
America's Cup Hall of Fame
The America's Cup Hall of Fame, located at the Herreshoff Marine Museum of Bristol, Rhode Island, USA, honors individuals for outstanding achievement in the America's Cup sailing competition...
. Since 2003, Bond has worked closely with his son Craig and long-time business partner Robert Quinn through Strategic Investments Ltd. Since 2004, interests related to the Bond family have held a block of shares in
Madagascar Oil
Madagascar Oil
Madagascar Oil SA is a Malagasy company, founded by Sam Malin with South African businessman Michael Smith and Australian businessmen Robert Nelson. Madagascar Oil focuses on the development, exploration and production of petroleum. It is the principal onshore oil company in Madagascar in terms of...
, a business he co-founded with
Sam Malin
Sam Malin
Sam Malin is a Canadian businessman based in Madagascar. He has founded a number of companies including Madagascar Oil, Red Island Minerals, Avana Petroleum and Avana Uranium.- Educational Background :...
and
Robert Nelson
Robert Nelson (businessman)
Robert Leslie Nelson is a businessman from Perth in Western Australia. He is a sometime partner of Alan Bond, also of Perth, with whom he cofounded Global Diamond Resources plc as well as Madagascar Oil Ltd...
, of which the acting chief executive officer is J. Laurie Hunter, Robert Quinn's
son-in-law
Son-in-Law
Son-in-Law was a British Thoroughbred racehorse and an influential sire, especially for sport horses.The National Horseracing Museum says that Son-in-Law is "probably the best and most distinguished stayer this country has ever known." Described as "one of the principal influences for stamina in...
. Interests related to the Bond family also control
Global Diamond Resources
Global Diamond Resources
Global Diamond Resources plc is a Gibraltan company developing the Kao diamond pipe in the Kingdom of Lesotho. The founders of the company are Australian businessmen Alan Bond and Robert Nelson....
plc (formerly Lesotho Diamond Corporation) which is developing the Kao diamond pipe in the
Kingdom of Lesotho
Lesotho
Lesotho , officially the Kingdom of Lesotho, is a landlocked country and enclave, surrounded by the Republic of South Africa. It is just over in size with a population of approximately 2,067,000. Its capital and largest city is Maseru. Lesotho is a member of the Commonwealth of Nations. The name...
.
In 2007, the
Federal Court
Federal Court of Australia
The Federal Court of Australia is an Australian superior court of record which has jurisdiction to deal with most civil disputes governed by federal law , along with some summary criminal matters. Cases are heard at first instance by single Judges...
rejected an attempt by Bond to sue freelance journalist
Paul Barry
Paul Barry
Paul Barry is a British-born, Australian-based journalist, who has won many awards for his investigative reporting. He now works as a senior writer for online media outlet The Power Index.-Career:...
over an article Barry wrote about his dealings in Africa with the Lesotho Diamond Company. Bond had claimed that the article had several false statements. In 2008 Bond appealed but this, too, was rejected by the same court which found Mr Bond's claims had no reasonable prospects of success.
In 2008, Bond made a return to the
Business Review Weekly
Business Review Weekly
BRW is an Australian weekly business magazine published by the Fairfax Media group. It regularly compiles lists which rank corporations and individuals according to various criteria, similar to Fortune magazine in the United States.BRW provides news and commentary on the economy, business and...
s "Rich 200 List", in 157th spot, with an estimated wealth of $265 million—thanks primarily to his stakes in Madagascar Oil and Global Diamond Resources. The wealth may have been short-lived, because a December 2009 press report said he had lost it all and was being pursued by creditors.
Books
Terence Maher, Bond, William Heinemann Australia, 1990 ISBN 0-85561-336-X
Paul Barry, The Rise And Fall Of Alan Bond, Bantam Books, 1991 ISBN 1-86359-037-4
Alan Bond and Rob Mundle, Bond, HarperCollinsPublishers Pty Limited, 2004 ISBN 0-7322-7494-X
Reference in "living next door to alan" - Kevin Bloody Wilson

Kevin Bloody Wilson

Kevin Bloody Wilson is a comedy singer/songwriter who uses his heavy Australian accent/style with great success...


song (Australian comedian/songwriter)
External links