 Yacht racing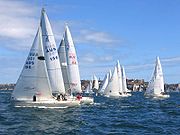 Yacht racing
is the sport of competitive
yachting
Yachting
Yachting refers to recreational sailing or boating, the specific act of sailing or using other water vessels for sporting purposes.-Competitive sailing:...
.
While
sailing
Sailing (sport)
Sailing is a well organized and recognized sport.There is a broad variety of kinds of races and sailboats used for racing. Much racing is done around buoys or similar marks in protected waters, while some longer offshore races cross open water...
groups organize the most active and popular competitive yachting, other
boating
Boating
Boating is the leisurely activity of travelling by boat, or the recreational use of a boat whether powerboats, sailboats, or man-powered vessels , focused on the travel itself, as well as sports activities, such as fishing or water skiing...
events are also held world-wide: speed
motorboat racing
Motorboat racing
Motorboat racing takes several forms:*Drag boat racing*Hydroplane racing*Jet sprint boat racing*Offshore powerboat racing*F1 Powerboat World Championship...
; competitive
canoeing
Canoeing
Canoeing is an outdoor activity that involves a special kind of canoe.Open canoes may be 'poled' , sailed, 'lined and tracked' or even 'gunnel-bobbed'....
, kayaking, and rowing;
model yachting
Model yachting
Model yachting is the pastime of building and racing model yachts. It has always been customary for ship-builders to make a miniature model of the vessel under construction, which is in every respect a copy of the original on a small scale, whether steamship or sailing ship...
; and navigational contests (generally a test of celestial and landmark-based navigation skills where GPS and other electronic navigation equipment is disallowed) are among the events which are organized around the world. Specialized
yacht
Yacht
A yacht is a recreational boat or ship. The term originated from the Dutch Jacht meaning "hunt". It was originally defined as a light fast sailing vessel used by the Dutch navy to pursue pirates and other transgressors around and into the shallow waters of the Low Countries...
s, such as hydrofoils, hovercrafts, or personal watercrafts also engage in competitions involving test of equipment and skill (usually, skill in maneuvering safely). All such events are part of the larger world of yachting, if they are done for recreational or sporting purposes.
Sailing dinghies such as the
Heron
Heron (dinghy)
The Heron Dinghy is a dinghy designed by Jack Holt of the United Kingdom as the Yachting World Cartopper . The Heron dinghy was designed to be built by a home handyman out of marine ply over a timber frame, but can now also be constructed from marine ply using a stitch and glue technique or from...
and Skiffs such as
29er
29er
The 29er is a two-man high performance skiff designed by Julian Bethwaite and first produced in 1998.-Background:It is targeted at youth, especially those training to sail the larger 49er. It has a single trapeze and a fractional asymmetric spinnaker. The Class is a more modern replacement to...
s also race competitively in many rivers lakes and harbours around the world, sometimes using the
Olympic triangle
Olympic triangle
The Olympic triangle is a sailing course used in racing dinghies, particularly at major regattas like State, National and World Titles and was used at the Olympics...
course.
External links