 Ajvar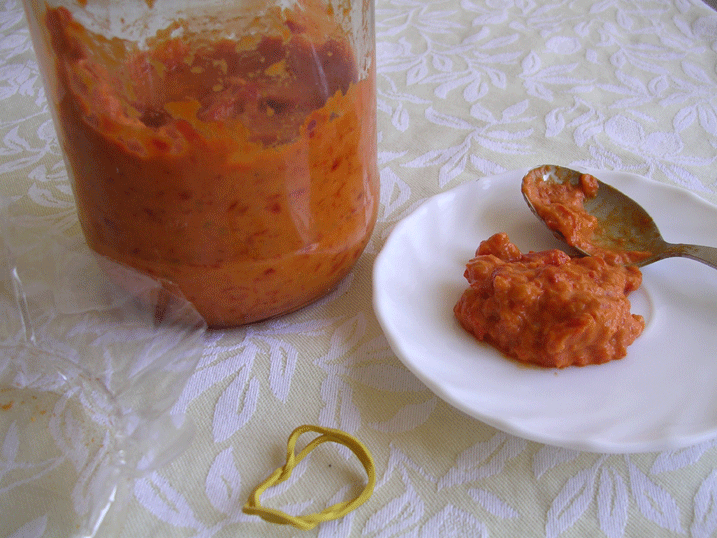 Ajvar
and
aijvar
is
relish
Relish
A relish is a cooked, pickled, or chopped vegetable or fruit food item which is typically used as a condiment.In North America, relish commonly alludes to sweet pickle relish-like sauce that often condiments hot dogs, hamburgers and other types of fast food.-Description and ingredients:The item...
, made principally from red
bell peppers
Capsicum
Capsicum is a genus of flowering plants in the nightshade family, Solanaceae. Its species are native to the Americas where they have been cultivated for thousands of years, but they are now also cultivated worldwide, used as spices, vegetables, and medicines - and have become are a key element in...
, with eggplant,
garlic
Garlic
Allium sativum, commonly known as garlic, is a species in the onion genus, Allium. Its close relatives include the onion, shallot, leek, chive, and rakkyo. Dating back over 6,000 years, garlic is native to central Asia, and has long been a staple in the Mediterranean region, as well as a frequent...
and
chili pepper
Chili pepper
Chili pepper is the fruit of plants from the genus Capsicum, members of the nightshade family, Solanaceae. The term in British English and in Australia, New Zealand, India, Malaysia and other Asian countries is just chilli without pepper.Chili peppers originated in the Americas...
. Ajvar originates in the Serbian cuisine, and was therefore long known as "Serbian salad" or "Serbian vegetable caviar". It becаme a popular salad (side dish) throughout
Yugoslavia
Yugoslavia
Yugoslavia refers to three political entities that existed successively on the western part of the Balkans during most of the 20th century....
after World War II and is nowadays popular in the
Balkans
Balkans
The Balkans is a geopolitical and cultural region of southeastern Europe...
. Original homemade ajvar is made of roasted peppers, while some industrial producers use cooked peppers, which leads to a lower quality. Depending on the
capsaicin
Capsaicin
Capsaicin 2CHCH=CH4CONHCH2C6H3-4--3- ) is the active component of chili peppers, which are plants belonging to the genus Capsicum. It is an irritant for mammals, including humans, and produces a sensation of burning in any tissue with which it comes into contact...
content in bell peppers and the amount of added chili peppers, it can be sweet, piquant (the most common), or very hot.
Ajvar can be consumed as a
bread
Bread
Bread is a staple food prepared by cooking a dough of flour and water and often additional ingredients. Doughs are usually baked, but in some cuisines breads are steamed , fried , or baked on an unoiled frying pan . It may be leavened or unleavened...
spread
Spread (food)
A spread is a food that is spread with a knife onto bread, crackers, or other bread products. Spreads are added to bread products to provide flavor and texture, and are an integral part of the dish, i.e. they should be distinguished from condiments, which are optional additions...
, a
side dish
Side dish
A side dish, sometimes referred to as a side order or simply a side, is a food item that accompanies the entrée or main course at a meal.-Common types:...
, or as a
salad
Salad
Salad is any of a wide variety of dishes, including vegetable salads; salads of pasta, legumes, eggs, or grains; mixed salads incorporating meat, poultry, or seafood; and fruit salads. They may include a mixture of cold and hot, often including raw vegetables or fruits.Green salads include leaf...
.
Origin and Etymology
The name
ajvar
comes from the
Turkish
Turkish language
Turkish is a language spoken as a native language by over 83 million people worldwide, making it the most commonly spoken of the Turkic languages. Its speakers are located predominantly in Turkey and Northern Cyprus with smaller groups in Iraq, Greece, Bulgaria, the Republic of Macedonia, Kosovo,...
word
havyar
, which means "salted
roe
Roe
Roe or hard roe is the fully ripe internal egg masses in the ovaries, or the released external egg masses of fish and certain marine animals, such as shrimp, scallop and sea urchins...
, caviar" and shares an etymology with
caviar
Caviar
Caviar, sometimes called black caviar, is a luxury delicacy, consisting of processed, salted, non-fertilized sturgeon roe. The roe can be "fresh" or pasteurized, the latter having much less culinary and economic value....
. The word was initially used in Serbia for homemade caviar on the middle and lower Danube bank (
Smederevo
Smederevo
Smederevo is a city and municipality in Serbia, on the right bank of the Danube, about 40 km downstream of the capital Belgrade. According to official results of the 2011 census, the city has a population of 107,528...
, Đerdap and
Kladovo
Kladovo
Kladovo is a town and municipality in the Bor District of eastern Serbia. It is situated on the right bank of the Danube river...
) district. Domestic
ajvar
, meaning caviar, used to be a very popular dish in
Belgrade
Belgrade
Belgrade is the capital and largest city of Serbia. It is located at the confluence of the Sava and Danube rivers, where the Pannonian Plain meets the Balkans. According to official results of Census 2011, the city has a population of 1,639,121. It is one of the 15 largest cities in Europe...
homes and restaurants.. However, the domestic production of ajvar/caviar was continuously striked since the 1890s, and eventually a special pepper salad was, with the sense for irony and an eye for production and serving and optical similarities between the two dishes, offered as a substitute in Belgrade restarurants under the name "red ajvar" or "Serbian ajvar" (crveni ajvar, srpski ajvar).
Preparation
Original homemade ajvar is made of roasted peppers, while some industrial producers use cooked peppers, which leads to a lower quality of ajvar.
The preparation of ajvar is somewhat difficult, as it involves a great deal of manual labour, especially as regards the peeling of the roasted peppers. Traditionally, it is prepared in mid-autumn, when bell peppers are most abundant, conserved in glass jars, and consumed throughout the year (although in most households stocks do not last until the spring, when fresh salads start to emerge anyway, so it is usually enjoyed as a winter food). Often, the whole family or neighbours gather to bake the bell peppers, peel them, and cook them. The principal
cultivar
Cultivar
A cultivar'Cultivar has two meanings as explained under Formal definition. When used in reference to a taxon, the word does not apply to an individual plant but to all those plants sharing the unique characteristics that define the cultivar. is a plant or group of plants selected for desirable...
of pepper used is called
roga
, i.e.
horned
— it is large, red,
horn
Horn (anatomy)
A horn is a pointed projection of the skin on the head of various animals, consisting of a covering of horn surrounding a core of living bone. True horns are found mainly among the ruminant artiodactyls, in the families Antilocapridae and Bovidae...
-shaped, with thick flesh and relatively easy to peel. It typically ripens in late September.
In order to produce ajvar, bell peppers and aubergines (eggplants) are roasted whole on a plate on an open fire ), a plate of wood in a
stove
Stove
A stove is an enclosed heated space. The term is commonly taken to mean an enclosed space in which fuel is burned to provide heating, either to heat the space in which the stove is situated or to heat the stove itself, and items placed on it...
, or in an
oven
Oven
An oven is a thermally insulated chamber used for the heating, baking or drying of a substance. It is most commonly used for cooking. Kilns, and furnaces are special-purpose ovens...
. The baked peppers must briefly rest in a closed dish, to allow them to cool and to allow the flesh to separate from the skin. Next, the skin is carefully peeled off and seeds removed. The peppers are then ground in a
mill
Mill (grinding)
A grinding mill is a unit operation designed to break a solid material into smaller pieces. There are many different types of grinding mills and many types of materials processed in them. Historically mills were powered by hand , working animal , wind or water...
or chopped in tiny pieces (this variant is often referred to as
pinđur
Pinđur
Pinđur or Pindjur is a Serbian and Macedonian spicy relish form , and is commonly used as a summer spread.Pindjur is similar to ajvar but is generally made with aubergines...
). Finally, the mush is stewed for a couple of hours in large pots, with added
sunflower
Sunflower
Sunflower is an annual plant native to the Americas. It possesses a large inflorescence . The sunflower got its name from its huge, fiery blooms, whose shape and image is often used to depict the sun. The sunflower has a rough, hairy stem, broad, coarsely toothed, rough leaves and circular heads...
oil and garlic, in order to condense and reduce the water, as well as to enhance later conservation.
Salt
Salt
In chemistry, salts are ionic compounds that result from the neutralization reaction of an acid and a base. They are composed of cations and anions so that the product is electrically neutral...
(and sometimes also
vinegar
Vinegar
Vinegar is a liquid substance consisting mainly of acetic acid and water, the acetic acid being produced through the fermentation of ethanol by acetic acid bacteria. Commercial vinegar is produced either by fast or slow fermentation processes. Slow methods generally are used with traditional...
) is added at the end and the hot mush is poured directly into glass jars which are immediately sealed.
Production
The best ajvar is produced domestically, as only the manual peeling and seed removal ensures clear taste without slightly bitter influence of the pepper skin. Industrial production is modest; reported annual Serbian production of ajvar is 640
ton
Ton
The ton is a unit of measure. It has a long history and has acquired a number of meanings and uses over the years. It is used principally as a unit of weight, and as a unit of volume. It can also be used as a measure of energy, for truck classification, or as a colloquial term.It is derived from...
s.
Ajvar is part of the so-called "zimnica" (winter foods), which include pickled chili peppers, pickled tomatoes, and anything else that can fit in a jar that gets prepared just before winter.
See also
External links