 Aerial bomb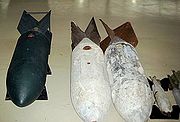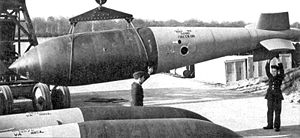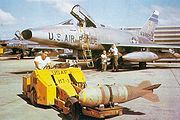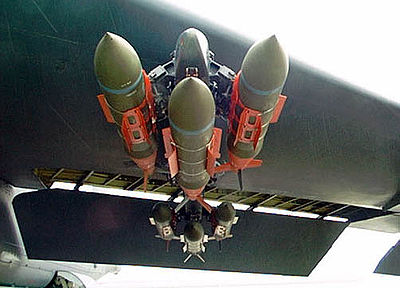 An
aerial bomb
is a type of explosive weapon intended to travel through the air with predictable
trajectories
Trajectory
A trajectory is the path that a moving object follows through space as a function of time. The object might be a projectile or a satellite, for example. It thus includes the meaning of orbit—the path of a planet, an asteroid or a comet as it travels around a central mass...
, usually designed to be dropped from an
aircraft
Aircraft
An aircraft is a vehicle that is able to fly by gaining support from the air, or, in general, the atmosphere of a planet. An aircraft counters the force of gravity by using either static lift or by using the dynamic lift of an airfoil, or in a few cases the downward thrust from jet engines.Although...
. Aerial bombs include a vast range and complexity of designs, from unguided
gravity bomb
Gravity bomb
An unguided bomb, also known as a free-fall bomb, gravity bomb, dumb bomb, or iron bomb, is a conventional aircraft-delivered bomb that does not contain a guidance system and hence, simply follows a ballistic trajectory....
s to
guided bomb
Guided bomb
A guided bomb is a precision-guided munition intended to precisely hit a specific target, and to minimize damage to things other than the target....
s, hand tossed from a
vehicle
Vehicle
A vehicle is a device that is designed or used to transport people or cargo. Most often vehicles are manufactured, such as bicycles, cars, motorcycles, trains, ships, boats, and aircraft....
, to needing a large specially built delivery vehicle; or perhaps
be
the vehicle itself such as a
glide bomb
Glide bomb
A glide bomb is an aerial bomb modified with aerodynamic surfaces to modify its flight path from a purely ballistic one to a flatter, gliding, one. This extends the range between the launch aircraft and the target. Glide bombs are often fitted with control systems, allowing the controlling aircraft...
, instant detonation or
delay-action bomb
Delay-action bomb
A delay-action bomb is an aerial bomb designed to explode some time after impact, with the bomb's fuzes set to delay the explosion for times ranging from very brief to several weeks...
. The act is termed
aerial bombing
Aerial bombing
Aerial bombing may refer to:*Short-term air-to-ground attacks known as air raids or air strikes*Longer-term strategic bombing campaigns...
. As with other types of
explosive weapons
Explosive weapons
An explosive weapon generally uses high explosive to project blast and/or fragmentation from a point of detonation.Explosive weapons may be subdivided by their method of manufacture into explosive ordnance and improvised explosive devices ....
aerial bombs are designed to kill and injure people and destroy materiel through the projection of blast and fragmentation outwards from the point of detonation.
Early bombs
The first
bomb
Bomb
A bomb is any of a range of explosive weapons that only rely on the exothermic reaction of an explosive material to provide an extremely sudden and violent release of energy...
s delivered to their targets by air were launched on unmanned
balloon
Balloon
A balloon is an inflatable flexible bag filled with a gas, such as helium, hydrogen, nitrous oxide, oxygen, or air. Modern balloons can be made from materials such as rubber, latex, polychloroprene, or a nylon fabric, while some early balloons were made of dried animal bladders, such as the pig...
s, carrying a single bomb, by the
Austria
Austria
Austria , officially the Republic of Austria , is a landlocked country of roughly 8.4 million people in Central Europe. It is bordered by the Czech Republic and Germany to the north, Slovakia and Hungary to the east, Slovenia and Italy to the south, and Switzerland and Liechtenstein to the...
ns against
Venice
Venice
Venice is a city in northern Italy which is renowned for the beauty of its setting, its architecture and its artworks. It is the capital of the Veneto region...
in 1849.
The first bombs dropped from a heavier-than-air aircraft were grenades or grenade-like devices. Historically, the first use was by
Giulio Gavotti
Giulio Gavotti
Giulio Gavotti was an Italian Lieutenant and pilot, who fought in the Italo-Turkish War. He set two firsts in the history of aerial warfare of heavier-than-air flyers: he was the first man to make an aerial bombardment, as well the first to perform a night mission.-Aerial bombardment:On the 1...
on 1 November 1911, during the
Italo-Turkish War
Italo-Turkish War
The Italo-Turkish or Turco-Italian War was fought between the Ottoman Empire and the Kingdom of Italy from September 29, 1911 to October 18, 1912.As a result of this conflict, Italy was awarded the Ottoman provinces of Tripolitania, Fezzan, and...
.
In 1912, during the
First Balkan War
First Balkan War
The First Balkan War, which lasted from October 1912 to May 1913, pitted the Balkan League against the Ottoman Empire. The combined armies of the Balkan states overcame the numerically inferior and strategically disadvantaged Ottoman armies and achieved rapid success...
,
Bulgarian Air Force
Bulgarian Air Force
The Bulgarian Air Force is a branch of the Military of Bulgaria, the other two being the Bulgarian Navy and Bulgarian land forces. Its mission is to guard and protect the sovereignty of Bulgarian airspace, to provide aerial support and to assist the Land Forces in case of war. The Bulgarian Air...
pilot
Aviator
An aviator is a person who flies an aircraft. The first recorded use of the term was in 1887, as a variation of 'aviation', from the Latin avis , coined in 1863 by G. de la Landelle in Aviation Ou Navigation Aérienne...
Christo Toprakchiev suggested the use of aircraft to drop "bombs" (called
grenade
Grenade
A grenade is a small explosive device that is projected a safe distance away by its user. Soldiers called grenadiers specialize in the use of grenades. The term hand grenade refers any grenade designed to be hand thrown. Grenade Launchers are firearms designed to fire explosive projectile grenades...
s in the Bulgarian army at this time) on Turkish positions. Captain Simeon Petrov developed the idea and created several
prototype
Prototype
A prototype is an early sample or model built to test a concept or process or to act as a thing to be replicated or learned from.The word prototype derives from the Greek πρωτότυπον , "primitive form", neutral of πρωτότυπος , "original, primitive", from πρῶτος , "first" and τύπος ,...
s by adapting different types of grenades and increasing their payload.
On 16 October 1912, observer Prodan Tarakchiev dropped two of those bombs on the
Turkish
Turkey
Turkey , known officially as the Republic of Turkey , is a Eurasian country located in Western Asia and in East Thrace in Southeastern Europe...
railway station of Karağaç (near the besieged
Edirne
Edirne
Edirne is a city in Eastern Thrace, the northwestern part of Turkey, close to the borders with Greece and Bulgaria. Edirne served as the capital city of the Ottoman Empire from 1365 to 1453, before Constantinople became the empire's new capital. At present, Edirne is the capital of the Edirne...
) from an
Albatros
Albatros Flugzeugwerke
Albatros-Flugzeugwerke was a German aircraft manufacturer best known for supplying the German airforces during World War I.The company was based in Johannisthal, Berlin, where it was founded by Walter Huth and Otto Wiener on December 20, 1909. It produced some of the most capable fighter aircraft...
F.2 aircraft piloted by Radul Milkov, for the first time in this campaign.
After a number of tests, Petrov created the final design, with improved
aerodynamics
Aerodynamics
Aerodynamics is a branch of dynamics concerned with studying the motion of air, particularly when it interacts with a moving object. Aerodynamics is a subfield of fluid dynamics and gas dynamics, with much theory shared between them. Aerodynamics is often used synonymously with gas dynamics, with...
, an
X-shaped tail
Cruciform tail
The cruciform tail is an aircraft empennage configuration which, when viewed from the aircraft's front or rear, looks much like a cross. The usual arrangement is to have the horizontal stabilizer intersect the vertical tail somewhere near the middle, and above the top of the fuselage.Often this...
, and an impact
detonator
Detonator
A detonator is a device used to trigger an explosive device. Detonators can be chemically, mechanically, or electrically initiated, the latter two being the most common....
. This version was widely used by the Bulgarian Air Force during the
siege of Edirne
Battle of Adrianople (1913)
The Battle or Siege of Adrianople or Siege of Edirne was fought during the First Balkan War, beginning in mid-November 1912 and ending on 26 March 1913 with the capture of Edirne by the Bulgarian 2nd Army....
. A copy of the plans was later sold to
Germany
Germany
Germany , officially the Federal Republic of Germany , is a federal parliamentary republic in Europe. The country consists of 16 states while the capital and largest city is Berlin. Germany covers an area of 357,021 km2 and has a largely temperate seasonal climate...
and the bomb, codenamed "Chataldzha" ("Чаталджа"), remained in
mass production
Mass production
Mass production is the production of large amounts of standardized products, including and especially on assembly lines...
until the end of
World War I
World War I
World War I , which was predominantly called the World War or the Great War from its occurrence until 1939, and the First World War or World War I thereafter, was a major war centred in Europe that began on 28 July 1914 and lasted until 11 November 1918...
. The weight of one of these bombs was 6 kilograms. On impact it created a
crater
Explosion crater
An explosion crater is a characteristically shaped hole formed when material is ejected from the surface of the ground by an explosive event just above, at, or below the surface....
4-5 meters wide and about 1 meter deep.
Technical description
Aerial bombs typically use a contact fuze to detonate the bomb upon impact.
See also
Types of aerial bomb:
Cluster bomb

Cluster bomb

A cluster munition is a form of air-dropped or ground-launched explosive weapon that releases or ejects smaller sub-munitions. Commonly, this is a cluster bomb that ejects explosive bomblets that are designed to kill enemy personnel and destroy vehicles...



Concrete bomb

Concrete bomb

A concrete bomb is an aerial bomb which contains dense, inert material instead of explosive. The target is destroyed using the kinetic energy of the falling bomb. Such weapons can only practically be deployed when configured as a laser-guided bomb or other form of smart bomb, as a direct hit on...



Incendiary bomb
General-purpose bomb

General-purpose bomb

A general-purpose bomb is an air-dropped bomb intended as a compromise between blast damage, penetration, and fragmentation in explosive effect.-Characteristics:...



Gravity bomb

Gravity bomb

An unguided bomb, also known as a free-fall bomb, gravity bomb, dumb bomb, or iron bomb, is a conventional aircraft-delivered bomb that does not contain a guidance system and hence, simply follows a ballistic trajectory....


(dumb bomb)
Guided bomb

Guided bomb

A guided bomb is a precision-guided munition intended to precisely hit a specific target, and to minimize damage to things other than the target....


(smart bomb)