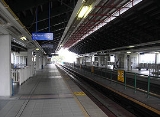 Abdullah Hukum LRT station
Abdullah Hukum LRT station
is an elevated
rapid transit station
Metro station
A metro station or subway station is a railway station for a rapid transit system, often known by names such as "metro", "underground" and "subway". It is often underground or elevated. At crossings of metro lines, they are multi-level....
in
Kuala Lumpur
Kuala Lumpur
Kuala Lumpur is the capital and the second largest city in Malaysia by population. The city proper, making up an area of , has a population of 1.4 million as of 2010. Greater Kuala Lumpur, also known as the Klang Valley, is an urban agglomeration of 7.2 million...
,
Malaysia
, forming part of the
Kelana Jaya Line
Kelana Jaya Line
The Kelana Jaya Line is a medium-capacity rail transport system and one of the three rail transit lines in the Kuala Lumpur Rail Transit System operated by RapidKL Rail network...
(formerly known as PUTRA). The station was opened on September 1, 1998, as part of the line's first segment encompassing 10 elevated stations between
Kelana Jaya station
Kelana Jaya LRT station
Kelana Jaya LRT station is a light rail station on the Kelana Jaya Line. It is the western terminus for passenger services on the line. The line extends further to the maintenance depot in Lembah Subang....
and
Pasar Seni station
Pasar Seni LRT station
The Pasar Seni LRT station is an LRT station in Kuala Lumpur that is served by rapid KL's Kelana Jaya Line. The station was named after the neighbouring Central Market.The Kuala Lumpur Railway Station which the KTM Komuter serves, is a 400 m walk away...
(not including the KL Sentral station opened later), and the line's maintenance
depot
Train station
A train station, also called a railroad station or railway station and often shortened to just station,"Station" is commonly understood to mean "train station" unless otherwise qualified. This is evident from dictionary entries e.g...
in Subang Valley .
Location
The station is named after the nearby
Kampung Haji Abdullah Hukum
Kampung Haji Abdullah Hukum
Kampung Haji Abdullah Hukum was an urban village located in Kuala Lumpur, Malaysia. It was situated further south along Jalan Bangsar, between the Rapid KL Kelana Jaya Line station named after the village and the Klang River...
, an urban village located between the station and the
Klang River
Klang River
Klang River is a river which flows through Kuala Lumpur and Selangor in Malaysia and eventually flows into the Straits of Malacca. It is approximately 120 km in length and drains a basin of about 1288 square kilometres...
. In addition to serving the southeastern village, the station is also accessible from the southwestern tip of Taman Bukit Pantai from the station's northwest. A
Malayan Railway
Keretapi Tanah Melayu
Keretapi Tanah Melayu Berhad or Malayan Railways Limited is the main rail operator in Peninsular Malaysia. The railway system dates back to the British colonial era, when it was first built to transport tin...
(KTM) line leading to
Port Klang station
Port Klang Komuter station
The Port Klang Komuter station is a train station in Port Klang, Selangor, Malaysia, operated by KTM Komuter. It is the western terminus on the Sentul-Port Klang Route...
runs parallel alongside the station and connected Kelana Jaya Line tracks.
Similar to the adjoining
Bangsar station
Bangsar LRT station
Bangsar LRT station is the Kelana Jaya Line stop for Bangsar.It is an elevated station located above Jalan Bangsar. Although it is located at Jalan Bangsar, it is located at quite a distance from most parts of Bangsar, namely Bangsar Baru....
, Abdullah Hukum station is erected along
Jalan Bangsar
Jalan Bangsar
Jalan Bangsar is a major road in Kuala Lumpur, Malaysia.-Construction of the Jalan Travers-Bangsar flyover junctions:The Jalan Travers-Bangsar junctions has been upgraded into flyover junctions. Construction began on early 2010 and was completed in mid 2010...
, further south, but is situated just over the Pantai Baharu exit of the
New Pantai Expressway
New Pantai Expressway
New Pantai Expressway, ' is a major expressway in the Klang Valley region of Malaysia. The expressway has provided an easier access to Kuala Lumpur from Subang Jaya and Bandar Sunway to avoid the traffic jams on the Federal Highway route during rush hour...
.
Among locals, Abdullah Hukum station is considered as the most useless station in Kuala Lumpur. On average, about 0,5 people embark or disembark the train each time.
Connectivity to Mid Valley City
Despite its relatively close proximity to the
Mid Valley City
Mid Valley City
Mid Valley City is a mixed development project in Kuala Lumpur, Malaysia. The development consists The Gardens shopping mall and Mid Valley Megamall.-Accessibility:...
mixed development just 250 metres east, no proper connection is provided between Abdullah Hukum station and Mid Valley City. The current routes requires patrons walk northwards to a footbridge crossing KTM tracks, from which they may head further east to cross Klang River via a road bridge. The station is currently the closest rapid transit station to Mid Valley City, but a
KTM Komuter
KTM Komuter
KTM Komuter is a commuter train service in Malaysia operated by Keretapi Tanah Melayu . It was introduced in 1995 to provide local rail services in Kuala Lumpur and the surrounding Klang Valley suburban areas. It is popular with commuters into the city, who thus avoid being caught in road traffic...
regional rail
Regional rail
Commuter rail, also called suburban rail, is a passenger rail transport service that primarily operates between a city center, and the middle to outer suburbs beyond 15km and commuter towns or other locations that draw large numbers of commuters—people who travel on a daily basis...
station is
located far closer to the area
Mid Valley Komuter station
The Mid Valley Komuter station is a KTM Komuter train halt located in Seputeh, Kuala Lumpur. The station was completed at a total cost of RM12.2 million, and opened to the public on August 2004.-Design:...
.
Various proposals were made to link the station to Mid Valley City, mainly via a direct pedestrian link between the station and the western tip of The Gardens, the closest and newest segment of Mid Valley City to the station. However, the proposals were commented to require proper consideration and planning before implementation, including suggestions to form a hub around the station (with a new Komuter station and a new monorail station) and rebuild the station entirely to support a larger number of patrons. Plans to clear
Kampung Abdullah Hukum
for future development, rumoured to be a new wing of Mid Valley City, meant the prospects of integrating the station into the development is also likely.
Design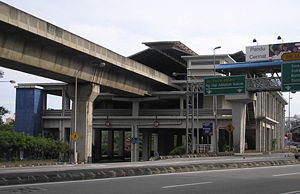 The station's layout is somewhat consistent with other elevated Kelana Jaya Line stations, and is alike the Bangsar station. The station has three levels: The access points at street level, and the ticket area and adjoining platforms on two elevated levels. All levels are linked via
stairway
Stairway
Stairway, staircase, stairwell, flight of stairs, or simply stairs are names for a construction designed to bridge a large vertical distance by dividing it into smaller vertical distances, called steps...
s,
escalator
Escalator
An escalator is a moving staircase – a conveyor transport device for carrying people between floors of a building. The device consists of a motor-driven chain of individual, linked steps that move up or down on tracks, allowing the step treads to remain horizontal.Escalators are used around the...
s and
elevator
Elevator
An elevator is a type of vertical transport equipment that efficiently moves people or goods between floors of a building, vessel or other structures...
s designated for
disabled
Disability
A disability may be physical, cognitive, mental, sensory, emotional, developmental or some combination of these.Many people would rather be referred to as a person with a disability instead of handicapped...
passengers.
Each of the station's two
side platform
Side platform
A Side platform is a platform positioned to the side of a pair of tracks at a railway station, a tram stop or a transitway. A pair of side platforms are often provided on a dual track line with a single side platform being sufficient for a single track line...
s is used by trains travelling at either direction of the line, and is entirely sheltered by roofs.
Connection to rapidKL buses
Abdullah Hukum LRT station is accessible via the following rapidKL buses:-
The rapidKL routes radiating out from Kerinchi LRT station with connecting

City shuttles,

Trunk shuttles,

Local shuttles

and

Express buses

.
Route
Origin
Via
Destination
Connecting To
U64
Taman Sri Muda
Pasar Seni via Abdullah Hukum LRT
U74
Pantai Hill Park
Pasar Seni via Abdullah Hukum LRT
U75
Petaling Jaya Old Town
Pasar Seni via Abdullah Hukum LRT
U80
UiTM Section 2 Shah Alam
Pasar Seni via Abdullah Hukum LRT
U88
Kota Damansara
Pasar Seni via Abdullah Hukum LRT