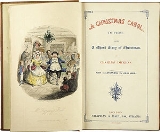 A Christmas Carol
A Christmas Carol
is a novella by English author
Charles Dickens
Charles Dickens
Charles John Huffam Dickens was an English novelist, generally considered the greatest of the Victorian period. Dickens enjoyed a wider popularity and fame than had any previous author during his lifetime, and he remains popular, having been responsible for some of English literature's most iconic...
first published by Chapman & Hall on 17 December 1843. The story tells of sour and stingy
Ebenezer Scrooge
Ebenezer Scrooge
Ebenezer Scrooge is the principal character in Charles Dickens's 1843 novel, A Christmas Carol. At the beginning of the novel, Scrooge is a cold-hearted, tight-fisted and greedy man, who despises Christmas and all things which give people happiness...
's ideological, ethical, and emotional transformation after the supernatural visits of
Jacob Marley
Jacob Marley
Jacob Marley is a fictional character who appears in Charles Dickens' 1843 novella A Christmas Carol.- Relationship with Scrooge:In life, Marley was the business partner of Ebenezer Scrooge. As teenagers, both men had been apprenticed in business and met as clerks in another business...
and the Ghosts of Christmas Past, Present, and Yet to Come. The novella met with instant success and critical acclaim.
The book was written and published in early
Victorian era
Victorian era
The Victorian era of British history was the period of Queen Victoria's reign from 20 June 1837 until her death on 22 January 1901. It was a long period of peace, prosperity, refined sensibilities and national self-confidence...
Britain when it was experiencing a nostalgic interest in its forgotten Christmas traditions, and at the time when new customs such as the
Christmas tree
Christmas tree
The Christmas tree is a decorated evergreen coniferous tree, real or artificial, and a tradition associated with the celebration of Christmas. The tradition of decorating an evergreen tree at Christmas started in Livonia and Germany in the 16th century...
and greeting cards were being introduced.
Old Marley was as dead as a door-nail. Mind! I don't mean to say that I know, of my own knowledge, what there is particularly dead about a door-nail. I might have been inclined, myself, to regard a coffin-nail as the deadest piece of ironmongery in the trade. But the wisdom of our ancestors is in the simile; and my unhallowed hands shall not disturb it, or the Country's done for. You will therefore permit me to repeat, emphatically, that Marley was as dead as a door-nail.

Oh! But he was a tight-fisted hand at the grindstone, Scrooge! a squeezing, wrenching, grasping, scraping, clutching, covetous, old sinner! Hard and sharp as flint, from which no steel had ever struck out generous fire; secret, and self-contained, and solitary as an oyster.

"Bah!" said Scrooge, "Humbug!"

I should have liked, I do confess, to have had the lightest license of a child, and yet to have been man enough to know its value.

"Merry Christmas! What right have you to be merry? What reason have you to be merry? You're poor enough." "Come, then," returned the nephew gaily. "What right have you to be dismal? What reason have you to be morose? You're rich enough."

"If I could work my will," said Scrooge indignantly, "Every idiot who goes about with 'Merry Christmas' on his lips, should be boiled with his own pudding, and buried with a stake of holly through his heart. He should!"

"Why do you doubt your senses?" [asks Marley's Ghost] "Because," said Scrooge, "a little thing affects them. A slight disorder of the stomach makes them cheats. You may be an undigested bit of beef, a blot of mustard, a crumb of cheese, a fragment of an underdone potato. There's more of gravy than of grave about you, whatever you are!"

"You are fettered," said Scrooge, trembling. "Tell me why?" "I wear the chain I forged in life," replied the Ghost. "I made it link by link, and yard by yard; I girded it on of my own free will, and of my own free will I wore it."

"It is required of every man," the Ghost returned, "that the spirit within him should walk abroad among his fellowmen, and travel far and wide; and if that spirit goes not forth in life, it is condemned to do so after death. It is doomed to wander through the world — oh, woe is me! — and witness what it cannot share, but might have shared on earth, and turned to happiness!"