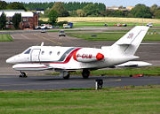 Aérospatiale
Aérospatiale
was a French
aerospace manufacturer
Aerospace manufacturer
An aerospace manufacturer is a company or individual involved in the various aspects of designing, building, testing, selling, and maintaining aircraft, aircraft parts, missiles, rockets, and/or spacecraft....
that built both civilian and military
aircraft
Aircraft
An aircraft is a vehicle that is able to fly by gaining support from the air, or, in general, the atmosphere of a planet. An aircraft counters the force of gravity by using either static lift or by using the dynamic lift of an airfoil, or in a few cases the downward thrust from jet engines.Although...
,
rocket
Rocket
A rocket is a missile, spacecraft, aircraft or other vehicle which obtains thrust from a rocket engine. In all rockets, the exhaust is formed entirely from propellants carried within the rocket before use. Rocket engines work by action and reaction...
s and
satellite
Satellite
In the context of spaceflight, a satellite is an object which has been placed into orbit by human endeavour. Such objects are sometimes called artificial satellites to distinguish them from natural satellites such as the Moon....
s. It was originally known as
Société Nationale Industrielle Aérospatiale
(
SNIAS
). Its head office was in the 16th arrondissement of
Paris
Paris
Paris is the capital and largest city in France, situated on the river Seine, in northern France, at the heart of the Île-de-France region...
.
The former assets of Aérospatiale are now part of
EADS
EADS
The European Aeronautic Defence and Space Company N.V. is a global pan-European aerospace and defence corporation and a leading defence and military contractor worldwide...
, except the Satellites activities which merged with
Alcatel
Alcatel
Alcatel Mobile Phones is a brand of mobile handsets. It was established in 2004 as a joint venture between Alcatel-Lucent of France and TCL Communication of China....
and became Alcatel Space, in 1999, now
Thales Alenia Space
Thales Alenia Space
Thales Alenia Space is an aerospace company born after the Thales Group bought the participation of Alcatel in the two joint-ventures between Alcatel and Finmeccanica, Alcatel Alenia Space and Telespazio.-History:...
.
History
The company (as SNIAS) was created in 1970 by the merger of the state-owned companies
Sud Aviation
Sud Aviation
Sud-Aviation was a French state-owned aircraft manufacturer, originating from the merger of Sud-Est and Sud-Ouest on March 1, 1957...
,
Nord Aviation
Nord Aviation
Nord-Aviation was a state-owned French aircraft manufacturer. It was created on October 1, 1954 upon the acquisition of SFECMAS by SNCAN...
and
Société d'études et de réalisation d'engins balistiques
(SÉREB). Starting in 1971 it was directed by
Émile Dewoitine
Émile Dewoitine
Émile Dewoitine was a French aviation industrialist.- Prewar industrial activities :Born in Crépy-en-Laonnois, Émile Dewoitine entered the aviation industry by working at Latécoère during Word War I...
and Bernard Dufour.
In 1991 the company helped construct the revolutionary chassis of the
Bugatti EB110
Bugatti EB110
The Bugatti EB110 is a mid-engine sports car from Bugatti Automobili SpA. It was unveiled on September 15, 1991, in both Versailles and in front of the Grande Arche at La Défense in Paris, France, exactly 110 years after Ettore Bugatti's birth....
Supercar. The chassis was built completely of carbon fibre, and was very lightweight.
In 1992, DaimlerBenz Aerospace AG (DASA) and Aérospatiale combined their helicopter divisions to form the
Eurocopter Group
Eurocopter Group
The Eurocopter Group is a global helicopter manufacturing and support company. It is the largest in the industry in terms of revenues and turbine helicopter deliveries. Its head office is located on the property of Marseille-Provence International Airport in Marignane, France, near Marseille...
.
In 1999, Aérospatiale, except for the satellites activities, merged with
Matra Haute Technologie
Matra
Mécanique Aviation Traction or Matra was a French company covering a wide range of activities mainly related to automobile, bicycles, aeronautics and weaponry. In 1994, it became a subsidiary of the Lagardère Group and now operates under that name.Matra was owned by the Floirat family...
to form
Aérospatiale-Matra
Aérospatiale-Matra
Aérospatiale-Matra was a French missile and aircraft manufacturer. It was formed in 1999 by the merger of French companies Aérospatiale and Matra Haute Technologie....
. In 2001, Aérospatiale-Matra's missile group was merged with
Matra BAe Dynamics
Matra BAe Dynamics
Matra BAe Dynamics was formed in August 1996 by merger of half the missile business of Matra Defense of France and BAe Dynamics of the UK and was Europe's largest manufacturer of missiles and UAVs....
and the missile division of
Alenia Marconi Systems
Alenia Marconi Systems
Alenia Marconi Systems was a major European integrated defence electronics company and an equal shares joint venture between BAE Systems and Finmeccanica until its dissolution on May 3, 2005....
to form
MBDA
MBDA
MBDA is a missile developer and manufacturer with operations in France, Britain, Germany, Italy, and the United States. It was formed by a merger of Aérospatiale-Matra Missiles , Finmeccanica and Matra BAe Dynamics in December 2001. In 2003 the company had 10,000 employees...
.
Lionel Jospin
Lionel Jospin
Lionel Jospin is a French politician, who served as Prime Minister of France from 1997 to 2002.Jospin was the Socialist Party candidate for President of France in the elections of 1995 and 2002. He was narrowly defeated in the final runoff election by Jacques Chirac in 1995...
's Plural Left government initiated the
privatization
Privatization
Privatization is the incidence or process of transferring ownership of a business, enterprise, agency or public service from the public sector to the private sector or to private non-profit organizations...
of Aérospatiale.
On July 10, 2000, Aérospatiale-Matra merged with
Construcciones Aeronáuticas SA (CASA)
Construcciones Aeronáuticas SA
Construcciones Aeronáuticas SA , was a Spanish aircraft manufacturer. It became EADS CASA the Spanish branch of EADS in 1999, but was absorbed by Airbus Military in 2009...
of Spain and
DaimlerChrysler Aerospace AG (DASA)
DASA
DaimlerChrysler Aerospace AG, or DASA, was the former aerospace subsidiary of Daimler-Benz AG from 1989...
of Germany to form the European Aeronautic Defence and Space Company (EADS).
Products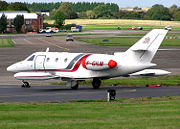 Fixed-wing aircraft
Helicopters
Space-related products
External links