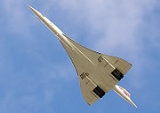 Concorde
Aérospatiale-BAC Concorde
was a
turbojet
-powered
supersonic
Supersonic
Supersonic speed is a rate of travel of an object that exceeds the speed of sound . For objects traveling in dry air of a temperature of 20 °C this speed is approximately 343 m/s, 1,125 ft/s, 768 mph or 1,235 km/h. Speeds greater than five times the speed of sound are often...
passenger
airliner
Airliner
An airliner is a large fixed-wing aircraft for transporting passengers and cargo. Such aircraft are operated by airlines. Although the definition of an airliner can vary from country to country, an airliner is typically defined as an aircraft intended for carrying multiple passengers in commercial...
, a
supersonic transport
Supersonic transport
A supersonic transport is a civilian supersonic aircraft designed to transport passengers at speeds greater than the speed of sound. The only SSTs to see regular service to date have been Concorde and the Tupolev Tu-144. The last passenger flight of the Tu-144 was in June 1978 with its last ever...
(SST). It was a product of an Anglo-French government treaty, combining the manufacturing efforts of
Aérospatiale
Aérospatiale
Aérospatiale was a French aerospace manufacturer that built both civilian and military aircraft, rockets and satellites. It was originally known as Société Nationale Industrielle Aérospatiale...
and the
British Aircraft Corporation
British Aircraft Corporation
The British Aircraft Corporation was a British aircraft manufacturer formed from the government-pressured merger of English Electric Aviation Ltd., Vickers-Armstrongs , the Bristol Aeroplane Company and Hunting Aircraft in 1960. Bristol, English Electric and Vickers became "parents" of BAC with...
. First flown in 1969, Concorde entered service in 1976 and continued commercial flights for 27 years.
Among other destinations, Concorde flew regular
transatlantic flight
Transatlantic flight
Transatlantic flight is the flight of an aircraft across the Atlantic Ocean. A transatlantic flight may proceed east-to-west, originating in Europe or Africa and terminating in North America or South America, or it may go in the reverse direction, west-to-east...
s from London Heathrow (British Airways) and Paris-Charles de Gaulle Airport (Air France) to
New York JFK
John F. Kennedy International Airport
John F. Kennedy International Airport is an international airport located in the borough of Queens in New York City, about southeast of Lower Manhattan. It is the busiest international air passenger gateway to the United States, handling more international traffic than any other airport in North...
, profitably flying these routes at record speeds, in less than half the time of other airliners.
With only 20 aircraft built, their development represented a substantial economic loss, in addition to which
Air France
Air France
Air France , stylised as AIRFRANCE, is the French flag carrier headquartered in Tremblay-en-France, , and is one of the world's largest airlines. It is a subsidiary of the Air France-KLM Group and a founding member of the SkyTeam global airline alliance...
and British Airways were subsidised by their governments to buy them.