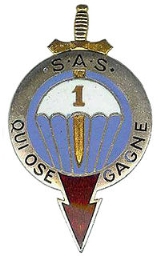 1st Marine Infantry Parachute Regiment
The
1st Marine Infantry Parachute Regiment
is one of three regiments in the
French Army Special Forces Brigade
French Army Special Forces Brigade
The Army Special Forces Brigade is the French Army's special forces unit. It is based in Pau, Pyrénées-Atlantiques.- History :The BFST is the heir of the Groupement Spécial Autonome created in 1997 and then commanded the 1er RPIMa and a special operations flight belonging to the 4e Régiment...
. Based in
Bayonne
Bayonne
Bayonne is a city and commune in south-western France at the confluence of the Nive and Adour rivers, in the Pyrénées-Atlantiques department, of which it is a sub-prefecture...
in the local Citadel. They have operated all over the world.
Unit Specialization
CTLO (counter terrorism and hostages rescue teams)
GDC (Bodyguard Garde du Corps)
THP (Snipers Tireurs Haute Précision)
RCO (pathfinders – Rapas Chuteurs Opérationnels)
PRS (Desert special reconnaissance patrols Patrouilles de Reconnaissances Speciales)
RPO (combatdivers Rapas Plongeurs Offensifs)
Moutain and Jungle Warfare
Explosives and demolition
Origins
The origins of the 1er RPIMa dates back to the Second World War. The Regiment was first formed as the
1ère Compagnie d'Infanterie de l'Air
in Britain, redesignated
1ère Compagnie de Chasseurs Parachutistes
(1e CCP) under Captain
Georges Bergé
Georges Bergé
Georges Roger Pierre Bergé was a French Army general who served during World War II. He enlisted in the Free French Forces, where he took command of the 1re compagnie de chasseurs parachutistes . He is mentioned by David Stirling as one of the co-founders of the Special Air Service...
. It consisted of around 50 paratroopers when they were transferred to
David Stirling's
David Stirling
Colonel Sir Archibald David Stirling, DSO, DFC, OBE was a Scottish laird, mountaineer, World War II British Army officer, and the founder of the Special Air Service.-Life before the war:...
Special Air Service
Special Air Service
Special Air Service or SAS is a corps of the British Army constituted on 31 May 1950. They are part of the United Kingdom Special Forces and have served as a model for the special forces of many other countries all over the world...
in the North African campaign; in this unit, they took part in successful operations in Africa, Crete, France, Belgium, Holland and Germany. Today, this SAS heritage still shows in the regimental insignia and the regimental motto "Qui Ose Gagne" (Who Dares Wins). After completing the SAS training course they were called French Squadron SAS. The regiment is the heir to the two Free French Special Air Service (SAS): 3 SAS (3e RCP) and 4 SAS (2e RCP).
Following the end of World War II, 3 and 4 SAS was handed over to the French Army on 1 October 1945.
The regiment was restructured after returning from
Indochina
Indochina
The Indochinese peninsula, is a region in Southeast Asia. It lies roughly southwest of China, and east of India. The name has its origins in the French, Indochine, as a combination of the names of "China" and "India", and was adopted when French colonizers in Vietnam began expanding their territory...
and acted as training depot for the colonial parachute force during the Algerian War. It remained in this role until 1974 when it became a
Special forces
Special forces
Special forces, or special operations forces are terms used to describe elite military tactical teams trained to perform high-risk dangerous missions that conventional units cannot perform...
regiment.
Organisation & Structure
Due to its long history with the British Special Air Service much of the 1er RPIMa core aspects are based upon the British SAS. Each company specialises in a particular area such as maritime, air ops/pathfinder, mobility.
Three main Combat Companies RAPAS (Recherche Aéroportée et Actions Spécialisées (RAPAS) which translates to Airborne Reconnaissance and Special Action.

1e Compagnie(Pathfinders / Divers / Snipers)
2e Compagnie (Mountain and jungle specialists)
3e Compagnie (Mobility / Desert ops)
4e Compagnie (Urban - Counter terrorism and Bodyguards)
There are also one Command and Logistic Company
Selection & Training
Officers and NCOs joining the regiment have to attend the same selection and training as enlisted.
Enlisted: Each soldier enlisted in the French army can try to join the 1er RPIMA, between 1 and 3 years of active duty, if they are medically OK (airborne agreement).
First step is a profile selection: Candidates will be selected regarding unit requirements and personal file (e.g : if the regiment needs some mountain specialists, they will ask for more mountain troopers to come for the selection). Candidates selected must attend the two weeks basic airborne training prior the SF training, for those who are not already enlisted in an airborne regiment.
Second step of selection is "adaptation training" and "stage commando" during twelve weeks. Candidates must be above average to continue the training. Most of failures and RTU occur during this phase.
Last step of selection is the "stage CTE RAPAS" during six months. After completion of this "stage", candidates are fully assigned to the regiment as special force soldier. They will attend additional training to become specialists (bodyguard, pathfinders, etc)
Lineage
May, 1941: 1st Air Infantry Company
June, 1943: 1st Air Infantry Battalion
March, 2011, Libya: direct action & unconventional warfare e.g. 1e Cie, 3e Cie
Battle Honours
Crete 1942

Crete

Crete is the largest and most populous of the Greek islands, the fifth largest island in the Mediterranean Sea, and one of the thirteen administrative regions of Greece. It forms a significant part of the economy and cultural heritage of Greece while retaining its own local cultural traits...



Libye 1942

Libya

Libya is an African country in the Maghreb region of North Africa bordered by the Mediterranean Sea to the north, Egypt to the east, Sudan to the southeast, Chad and Niger to the south, and Algeria and Tunisia to the west....



Sud Tunisien 1943

Tunisia Campaign

The Tunisia Campaign was a series of battles that took place in Tunisia during the North African Campaign of the Second World War, between Axis and Allied forces. The Allies consisted of British Imperial Forces, including Polish and Greek contingents, with American and French corps...



France 1944
Ardennes Belges 1945

Battle of the Bulge

The Battle of the Bulge was a major German offensive , launched toward the end of World War II through the densely forested Ardennes mountain region of Wallonia in Belgium, hence its French name , and France and...



Hollande 1945

Netherlands

The Netherlands is a constituent country of the Kingdom of the Netherlands, located mainly in North-West Europe and with several islands in the Caribbean. Mainland Netherlands borders the North Sea to the north and west, Belgium to the south, and Germany to the east, and shares maritime borders...



Indochine 1946-1954

First Indochina War

The First Indochina War was fought in French Indochina from December 19, 1946, until August 1, 1954, between the French Union's French Far East...



2011 Libyan uprising
Decorations
External links