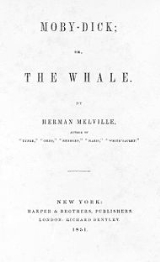 Moby-Dick
Topics
Moby-Dick
Quotations

Quotations
Moby-Dick; or, The Whale
(1851) is a novel by
Herman Melville
, in which the sole survivor of a lost whaling ship relates the tale of his captain's self-destructive obsession to hunt the white whale, Moby-Dick.
Loomings (1)
Call me Ishmael. Some years ago — never mind how long precisely — having little or no money in my purse, and nothing particular to interest me on shore, I thought I would sail about a little and see the watery part of the world. It is a way I have of driving off the spleen and regulating the circulation.
The act of paying is perhaps the most uncomfortable infliction that the two orchard thieves entailed upon us.
Whenever I find myself growing grim about the mouth; whenever it is a damp, drizzly November in my soul; whenever I find myself involuntarily pausing before coffin warehouses, and bringing up the rear of every funeral I meet; and especially whenever my hypos get such an upper hand of me, that it requires a strong moral principle to prevent me from deliberately stepping into the street, and methodically knocking people's hats off — then, I account it high time to get to sea as soon as I can. This is my substitute for pistol and ball. With a philosophical flourish Cato throws himself upon his sword; I quietly take to the ship.
Yes, as every one knows, meditation and water are wedded for ever.
Why did the old Persians hold the sea holy? Why did the Greeks give it a separate deity, and own brother of Jove? Surely all this is not without meaning. And still deeper the meaning of that story of Narcissus, who because he could not grasp the tormenting, mild image he saw in the fountain, plunged into it and was drowned. But that same image, we ourselves see in all rivers and oceans. It is the image of the ungraspable phantom of life; and this is the key to it all.
The Carpet-Bag (2)
As most young candidates for the pains and penalties of whaling stop at this same New Bedford, thence to embark on their voyage, it may as well be related that I, for one, had no idea of so doing.
It seemed the great Black Parliament sitting in Tophet. A hundred black faces turned round in their rows to peer; and beyond, a black Angel of Doom was beating a book in a pulpit. It was a negro church; and the preacher's text was about the blackness of darkness, and the weeping and wailing and teeth-gnashing there. Ha, Ishmael, muttered I, backing out, Wretched entertainment at the sign of 'The Trap!'
The Sermon (9)
But oh! shipmates! on the starboard hand of every woe, there is a sure delight; and higher the top of that delight, than the bottom of the woe is deep. Is not the main-truck higher than the kelson is low? Delight is to him — a far, far upward, and inward delight — who against the proud gods and commodores of this earth, ever stands forth his own inexorable self.
And eternal delight and deliciousness will be his, who coming to lay him down, can say with his final breath — O Father! — chiefly known to me by Thy rod — mortal or immortal, here I die. I have striven to be Thine, more than to be this world's, or mine own. Yet this is nothing: I leave eternity to Thee; for what is man that he should live out the lifetime of his God?
A Bosom Friend (10)
How it is I know not; but there is no place like a bed for confidential disclosures between friends. Man and wife, they say, there open the very bottom of their souls to each other; and some old couples often lie and chat over old times till nearly morning. Thus, then, in our hearts' honeymoon, lay I and Queequeg — a cosy, loving pair.
Nightgown (11)
The more so, I say, because truly to enjoy bodily warmth, some small part of you must be cold, for there is no quality in this world that is not what it is merely by contrast. Nothing exists in itself. If you flatter yourself that you are all over comfortable, and have been so a long time, then you cannot be said to be comfortable any more.
Nantucket (14)
With the landless gull, that at sunset folds her wings and is rocked to sleep between billows; so at nightfall, the Nantucketer, out of sight of land, furls his sails, and lays him to his rest, while under his very pillow rush herds of walruses and whales.
The Ramadan (17)
I have no objection to any person's religion, be it what it may, so long as that person does not kill or insult any other person, because that other person don't believe it also. But when a man's religion becomes really frantic; when it is a positive torment to him; and, in fine, makes this earth of ours an uncomfortable inn to lodge in; then I think it high time to take that individual aside and argue the point with him.
In one word, Queequeg, said I, rather digressively; hell is an idea first born on an undigested apple-dumpling; and since then perpetuated through the hereditary dyspepsias nurtured by Ramadans.
I do not think that my remarks about religion made much impression upon Queequeg. Because, in the first place, he somehow seemed dull of hearing on that important subject, unless considered from his own point of view; and, in the second place, he did not more than one third understand me, couch my ideas simply as I would; and, finally, he no doubt thought he knew a good deal more about the true religion than I did. He looked at me with a sort of condescending concern and compassion, as though he thought it a great pity that such a sensible young man should be so hopelessly lost to evangelical pagan piety.
The Advocate (24)
And, as for me, if, by any possibility, there be any as yet undiscovered prime thing in me; if I shall ever deserve any real repute in that small but high hushed world which I might not be unreasonably ambitious of; if hereafter I shall do anything that, upon the whole, a man might rather have done than to have left undone; if, at my death, my executors, or more properly my creditors, find any precious MSS. in my desk, then here I prospectively ascribe all the honor and the glory to whaling; for a whale-ship was my Yale College and my Harvard.
Knights and Squires (26)
Bear me out in it, thou great democratic God! who didst not refuse to the swart convict, Bunyan, the pale, poetic pearl; Thou who didst clothe with doubly hammered leaves of finest gold, the stumped and paupered arm of old Cervantes; Thou who didst pick up Andrew Jackson from the pebbles; who didst hurl him upon a war-horse; who didst thunder him higher than a throne! Thou who, in all Thy mighty, earthly marchings, ever cullest Thy selectest champions from the kingly commoners; bear me out in it, O God!
Enter Ahab; to Him, Stubb (29)
Damn me, it's worth a fellow's while to be born into the world, if only to fall right asleep. And now that I think of it, that's about the first thing babies do, and that's a sort of queer, too. Damn me, but all things are queer, come to think of 'em. But that's against my principles. Think not, is my eleventh commandment; and sleep when you can, is my twelfth — So here goes again.

Stubb, to himself after being cursed at by Ahab.
Old age is always wakeful; as if, the longer linked with life, the less man has to do with aught that looks like death.
The Specksynder (33)
This it is, that for ever keeps God's true princes of the Empire from the world's hustings; and leaves the highest honors that this air can give, to those men who become famous more through their infinite inferiority to the choice hidden handful of the Divine Inert, than through their undoubted superiority over the dead level of the mass. Such large virtue lurks in these small things when extreme political superstitions invest them, that in some royal instances even to idiot imbecility they have imparted potency.
The Mast-Head (35)
Let me make a clean breast of it here, and frankly admit that I kept but sorry guard. With the problem of the universe revolving in me, how could I - being left completely to myself at such a thought-engendering altitude, - how could I but lightly hold my obligations to observe all whale-ships' standing orders, "Keep your weather eye open, and sing out every time."
There is no life in thee, now, except that rocking life imparted by a gently rolling ship; by her, borrowed from the sea; by the sea, from the inscrutable tides of God. But while this sleep, this dream is on ye, move your foot or hand an inch; slip your hold at all; and your identity comes back in horror. Over Descartian vortices you hover. And perhaps, at mid-day, in the fairest weather, with one half-throttled shriek you drop through that transparent air into the summer sea, no more to rise for ever. Heed it well, ye Pantheists!
The Quarter-Deck (36)
"But what's this long face about, Mr. Starbuck; wilt thou not chase the white whale! art not game for Moby Dick?"

"I am game for his crooked jaw, and for the jaws of Death too, Captain Ahab, if it fairly comes in the way of the business we follow; but I came here to hunt whales, not my commander's vengeance. How many barrels will thy vengeance yield thee even if thou gettest it, Captain Ahab? it will not fetch thee much in our Nantucket market."

"Nantucket market! Hoot! But come closer, Starbuck; thou requirest a little lower layer. If money's to be the measurer, man, and the accountants have computed their great counting-house the globe, by girdling it with guineas, one to every three parts of an inch; then, let me tell thee, that my vengeance will fetch a great premium here!"

"He smites his chest," whispered Stubb, "what's that for? methinks it rings most vast, but hollow."

Colloquy between Ahab and Starbuck, with commentary by Stubb
All visible objects, man, are but as pasteboard masks. But in each event — in the living act, the undoubted deed — there, some unknown but still reasoning thing puts forth the mouldings of its features from behind the unreasoning mask. If man will strike, strike through the mask! How can the prisoner reach outside except by thrusting through the wall? To me, the white whale is that wall, shoved near to me. Sometimes I think there's naught beyond. But 'tis enough. He tasks me; he heaps me; I see in him outrageous strength, with an inscrutable malice sinewing it. That inscrutable thing is chiefly what I hate; and be the white whale agent, or be the white whale principal, I will wreak that hate upon him. Talk not to me of blasphemy, man; I'd strike the sun if it insulted me. For could the sun do that, then could I do the other; since there is ever a sort of fair play herein, jealousy presiding over all creations. But not my master, man, is even that fair play. Who's over me? Truth hath no confines.
"Aye, aye! It was that accursed white whale that razeed me; made a poor pegging lubber of me for ever and a day!" Then tossing both arms, with measureless imprecations he shouted out: "Aye, aye! and I'll chase him round Good Hope, and round the Horn, and round the Norway Maelstrom, and round perdition's flames before I give him up. And this is what ye have shipped for, men! to chase that white whale on both sides of land, and over all sides of earth, till he spouts black blood and rolls fin out."
Sunset (37)
Swerve me? The path to my fixed purpose is laid with iron rails, whereon my soul is grooved to run. Over unsounded gorges, through the rifled hearts of mountains, under torrents' beds, unerringly I rush! Naught's an obstacle, naught's an angle to the iron way!
Moby-Dick (41)
All that most maddens and torments; all that stirs up the lees of things; all truth with malice in it; all that cracks the sinews and cakes the brain; all the subtle demonisms of life and thought; all evil, to crazy Ahab, were visibly personified, and made practically assailable in Moby-Dick. He piled upon the whale's white hump the sum of all the general rage and hate felt by his whole race from Adam down; and then, as if his chest had been a mortar, he burst his hot heart's shell upon it.
The Whiteness of The Whale (42)
What the white whale was to Ahab, has been hinted; what, at times, he was to me, as yet remains unsaid.
Is it that by its indefiniteness it shadows forth the heartless voids and immensities of the universe, and thus stabs us from behind with the thought of annihilation, when beholding the white depths of the milky way? Or is it, that as in essence whiteness is not so much a color as the visible absence of color; and at the same time the concrete of all colors; is it for these reasons that there is such a dumb blankness, full of meaning, in a wide landscape of snows- a colorless, all-color of atheism from which we shrink? And when we consider that other theory of the natural philosophers, that all other earthly hues — every stately or lovely emblazoning — the sweet tinges of sunset skies and woods; yea, and the gilded velvets of butterflies, and the butterfly cheeks of young girls; all these are but subtile deceits, not actually inherent in substances, but only laid on from without; so that all deified Nature absolutely paints like the harlot, whose allurements cover nothing but the charnel-house within; and when we proceed further, and consider that the mystical cosmetic which produces every one of her hues, the great principle of light, for ever remains white or colorless in itself, and if operating without medium upon matter, would touch all objects, even tulips and roses, with its own blank tinge — pondering all this, the palsied universe lies before us a leper; and like wilful travellers in Lapland, who refuse to wear colored and coloring glasses upon their eyes, so the wretched infidel gazes himself blind at the monumental white shroud that wraps all the prospect around him. And of all these things the Albino whale was the symbol. Wonder ye then at the fiery hunt?
Surmises (46)
To accomplish his object Ahab must use tools; and of all tools used in the shadow of the moon, men are most apt to get out of order.
Brit (58)
Consider all this; and then turn to this green, gentle, and most docile earth; consider them both, the sea and the land; and do you not find a strange analogy to something in yourself? For as this appalling ocean surrounds the verdant land, so in the soul of man there lies one insular Tahiti, full of peace and joy, but encompassed by all the horrors of the half known life. God keep thee! Push not off from that isle, thou canst never return!
The Whale as a Dish (65)
No doubt the first man that ever murdered an ox was regarded as a murderer; perhaps he was hung; and if he had been put on his trial by oxen, he certainly would have been; and he certainly deserved it if any murderer does. Go to the meat-market of a Saturday night and see the crowds of live bipeds staring up at the long rows of dead quadrupeds. Does not that sight take a tooth out of the cannibal's jaw? Cannibals? who is not a cannibal? I tell you it will be more tolerable for the Fejee that salted down a lean missionary in his cellar against a coming famine; it will be more tolerable for that provident Fejee, I say, in the day of judgment, than for thee, civilized and enlightened gourmand, who nailest geese to the ground and feastest on their bloated livers in thy pate-de-foie-gras.
The Blanket (68)
It does seem to me, that herein we see the rare virtue of a strong individual vitality, and the rare virtue of thick walls, and the rare virtue of interior spaciousness. Oh, man! admire and model thyself after the whale! Do thou, too, remain warm among ice. Do thou, too, live in this world without being of it. Be cool at the equator; keep thy blood fluid at the Pole. Like the great dome of St. Peter's, and like the great whale, retain, O man! in all seasons a temperature of thine own. But how easy and how hopeless to teach these fine things! Of erections, how few are domed like St. Peter's! of creatures, how few vast as the whale!
The Sphynx (70)
O Nature, and O soul of man! how far beyond all utterance are your linked analogies; not the smallest atom stirs or lives on matter, but has its cunning duplicate in mind.
"Speak, thou vast and venerable head," muttered Ahab, "which, though ungarnished with a beard, yet here and there lookest hoary with mosses; speak, mighty head, and tell us the secret thing that is in thee. Of all divers, thou hast dived the deepest. That head upon which the upper sun now gleams, has moved amid this world's foundations. Where unrecorded names and navies rust, and untold hopes and anchors rot; where in her murderous hold this frigate earth is ballasted with bones of millions of the drowned; there, in that awful water-land, there was thy most familiar home. Thou hast been where bell or diver never went; hast slept by many a sailor's side, where sleepless mothers would give their lives to lay them down. Thou saw'st the locked lovers when leaping from their flaming ship; heart to heart they sank beneath the exulting wave; true to each other, when heaven seemed false to them. Thou saw'st the murdered mate when tossed by pirates from the midnight deck; for hours he fell into the deeper midnight of the insatiate maw; and his murderers still sailed on unharmed — while swift lightnings shivered the neighboring ship that would have borne a righteous husband to outstretched, longing arms. O head! thou hast seen enough to split the planets and make an infidel of Abraham, and not one syllable is thine!
The Try-Works (96)
Opposite the mouth of the works, on the further side of the wide wooden hearth, was the windlass. This served for a sea-sofa. Here lounged the watch, when not otherwise employed, looking into the red heat of the fire, till their eyes felt scorched in their heads. Their tawny features, now all begrimed with smoke and sweat, their matted beards, and the contrasting barbaric brilliancy of their teeth, all these were strangely revealed in the capricious emblazonings of the works. As they narrated to each other their unholy adventures, their tales of terror told in words of mirth; as their uncivilized laughter forking upwards out of them, like the flames from the furnace; as to and fro, in their front, the harpooneers wildly gesticulated with their huge pronged forks and dippers; as the wind howled on, and the sea leaped, and the ship groaned and dived, and yet steadfastly shot her red hell further and further into the blackness of the sea and the night, and scornfully champed the white bone in her mouth, and viciously spat round her on all sides; then the rushing Pequod, freighted with savages, and laden with fire, and burning a corpse, and plunging into the blackness of darkness, seemed the material counterpart of her monomaniac commander's soul.
So, therefore, that mortal man who hath more of joy than sorrow in him, that mortal man cannot be true — not true, or undeveloped. With books the same. The truest of all men was the Man of Sorrows, and the truest of all books is Solomon's, and Ecclesiastes is the fine hammered steel of woe.
Give not thyself up, then, to fire, lest it invert thee, deaden thee; as for the time it did me. There is a wisdom that is woe; but there is a woe that is madness. And there is a Catskill eagle in some souls that can alike dive down into the blackest gorges, and soar out of them again and become invisible in the sunny spaces. And even if he for ever flies within the gorge, that gorge is in the mountains; so that even in his lowest swoop the mountain eagle is still higher than other birds upon the plain, even though they soar.
The Doubloon (99)
Look you, Doubloon, your zodiac here is the life of man in one round chapter; and now I'll read it off, straight out of the book. Come, Almanack! To begin: there's Aries, or the Ram — lecherous dog, he begets us; then, Taurus, or the Bull — he bumps us the first thing; then Gemini, or the Twins — that is, Virtue and Vice; we try to reach Virtue, when lo! comes Cancer the Crab, and drags us back; and here, going from Virtue, Leo, a roaring Lion, lies in the path — he gives a few fierce bites and surly dabs with his paw; we escape, and hail Virgo, the Virgin! that's our first love; we marry and think to be happy for aye, when pop comes Libra, or the Scales — happiness weighed and found wanting; and while we are very sad about that, Lord! how we suddenly jump, as Scorpio, or the Scorpion, stings us in rear; we are curing the wound, when whang come the arrows all round; Sagittarius, or the Archer, is amusing himself. As we pluck out the shafts, stand aside; here's the battering-ram, Capricornus, or the Goat; full tilt, he comes rushing, and headlong we are tossed; when Aquarius, or the Water-bearer, pours out his whole deluge and drowns us; and to wind up with Pisces, or the Fishes, we sleep. There's a sermon now, writ in high heaven, and the sun goes through it every year, and yet comes out of it all alive and hearty.
The Fossil Whale (104)
One often hears of writers that rise and swell with their subject, though it may seem but an ordinary one. How, then, with me, writing of this Leviathan? Unconsciously my chirography expands into placard capitals. Give me a condor's quill! Give me Vesuvius' crater for an inkstand! Friends, hold my arms! For in the mere act of penning my thoughts of this Leviathan, they weary me, and make me faint with their outreaching comprehensiveness of sweep, as if to include the whole circle of the sciences, and all the generations of whales, and men, and mastodons, past, present, and to come, with all the revolving panoramas of empire on earth, and throughout the whole universe, not excluding its suburbs. Such, and so magnifying, is the virtue of a large and liberal theme! We expand to its bulk. To produce a mighty book, you must choose a mighty theme. No great and enduring volume can ever be written on the flea, though many there be who have tried it.
The skeleton of the whale furnishes but little clue to the shape of his fully invested body.
The Carpenter (107)
Seat thyself sultanically among the moons of Saturn, and take high abstracted man alone; and he seems a wonder, a grandeur, and a woe. But from the same point, take mankind in mass, and for the most part, they seem a mob of unnecessary duplicates, both contemporary and hereditary.
Queequeg in His Coffin (110)
With a wild whimsiness, he now used his coffin for a sea-chest; and emptying into it his canvas bag of clothes, set them in order there. Many spare hours he spent, in carving the lid with all manner of grotesque figures and drawings; and it seemed that hereby he was striving, in his rude way, to copy parts of the twisted tattooing on his body. And this tattooing had been the work of a departed prophet and seer of his island, who, by those hieroglyphic marks, had written out on his body a complete theory of the heavens and the earth, and a mystical treatise on the art of attaining truth; so that Queequeg in his own proper person was a riddle to unfold; a wondrous work in one volume; but whose mysteries not even himself could read, though his own live heart beat against them; and these mysteries were therefore destined in the end to moulder away with the living parchment whereon they were inscribed, and so be unsolved to the last.
Of all mortals, some dying men are the most tyrannical; and certainly, since they will shortly trouble us so little for evermore, the poor fellows ought to be indulged.
The Pacific (111)
There is, one knows not what sweet mystery about this sea, whose gently awful stirrings seems to speak of some hidden soul beneath; like those fabled undulations of the Ephesian sod over the buried Evangelist St. John. And meet it is, that over these sea-pastures, wide-rolling watery prairies and Potters' Fields of all four continents, the waves should rise and fall, and ebb and flow unceasingly; for here, millions of mixed shades and shadows, drowned dreams, somnambulisms, reveries; all that we call lives and souls, lie dreaming, dreaming, still; tossing like slumberers in their beds; the ever-rolling waves but made so by their restlessness.
The Forge (113)
"Ego non baptizo te in nomine patris, sed in nomine diaboli!," deliriously howled Ahab, as the malignant iron scorchingly devoured the baptismal blood.
The Gilder (114)
There is no steady unretracing progress in this life; we do not advance through fixed gradations, and at the last one pause: — through infancy's unconscious spell, boyhood's thoughtless faith, adolescence' doubt (the common doom), then scepticism, then disbelief, resting at last in manhood's pondering repose of If. But once gone through, we trace the round again; and are infants, boys, and men, and Ifs eternally. Where lies the final harbor, whence we unmoor no more? In what rapt ether sails the world, of which the weariest will never weary? Where is the foundling's father hidden? Our souls are like those orphans whose unwedded mothers die in bearing them: the secret of our paternity lies in their grave, and we must there to learn it.
The Candles (119)
I now know thee, thou clear spirit, and I now know that thy right worship is defiance. To neither love nor reverence wilt thou be kind; and e'en for hate thou canst but kill; and all are killed. No fearless fool now fronts thee. I own thy speechless, placeless power; but to the last gasp of my earthquake life will dispute its unconditional, unintegral mastery in me. In the midst of the personified impersonal, a personality stands here. Though but a point at best; whencesoe'er I came; wheresoe'er I go; yet while I earthly live, the queenly personality lives in me, and feels her royal rights. But war is pain, and hate is woe. Come in thy lowest form of love, and I will kneel and kiss thee; but at thy highest, come as mere supernal power; and though thou launchest navies of full-freighted worlds, there's that in here that still remains indifferent. Oh, thou clear spirit, of thy fire thou madest me, and like a true child of fire, I breathe it back to thee.
The lightning flashes through my skull; mine eye-balls ache and ache; my whole beaten brain seems as beheaded, and rolling on some stunning ground. Oh, oh! Yet blindfold, yet will I talk to thee. Light though thou be, thou leapest out of darkness; but I am darkness leaping out of light, leaping out of thee!
Oh, thou magnanimous! now I do glory in my genealogy. But thou art but my fiery father; my sweet mother, I know not. Oh, cruel! what hast thou done with her? There lies my puzzle; but thine is greater. Thou knowest not how came ye, hence callest thyself unbegotten; certainly knowest not thy beginning, hence callest thyself unbegun. I know that of me, which thou knowest not of thyself, oh, thou omnipotent. There is some unsuffusing thing beyond thee, thou clear spirit, to whom all thy eternity is but time, all thy creativeness mechanical. Through thee, thy flaming self, my scorched eyes do dimly see it. Oh, thou foundling fire, thou hermit immemorial, thou too hast thy incommunicable riddle, thy unparticipated grief. Here again with haughty agony, I read my sire. Leap! leap up, and lick the sky! I leap with thee; I burn with thee; would fain be welded with thee; defyingly I worship thee!
The Symphony (132)
What is it, what nameless, inscrutable, unearthly thing is it; what cozening, hidden lord and master, and cruel, remorseless emperor commands me; that against all natural lovings and longings, I so keep pushing, and crowding, and jamming myself on all the time; recklessly making me ready to do what in my own proper, natural heart, I durst not so much as dare? Is Ahab, Ahab? Is it I, God, or who, that lifts this arm? But if the great sun move not of himself; but is as an errand-boy in heaven; nor one single star can revolve, but by some invisible power; how then can this one small heart beat; this one small brain think thoughts; unless God does that beating, does that thinking, does that living, and not I. By heaven, man, we are turned round and round in this world, like yonder windlass, and Fate is the handspike. And all the time, lo! that smiling sky, and this unsounded sea!
Who's to doom, when the judge himself is dragged to the bar?
It is a mild, mild wind, and a mild looking sky; and the airs smells now, as if it blew from a far-away meadow; they have been making hay somewhere under the slopes of the Andes, Starbuck, and the mowers are sleeping among the new-mown hay.
The Chase - Third Day (135)
An old, old sight, and yet somehow so young; aye, and not changed a wink since I first saw it, a boy, from the sand-hills of Nantucket! The same — the same! — the same to Noah as to me. There's a soft shower to leeward. Such lovely leewardings! They must lead somewhere — to something else than common land, more palmy than the palms.
Towards thee I roll, thou all-destroying but unconquering whale; to the last I grapple with thee; from hell's heart I stab at thee; for hate's sake I spit my last breath at thee.
A sky-hawk that tauntingly had followed the main-truck downwards from its natural home among the stars, pecking at the flag, and incommoding Tashtego there; this bird now chanced to intercept its broad fluttering wing between the hammer and the wood; and simultaneously feeling that ethereal thrill, the submerged savage beneath, in his death-gasp, kept his hammer frozen there; and so the bird of heaven, with archangelic shrieks, and his imperial beak thrust upwards, and his whole captive form folded in the flag of Ahab, went down with his ship, which, like Satan, would not sink to hell till she had dragged a living part of heaven along with her, and helmeted herself with it. Now small fowls flew screaming over the yet yawning gulf; a sullen white surf beat against its steep sides; then all collapsed, and the great shroud of the sea rolled on as it rolled five thousand years ago.
Epilogue
The drama's done. Why then here does any one step forth? — Because one did survive the wreck.
On the second day, a sail drew near, nearer, and picked me up at last. It was the devious-cruising Rachel, that in her retracing search after her missing children, only found another orphan.