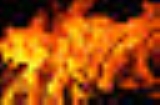 Fire
Topics
Fire
Quotations

Quotations
Fire
is a phenomenon of the heat and light energy released during a chemical reaction, in particular a combustion reaction. Depending on the substances involved, and any impurities within, the color and intensity of the flames of fire will vary. It is one of the four
classical elements
in ancient
Greek philosophy
and science. This page is for quotes referring to fire in literal or metaphorical ways.
Sourced
Time is the substance from which I am made. Time is a river which carries me along, but I am the river; it is a tiger that devours me, but I am the tiger; it is a fire that consumes me, but I am the fire.
"Regions Caesar never knew
Thy posterity shall sway;
Where his eagles never flew,
None invincible as they."

Such the bard's prophetic words,
Pregnant with celestial fire,
Bending as he swept the chords
Of his sweet but awful lyre.
It is stern work, it is perilous work, to thrust your hand in the sun
And pull out a spark of immortal flame to warm the hearts of men:
But Prometheus, torn by the claws and beaks whose task is never done,
Would be tortured another eternity to go stealing fire again.

Joyce Kilmer in "The Proud Poet" in Main Street and Other Poems (1917)
Time is the school in which we learn,
Time is the fire in which we burn.
When you do something, you should burn yourself completely, like a good bonfire, leaving no trace of yourself.

Shunryu Suzuki, quoted in Enter the Heart of the Fire : A collection of Mystical Poems (1981) by Mary E. Giles and Kathryn Hohlwein
A thing happens once that has never happened before. Seeing it, a man looks upon reality. He cannot tell others what he has seen. Others wish to know, however, so they question him saying, 'What is it like, this thing you have seen?' So he tries to tell them. Perhaps he has seen the very first fire in the world. He tells them, 'It is red, like a poppy, but through it dance other colors. It has no form, like water, flowing everywhere. It is warm, like the sun of summer, only warmer. It exists for a time upon a piece of wood, and then the wood is gone, as though it were eaten, leaving behind that which is black and can be sifted like sand. When the wood is gone, it too is gone.' Therefore, the hearers must think reality is like a poppy, like water, like the sun, like that which eats and excretes. They think it is like to anything that they are told it is like by the man who has known it. But they have not looked upon fire. They cannot really know it. They can only know of it. But fire comes again into the world, many times. More men look upon fire. After a time, fire is as common as grass and clouds and the air they breathe. They see that, while it is like a poppy, it is not a poppy, while it is like water, it is not water, while it is like the sun, it is not the sun, and while it is like that which eats and passes wastes, it is not that which eats and passes wastes, but something different from each of these apart or all of these together. So they look upon this new thing and they make a new word to call it. They call it 'fire.'
If they come upon one who still has not seen it and they speak to him of fire, he does not know what they mean. So they, in turn, fall back upon telling him what fire is like. 'As they do so, they know from their own experience that what they are telling him is not the truth, but only a part of it. They know that this man will never know reality from their words, though all the words in the world are theirs to use. He must look upon the fire, smell of it, warm his hands by it, stare into its heart, or remain forever ignorant. Therefore, 'fire' does not matter, 'earth' and 'air' and 'water' do not matter. 'I' do not matter. No word matters. But man forgets reality and remembers words.
Unsourced
Hate is like fire; it eats you up from the inside-out.
Fires all go out eventually.
Hate is like fire; it burns those who hold it.

Alden Loveshade (Same River Twice)
The fire is the main comfort of the camp, whether in summer or winter, and is about as ample at one season as at another. It is as well for cheerfulness as for warmth and dryness.
As soon go kindle fire with snow, as seek to quench the fire of love with words.
Today I had a chance to watch Fire... Its wild tounges licking toward the sky, sending glittery sparks flying. The embers smoldering like passion in your soul, as the flames lust to grow higher. The heat warmed my face arms and legs, as it begged me to feed it further. I felt bad as the night grew on and I had to starve it to smoldering embers, I knew that it left me a legacy of heat, passion, and lust... A Gift, I suppose.