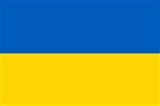 Ukraine
noun
(1) A republic in southeastern Europe; formerly a European soviet; the center of the original Russian state which came into existence in the ninth century
English
Alternative forms
Ocraine
Ukrain
Ukrania, Ucrania
Etymology
1688
Ucrania
,
Ukrain
,
Ukraine
,
Ukrania
, 1762
Ocraine
. Adaptation of , , or , from the specific use, originally meaning "borderland" or "marches". From + . Details in Wikipedia:
Name of Ukraine
.
Proper noun
A country in Eastern Europe; was long part of the Russian Empire, then of the Soviet Union. Official name: Ukraine.
Usage notes
Since the country's independence in 1991, style guides recommend
Ukraine
, without an article. Previously, the most common usage was
the Ukraine
.
See also