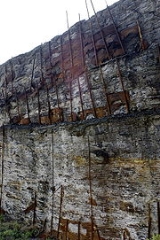 Slag
noun
(1) The scum formed by oxidation at the surface of molten metals
verb
(2) Convert into slag
Etymology
From , or , whence German ; originally, perhaps, the splinters struck off from the metal by hammering.
Noun
Verb
To make slag.
To talk badly about someone; to denigrate someone.
Related terms
Noun
Noun
Noun
----
Noun
stroke; the time when a clock strikes

Han kom precis på slaget midnatt = He came on the stroke of midnight

stroke; a loss of brain function arising when the blood supply to the brain is suddenly interrupted.
kind; sort

En fågel av ett ovanligt slag = A bird of an unusual kind

A fold on the legs of a pair of trousers, where about an inch of the leg is folded upwards.