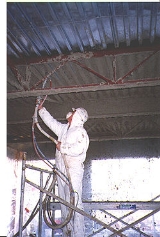 Plaster
noun
(1) Adhesive tape used in dressing wounds
(2)
A surface of hardened plaster (as on a wall or ceiling)
"There were cracks in the plaster"
(3) A medical dressing consisting of a soft heated mass of meal or clay that is spread on a cloth and applied to the skin to treat inflamed areas or improve circulation etc.
(4) A mixture of lime or gypsum with sand and water; hardens into a smooth solid; used to cover walls and ceilings
(5) Any of several gypsum cements; a white powder (a form of calcium sulphate) that forms a paste when mixed with water and hardens into a solid; used in making molds and sculptures and casts for broken limbs
verb
(6) Dress by covering with a therapeutic substance
(7)
Coat with plaster
"Daub the wall"
(8) Apply a heavy coat to
(9)
Apply a plaster cast to
"Plaster the broken arm"
Etymology
, from late ; later reinforced by .
Noun
See also
wonderboard
gypsum board
gyprock
sheetrock
wallboard
Verb
To hide or cover up, as if with plaster.

The radio station plastered the buses and trains with its advertisement.
Etymology
From late , from , from .
Inflection
----
Noun
plaster, sticking plaster, band-aid
Declension
----