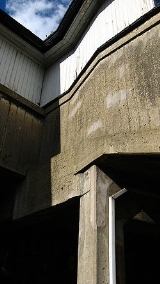 Concrete
adjective
(1)
Capable of being perceived by the senses; not abstract or imaginary
"Concrete objects such as trees"
(2) Formed by the coalescence of particles
noun
(3) A strong hard building material composed of sand and gravel and cement and water
verb
(4) Form into a solid mass; coalesce
(5)
Cover with cement
"Concrete the walls"
Etymology
From , past participle of ( + ).
Adjective
Particular, perceivable, real.

Fuzzy videotapes and distorted sound recordings are not concrete evidence that bigfoot exists.

Not abstract.

Once arrested, I realized that handcuffs are concrete, even if my concept of what is legal wasn't.

Made of concrete building material.

The office building had concrete flower boxes out front.
Noun
Verb
To cover with or encase in concrete; often constructed as concrete over.

I hate grass, so I concreted over my lawn.

To solidify.

Josie's plans began concreting once she fixed a date for the wedding.