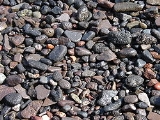 Gravel
adjective
(1)
Unpleasantly harsh or grating in sound
"A gravelly voice"
noun
(2) Rock fragments and pebbles
verb
(3)
Be a mystery or bewildering to
"This beats me!"
"Got me--I don't know the answer!"
"A vexing problem"
"This question really stuck me"
(4)
Cover with gravel
"We gravelled the driveway"
(5)
Cause annoyance in; disturb, especially by minor irritations
"Mosquitoes buzzing in my ear really bothers me"
"It irritates me that she never closes the door after she leaves"
Etymology
From , from , diminutive. of
Noun
A type or grade of small rocks, differentiated by mineral type, size range, or other characteristics.
Verb
}

To puzzle or annoy
}
}
}




Usage notes

In North American English, the forms graveled and graveling are more common.