 Zap Mama
Zap Mama
is a
Belgian
Belgium
Belgium , officially the Kingdom of Belgium, is a federal state in Western Europe. It is a founding member of the European Union and hosts the EU's headquarters, and those of several other major international organisations such as NATO.Belgium is also a member of, or affiliated to, many...
musical group founded and led by
Marie Daulne
Marie Daulne
Marie Daulne born in Isiro, Haut-Uele District, Democratic Republic of the Congo to a Belgian who was killed that same year by Simba rebels, and to a local Bantu woman...
. Daulne says her mission is to be a bridge between the European and the African and bring the two cultures together with her music. "What I would like to do is bring sounds from
Africa
Africa
Africa is the world's second largest and second most populous continent, after Asia. At about 30.2 million km² including adjacent islands, it covers 6% of the Earth's total surface area and 20.4% of the total land area...
and bring it to the Western world, because I know that through sound and through beats, that people discover a new culture, a new people, a new world." Zap Mama specializes in polyphonic, harmonic music with a mixture of heavily infused
African
Music of Africa
Africa is a vast continent and its regions and nations have distinct musical traditions. The music of North Africa for the most part has a different history from sub-Saharan African music traditions....
instruments,
R&B
Rhythm and blues
Rhythm and blues, often abbreviated to R&B, is a genre of popular African American music that originated in the 1940s. The term was originally used by record companies to describe recordings marketed predominantly to urban African Americans, at a time when "urbane, rocking, jazz based music with a...
, and
Hip-hop
Hip hop music
Hip hop music, also called hip-hop, rap music or hip-hop music, is a musical genre consisting of a stylized rhythmic music that commonly accompanies rapping, a rhythmic and rhyming speech that is chanted...
and emphasizes voice in all their music. "The voice is an instrument itself," says Daulne. "It's the original instrument. The primary instrument. The most soulful instrument, the human voice." They sing in
French
French language
French is a Romance language spoken as a first language in France, the Romandy region in Switzerland, Wallonia and Brussels in Belgium, Monaco, the regions of Quebec and Acadia in Canada, and by various communities elsewhere. Second-language speakers of French are distributed throughout many parts...
and
English
English language
English is a West Germanic language that arose in the Anglo-Saxon kingdoms of England and spread into what was to become south-east Scotland under the influence of the Anglian medieval kingdom of Northumbria...
with deep
African
Music of Africa
Africa is a vast continent and its regions and nations have distinct musical traditions. The music of North Africa for the most part has a different history from sub-Saharan African music traditions....
roots.
Sources of Zap Mama's music
Sources of Zap Mama's music include Daulne's roots in the Democratic Republic of Congo, her upbringing in Belgium, and her return to Africa to rediscover her musical roots.
Democratic Republic of Congo
Marie Daulne, the founder and leader of Zap Mama, was born in
Isiro
Isiro
Isiro is the capital of Haut-Uele District in the northeastern part of the Democratic Republic of the Congo. It lies between the equatorial forest and the savannah and its main resource is coffee. Isiro's population is estimated at approximately 150,000...
, one of the largest cities in the north of the
Orientale
Orientale, Congo
Orientale is one of the ten provinces of the Democratic Republic of the Congo. The province lies in the northeast of the country. It borders Équateur province to the west, Kasai-Oriental province to the southwest, Maniema province to the south, and Nord-Kivu province to the southeast...
province of
Democratic Republic of the Congo
Democratic Republic of the Congo
The Democratic Republic of the Congo is a state located in Central Africa. It is the second largest country in Africa by area and the eleventh largest in the world...
(also known as Congo-Kinshasa after its capital to distinguish it from the
Republic of the Congo
Republic of the Congo
The Republic of the Congo , sometimes known locally as Congo-Brazzaville, is a state in Central Africa. It is bordered by Gabon, Cameroon, the Central African Republic, the Democratic Republic of the Congo , the Angolan exclave province of Cabinda, and the Gulf of Guinea.The region was dominated by...
, or Congo-Brazzaville). She is the fourth child of Cyrille Daulne, a
Walloon
Walloons
Walloons are a French-speaking people who live in Belgium, principally in Wallonia. Walloons are a distinctive community within Belgium, important historical and anthropological criteria bind Walloons to the French people. More generally, the term also refers to the inhabitants of the Walloon...
(a French-speaking Belgian), and Bernadette Aningi, a Bantu woman from
Kisangani
Kisangani
Kisangani is the capital of Orientale Province in the Democratic Republic of the Congo. It is the 3rd largest urbanized city in the country and the largest of the cities that lie in the tropical woodlands of the Congo....
, formerly Stanleyville, the third largest city in Congo-Kinshasa. When Marie was only a week old, her father was attacked and killed by
Simba rebels
Simba Rebellion
The Simba Rebellion was a 1964 rebellion in the former Republic of the Congo which began as a result of alleged abuses by the Congolese central government...
, who were opposed to mixed-race relationships. "He did not have a chance to come with us because he was captured," Daulne says. "He was a prisoner of the rebels for a while, then they killed him." Her mother escaped into the jungle with Marie and was arrested by the rebels but was later set free because she spoke their language. Daulne pays tribute to those pygmies who rescued her family in the song "Gati" from
Supermoon
. "They saved my family and many others during the Congolese rebellion," Daulne says, "and they deserve recognition for that."
Marie and her sisters were eventually airlifted out to Kinshasa with their mother and flown to Belgium because their father had been a Belgian citizen. "I think the experience of the political situation is more my mother, who had to survive. I was a baby, and I just was protected by my mother. What I know that I learned from my mother is to be strong and to stay positive in any kind of situation; that's the best weapon to survive. That's what I learned, and this is the main message I pass into my music," says Daulne.
Belgium
Growing up in Belgium was hard for Daulne. "It was hard as a kid, you want to look like everybody else, and there aren't many black people in Belgium – compared to England, or America or France. It became easier as I grew older. There were more black role models about – musicians and sports stars. At school I started to see my mixed heritage as a bonus – I could be part of both the African and Belgian communities."
Although Daulne remembers that her mother sang some songs from Congo Kinshasa around the house, her mother did not teach them to the children, stressing mastery of French instead. Daulne listened to European music as she grew up. "We had the radio when I was growing up in Belgium, so we heard a lot of French music. And of course, American music was also very popular all over Europe. Since our mother did not want us to watch TV in our home, we entertained ourselves by creating our own music. We were very musical." Daulne was introduced to black music watching television. "When I was growing up, there weren't many black people in Europe -- my family was alone. Then I saw an American musical comedy with black people on TV. And I couldn't believe it. I said, "That's us!" My whole fantasy life was based on that movie." Daulne felt a special connection to blues songs like
Damn your eyes
by
Etta James
Etta James
Etta James is an American blues, soul, rhythm and blues , rock and roll, gospel and jazz singer. In the 1950s and 1960s, she had her biggest success as a blues and R&B singer...
. "When I was a teenager I listened to a lot of American blues," she says. "That song brought me happiness while I was going through the pain of a broken love. It helped me to open the door and see the life in front of me. I sing it now and I hope, in my turn, that I can help another teenager to do the same if they are having pain from love."
When Daulne was 14 she went to England and first heard
reggae
Reggae
Reggae is a music genre first developed in Jamaica in the late 1960s. While sometimes used in a broader sense to refer to most types of Jamaican music, the term reggae more properly denotes a particular music style that originated following on the development of ska and rocksteady.Reggae is based...
. "I discovered
Bob Marley
Bob Marley
Robert Nesta "Bob" Marley, OM was a Jamaican singer-songwriter and musician. He was the rhythm guitarist and lead singer for the ska, rocksteady and reggae band Bob Marley & The Wailers...
-- my favorite album was
Kaya
Kaya
-Music:*Kaya , singer and creator of Seggae*Kaya , real name Francis Martin Lavergne*Kaya , former member of Schwarz Stein*Kaya , based in Liverpool...
. I know that whole album by heart." Then Daulne became interested in the rap music of Run-DMC and the
Beastie Boys
Beastie Boys
Beastie Boys are an American hip hop trio from New York City. The group consists of Mike D who plays the drums, MCA who plays the bass, and Ad-Rock who plays the guitar....
. "I was into breakdancing at the time. I formed a gang, and we would beatbox like the Americans, like the Fat Boys."
After Daulne left home she remembered the African songs her mother sang to her as a child. "When I left home, I missed those songs, and in the school choir, I wondered why we didn't use African harmonising. So my sister and I started to sing African melodies, and Zap Mama was born. I wrote my first song at 15, and my artist friend Nina said that what we were doing was amazing. She helped me to find a gig, and from that day, it has been non-stop." But Daulne didn't really get interested in singing until an accident left her unable to participate in athletics. "I wanted to be a runner, but then I broke my leg and I was finished with sports. I stayed at home, listening to music. I was recording sounds all the time -- I would listen to sounds repeating for hours. But there was something that I needed still, and that's when I decided to go to Africa, to the forest."
Return to Africa
In the documentary film
Mizike Mama
, Daulne and her family recall a reverse cultural tug-of-war for her allegiance during her childhood. Her mother feared that Daulne would grow up too African and so did not teach her tribal songs. However the Belgian side of her family encouraged Daulne to explore her African heritage. Daulne first heard a recording of traditional pygmy music when she was 20. She decided to return Congo-Kinshasa in 1984 to learn about her heritage and train in pygmy onomatopoeic vocal techniques. "When I went to the Congo, I hadn't thought of being a musician. Not at all. But I was there, and I was standing in the middle of the forest, hearing the music that had been a part of my earliest memories, and it was like an illumination, like a light," Daulne said. Daulne made further trips to Africa. "I go all around Africa. I started where I was born, in the forest of Zaire. After that I branched out to West Africa, South Africa, East Africa. It [is] very easy for me to learn because all African cultures seem to have something in common the music and the voices," Daulne says. Although Daulne draws inspiration from Africa, she does not call Africa home. "You know when I went back to Congo, I thought I would have a welcome like I was part of the family, part of the country, but that was not the case," Daulne said. "They treated me like a Belgian come to visit as a tourist. I saw that that is not especially a place to call home."
Zap Mama
Daulne's music has evolved over the years from an
a cappella
A cappella
A cappella music is specifically solo or group singing without instrumental sound, or a piece intended to be performed in this way. It is the opposite of cantata, which is accompanied singing. A cappella was originally intended to differentiate between Renaissance polyphony and Baroque concertato...
quintet to a lead voice accompanied by instruments. "I'm a nomad. I like to discover my sound with different instruments, different genres. For me it's normal. My name is Zap Mama...it's easy for me to zap in from one instrument to another, a culture, a style. I'm more a citizen of the world, not an American or Belgian." Zap Mama has released seven full-length albums: Adventures in Afropea 1 (1993), Sabsylma (1994), Seven (1997), A Ma Zone (1999), Ancestry in Progress (2004), Supermoon (2007), and ReCreation (2009) that fall into four cycles.
First Cycle: Adventures in Afropea 1 and Sabsylma
When Daulne returned to Belgium, she spent several years singing in Brussels in jazz cafes. In 1989, she founded the group Zap Mama to merge the African and European aspects of her identity. Daulne auditioned scores of female singers looking for the right combination of voices for an a cappella ensemble. "When I did my first album, I was looking for girls that were the same mix as me--African and European," she says. "I wanted to put these two sounds together to prove that to have blood from white and black was perfect harmony on the inside." The five vocalists—Daulne, Sylvie Nawasadio, Sabine Kabongo, Marie Alonso, and
Sally Nyolo
Sally Nyolo
Sally Nyolo is a Cameroonian pop musician who has lived in Paris since she was 13. In 1993 she joined Zap Mama and has also done solo work.-Web source:...
--combined the sounds of Congolese Pygmies with vocal styles of European choral traditions. The original idea of Zap Mama was "five singers who would be one," Daulne said. "There is no chief." "The power of voices was my thing," Daulne said. "I wanted to show the world the capacity of five women exploring...our voices and our minds, nothing else."
Zap Mama performed their first concert in 1989. In 1991, the group recorded their first record,
Zap Mama
, at Studio Daylight in Brussels, Belgium. The album was released by
Crammed Discs
Crammed Discs
Crammed Discs is an independent record label whose output blends world music, rock, pop, and electronica. Based in Brussels, Belgium, Crammed was founded in 1980 by Marc Hollander of Aksak Maboul and has since released over 300 albums and 250 singles, working with artists from all over the world...
, the Belgian record label of
Marc Hollander
Marc Hollander
Marc Hollander is a Belgian musician, producer and creator of the independent record label, Crammed Discs.Hollander was a founding member of the Belgian avant-rock group Aksak Maboul in 1977, which released two albums, Onze Danses Pour Combattre la Migraine and Un Peu de l'Âme des Bandits...
and
Vincent Kenis
Vincent Kenis
Vincent Kenis is a Belgian musician and record producer. He was a member of the avant-garde group Aksak Maboul and of The Honeymoon Killers, an experimental rock band...
(who produced the album). In 1992, Zap Mama came to the United States for the first time to perform at New Music Seminar in New York. There, they met
David Byrne
David Byrne (musician)
David Byrne is a musician and artist, best known as a founding member and principal songwriter of the American new wave band Talking Heads, which was active between 1975 and 1991. Since then, Byrne has released his own solo recordings and worked with various media including film, photography,...
and agreed to let him reissue Zap Mama's first recordings as
Adventures in Afropea 1
on Luaka Bop Records. By the end of the year, Billboard announced it was the top seller for "world music." Zap Mama went on tour, playing New York's Central Park, Paris' Olympia, the Jazz-festival of Montreux. After the success of
Adventures in Afropea 1
, Zap Mama split from Luaka Bop Records over artistic difference. According to Daulne, the record company "wanted to mold us into a poppy girl band, but I said, 'No, you'll kill me', and I stopped. Everyone was asking why I wanted to stop when we'd finally arrived at the top. But I felt that it was completely wrong. I wasn't ready. I wasn't strong enough. The manager said that if I stopped then, I'd be killing my career, but it was my decision."
The next album
Sabsylma
(Crammed Discs, 1994) featured Indian, Moroccan, and Australian influences and earned Zap Mama a Grammy nomination for Best World Music Album. Daulne explained that the sharper sound of
Sabsylma
was due to the increasing influence of American music, as a result of being on the road. "We've been touring so intensively.
Adventures in Afropea 1
was a soft, African record with a natural, round sound.
Sabsylma
is hectic, sharper. Not on purpose, mind you. I can't help it. If you're driving in a van for months, and you constantly hear the sounds of traffic, TV, hard rock on the radio ... those sounds hook up in your ears, and come out if you start to sing."
In the studio, Daulne used an organic process of improvisation to create her music. "I'm always looking for sounds. Most of the time, I work with colors. Each sound needs different colors of voices. I dissect sounds, cut them in little pieces, order them, and reassemble them," says Daulne. "During the rehearsals, we light some candles, start a tape-recorder, close our eyes, and start making up a story. On that, we start adding sounds. We let ourselves go. We are carried away by the music."
While Zap Mama worked on
Sabsylma
in the studio, Director Violaine de Villers made a documentary,
Mizike Mama
(1993), presenting a portrait of the group. The film focuses on Daulne as the driving force behind the group and discusses the implications of membership in a racially mixed group that consciously fuses African rhythms and vocal tones with European polyphony.
Second Cycle: Seven and A Ma Zone
After the success of the first two albums, Daulne put her career on hold for a few years to birth and mother her daughter Kesia. Upon returning to her music, Daulne moved in a new direction. She chose to record
Seven
as the sole remaining member of the original Zap Mama. Her music had evolved stylistically as well.
Adventures in Afropea 1
and
Sabsylma
had both been largely a cappella, but
Seven
broke with the past by including male musicians and vocalists, an increased number of instruments, and more songs in English. "I'm looking for instruments that have vocal sounds, forgotten instruments like the guimbri... The first and second albums were about the voice, what came before. This album is about introducing those sounds into modern, Western life," says Daulne. The title of
Seven
(1997) refers to the seven senses of a human being. When Daulne traveled to Mali in 1996, she had learned the Malian belief that in addition to the five senses known in the West, some have a sixth sense of emotion. "But not everyone has the seventh. It is the power to heal with music, calm with color, to soothe the sick soul with harmony. [The man who taught me about this belief] told me that I have this gift, and I know what I have to do with it," Daulne says.
Daulne's next album was
A Ma Zone
(1999). The title is a wordplay meaning both "Amazone," the female warrior, and "A Ma Zone," (in my zone) which "means that I feel at ease wherever I am," Daulne says. "Naturally an Amazon is a rebel, a fighter who, once she has set her heart on something, pulls out all the stops to achieve her goal. I feel this way as well when I'm standing on the stage with the group-- as a team we share the same aim of winning over the audience with our music," Daulne says. That same year, Zap Mama made "Iko-Iko" for Mission Impossible 2 soundtrack, a cover of "Jock-A-Mo" by Sugar Boy & the Cane Cutters.
Third Cycle: Ancestry in Progress and Supermoon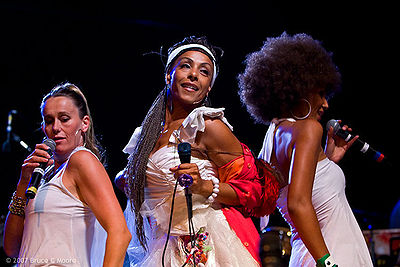 ]
Daulne moved to New York in 2000. "I've never been welcome in any country as my own country," says Daulne. "In Europe, they talk to me as if I'm from Congo. In Congo, they act like I'm from Europe. The first time I felt at home was in New York. I said, 'Here is my country. Everybody is from somewhere else. I feel so comfortable here.'"
Ancestry in Progress
(2004) reflects Daulne's new life in the United States, as it synthesizes her traditional African and European influences with American musical styles like hip-hop and R&B. "The American beat is a revolution all over the world," Daulne says. "Everybody listens to it and everybody follows it. But the beat of the United States was inspired by the beat coming from Africa. Not just its structure, but the sound of it. This is the source of modern sounds, the history of the beat, starting from little pieces of wood banging against one another, and arriving on the big sound-systems today. It's genius. So I wanted to create an album about the evolution of old ancestral vocal sounds, how they traveled from Africa, mixing with European and Asian sounds, and were brought to America."
Ancestry in Progress
(2004) reached #1 on the Billboard World Music Album chart. A music video for the single "Bandy Bandy," featuring
Erykah Badu
Erykah Badu
Erica Abi Wright , better known by her stage name Erykah Badu , is an American singer-songwriter, record producer, and actress. Her work includes elements from R&B, hip hop and jazz. She is best known for her role in the rise of the neo soul sub-genre, and for her eccentric, cerebral musical...
, directed by Bill Fishman and produced by David Herrera (music video director), aired on VH1.
After four years in the United States, Daulne moved back to Belgium and now calls Brussels home. "I lived in the United States from 2000 to 2004 and it is a place with so many stars. When I met a lot of big celebrities I realized I was not a big star and that I didn't want to be, because your life would be a habit, stuck in this and that. I prefer the singularity. I prefer to be me." Daule finds life easier in Belgium. "With my family...my children, the people I love — that is home." Daulne still draws inspiration from her travels. "Currently, I feel the need to go to England, because a lot of interesting things are happening over there. In my band, there are a lot of young musicians who teach me completely new things. They challenge me - and that is the way I like it," Daulne says.
In
Supermoon
(2007), Daulne's vocals take center stage. "When the audience appreciates the art of the artist, the audience becomes the sun and makes the artist shine as a full moon," says Daulne.
Supermoon
is also one of Daulne's most personal statements with songs like "Princess Kesia," an ode to her daughter and a reflection on her growth. "With Supermoon, I reveal the way I chose to live when I started my career," says Daulne. "It's very intimate…You're seeing me very close up. I hope that's a kind of intimacy that people will understand. I'm opening a door to who I am." "I always used to hide myself, and I'm not complaining about it, but now it is time to show my eyes and my femininity and my delicate side," said Daulne. "I am proud to be so feminine, because I have taken the time to develop...my femininity. Now that I have that, I can face anybody. And if anybody challenges me, there is no problem."
Fourth Cycle: ReCreation
In 2009, Zap Mama released her latest album,
ReCreation
, which celebrates her tradition of world-wide influences and expresses her new attitude toward her life and music. Daulne describes the inspiration behind the album as her realization that she was learning and experiencing "something new all the time." The album's title refers to recreation in two senses of the world, both as a renewal of the self and as pleasurable relaxation and enjoyment. Almost every song on the album features a collaboration with another artist, including
G. Love
G. Love
Garrett Dutton , better known as G. Love, is the frontman for the band G. Love & Special Sauce.-Biography:Dutton, the son of a banking lawyer, was born in the Society Hill neighborhood of Philadelphia, and began playing guitar at age eight. He wrote his first song by the time he was in the ninth...
,
Vincent Cassel
Vincent Cassel
Vincent Cassel is a Cesar award winning French actor probably best known to English-speaking audiences through his performances in the Ocean's Trilogy of films and Darren Aronofsky's Black Swan.-Personal life:...
, and
Bilal
Bilal (singer)
Bilal is a Gipsy singer from Lebanon, who is notable for singing not only in Arabic, but mainly in Domari, his native language, that of the Doms, the nomadic community he belongs to.-Background:...
.
ReCreation
was nominated by the NAACP Image Awards for Outstanding World Music Album.
Discography
Zap Mama (1991)
Adventures in Afropea 1 (1993)
Sabsylma (1994)
Seven

7 (Zap Mama album)

"Seven", or "7" is the fourth album by Zap Mama, released in 1997 on Luaka Bop Records, a sub-label of Virgin, started by David Byrne of Talking Heads.-Track listing:...


(1997)
A Ma Zone (1999)
Ancestry in Progress (2004)
Supermoon (2007)
ReCreation (2009)
Notable collaborations
G. Love

G. Love

Garrett Dutton , better known as G. Love, is the frontman for the band G. Love & Special Sauce.-Biography:Dutton, the son of a banking lawyer, was born in the Society Hill neighborhood of Philadelphia, and began playing guitar at age eight. He wrote his first song by the time he was in the ninth...


, "Drifting," ReCreation (2009)
Vincent Cassel

Vincent Cassel

Vincent Cassel is a Cesar award winning French actor probably best known to English-speaking audiences through his performances in the Ocean's Trilogy of films and Darren Aronofsky's Black Swan.-Personal life:...


, "Paroles Paroles" and "Non Non Non," ReCreation (2009)
Bilal

Bilal (singer)

Bilal is a Gipsy singer from Lebanon, who is notable for singing not only in Arabic, but mainly in Domari, his native language, that of the Doms, the nomadic community he belongs to.-Background:...


, "The Way You Are," ReCreation (2009)
Speech

Speech (rapper)

Todd Thomas , better known by the stage name Speech, is an American rapper and musician. He is a member of the progressive hip hop group Arrested Development and has released a number of solo albums.-Background:...


of Arrested Development (group), "I Wonder", The Grown Folks Table (2009); "Each Step Moves Us On," 1 Giant Leap 2 Sides 2 Everything Soundtrack (2008) and "W'happy Mama," A Ma Zone (1999)
Alanis Morissette

Alanis Morissette

Alanis Nadine Morissette is a Canadian-American singer-songwriter, guitarist, record producer, and actress. She has won 16 Juno Awards and seven Grammy Awards, was nominated for two Golden Globe Awards and also shortlisted for an Academy Award nomination...


, "Arrival," 1 Giant Leap 2 Sides 2 Everything Soundtrack (2008)
Michael Franti

Michael Franti

Michael Franti is an American poet, musician, and composer. He is the creator and lead vocalist of Michael Franti & Spearhead, a band that blends hip hop with a variety of other styles including funk, reggae, jazz, folk, and rock...


, "High Low," All Rebel Rockers (2009); "Hey Brotha," Supermoon (2007); "Listener Supporter," Stay Human (2001); "Poetry Man" and "Baba Hooker," Seven (1997)
Sérgio Mendes

Sergio Mendes

Sérgio Santos Mendes is a Brazilian musician. He has released over thirty-five albums, and plays bossa nova heavily crossed with jazz and funk....


, "Water of March," Encanto (2008)
Kery James

Kery James

Alix Mathurin better known as Kery James, is a French rapper, singer, songwriter, dancer and record producer, who was born in West Indies from Haitian parents. His mother raised him in Orly, a suburb of Paris. Nowadays with his three solo albums, he is one of the most respected French rappers. The...


, "Apres La Pluie," A L'Ombre Du Show Business (2008)
Tony Allen

Tony Allen (musician)

Tony Oladipo Allen is aNigerian drummer, composer, and songwriter who currently lives and works in Paris. He is currently writing his autobiography "Tony Allen: Master Drummer of Afrobeat" with author/musician Michael E...


, "African Diamond," ReCreation (2009) and "1000 Ways," Supermoon (2007)
David Gilmore

David Gilmore

David Gilmore is an American jazz guitarist.Gilmore studied at New York University with Joe Lovano and Jim McNeely. In 1987 he began working professionally with the M-Base Collective and Ronald Shannon Jackson...


, "Toma Taboo," Supermoon (2007)
Arno

Arno Hintjens

Arno Hintjens , usually referred to as Arno, is a Belgian artist born in Ostend. He was the frontman of the group TC Matic. After the band split in 1986 he went solo....


, "Toma Taboo," Supermoon (2007) and "Brussels Mabel," Arno (2002)
Ladysmith Black Mambazo

Ladysmith Black Mambazo

Ladysmith Black Mambazo is a male choral group from South Africa that sings in the vocal styles of isicathamiya and mbube. They rose to worldwide prominence as a result of singing with Paul Simon on his album, Graceland and have won multiple awards, including three Grammy Awards...


, "Hello to My Baby," Long Walk to Freedom (2006)
Carl Craig

Carl Craig

Carl Craig is a Detroit-based producer of techno music, and is considered to be one of the most important names in the Detroit second generation of techno producers and DJs...


, "Bandy Bandy," Luaka Bop Remixes (2005)
Common

Common (rapper)

Lonnie Rashid Lynn, Jr. , better known by his stage name Common , is an American hip-hop artist and actor....


, Talib Kweli

Talib Kweli

Talib Kweli Greene , better known as Talib Kweli, is an American hip-hop artist and poet from Brooklyn, New York. His first name in Arabic means "student" or "seeker" ; his in Swahili means "true"...


, and ?uestlove, "Yelling Away," Soundbombing III (2002)/Ancestry in Progress (2004)
Questlove, Bahamadia

Bahamadia

Bahamadia is a Philadelphia-born hip hop artist born in 1970, and a DJ who later became an MC. As a member of Gang Starr Foundation, she released her critically acclaimed debut album entitled Kollage in 1996. The album featured production by Guru and DJ Premier of Gang Starr...


, and Lady Alma, "Show Me The Way," Ancestry in Progress (2004)
Scratch

Scratch (musician)

Kyle Jones , better known as Scratch, is an American hip hop artist. He is a MC who specializes in beatboxing or vocal percussion...


, "Wadidyusay?," Ancestry in Progress (2004)
Erykah Badu

Erykah Badu

Erica Abi Wright , better known by her stage name Erykah Badu , is an American singer-songwriter, record producer, and actress. Her work includes elements from R&B, hip hop and jazz. She is best known for her role in the rise of the neo soul sub-genre, and for her eccentric, cerebral musical...


, "Bandy Bandy," Ancestry in Progress (2004) and "Bump It," Worldwide Underground (2003)
Common

Common (rapper)

Lonnie Rashid Lynn, Jr. , better known by his stage name Common , is an American hip-hop artist and actor....


, "Ferris Wheel," Electric Circus (2002)
DJ Krush

DJ Krush

, better known as DJ Krush, is a producer and DJ. He is known for his atmospheric instrumental production which incorporates sound elements from nature and extensive use of jazz and soul samples.-Biography:...


, "Danger of Love," Zen (2001)
Black Thought

Black Thought

Tariq Trotter , better known as Black Thought, is an American hip-hop artist who is the lead MC of the Philadelphia-based hip hop group The Roots and occasional actor...


, "Rafiki," A Ma Zone (1999)
The Roots

The Roots

The Roots is an American hip hop/neo soul band formed in 1987 by Tariq "Black Thought" Trotter and Ahmir "Questlove" Thompson in Philadelphia, Pennsylvania. They are famed for beginning with a jazzy, eclectic approach to hip hop which still includes live instrumentals...


, "Act Won (Things Fall Apart)," Things Fall Apart (1999)
Boyd Jarvis, "Alibokolijah," Alibokolijah (1999)
Maria Bethania

Maria Bethânia

Maria Bethânia Vianna Telles Veloso , better known as Maria Bethânia , is a singer and sister of Caetano Veloso. She started her career in Rio de Janeiro in 1964 with the show "Opinião"...


, "Glytzy," Ambar (1997)
King Britt

King Britt

King Britt is an American DJ and record producer from Philadelphia, Pennsylvania.King Britt is his actual legal name.- 1987: Tower Records Years :...


, "Poetry Man," Seven (1997)
U-Roy

U-Roy

U-Roy , OD, is a Jamaican musician, also known as The Originator. He is best known as a pioneer of toasting.-Biography:...


, "New World," Seven (1997)
Dana Bryant, "Food," Wishing From The Top (1996)
Music in film, television, and video games
EA's FIFA 10

FIFA 10

carlos leivaFIFA 10 is the 17th title in Electronic Arts' FIFA series of football video games. Developed by EA Canada, it was published by Electronic Arts worldwide under the EA Sports label. It was released on 2 October 2009 in Europe, 30 September in Australia and 20 October 2009 in North America...


("Vibrations")
So You Think You Can Dance ("Take Me Coco," "Moonray" and "W'happy Mama")
Cashmere Mafia

Cashmere Mafia

Cashmere Mafia is an American television dramedy which ran on ABC from January 6, 2008 to February 20, 2008. The series was created by Kevin Wade, who also served as executive producer alongside Darren Star, Gail Katz, Jeff Rake and Michael Pressman, with Susie Fitzgerald co-executive producing....


("1000 Ways")
Brothers & Sisters ("Supermoon")
MTV's Road Rules

Road Rules

Road Rules was an MTV reality show that debuted on July 19, 1995. The series, which was MTV's second reality show after The Real World followed six strangers between the ages of 18 and 24 after stripping them of their money and putting them on an RV traveling from location to location only guided...


("Rafiki")
MTV's 9th Annual Music Awards ("Iko Iko")
Sesame Street

Sesame Street

Sesame Street has undergone significant changes in its history. According to writer Michael Davis, by the mid-1970s the show had become "an American institution". The cast and crew expanded during this time, including the hiring of women in the crew and additional minorities in the cast. The...


("Brrrlak")
The Man

The Man (2005 film)

The Man is a 2005 comedy crime film starring Eugene Levy, Samuel L. Jackson, and Miguel Ferrer.The Man is directed by Les Mayfield and produced by Rob Fried from a screenplay by Jim Piddock, Margaret Oberman and Steve Carpenter, based on the story by Jim Piddock and Margaret Oberman...


("Bandy Bandy")
The God Who Wasn't There

The God Who Wasn't There

The God Who Wasn't There is a 2005 independent documentary written and directed by Brian Flemming. The documentary questions the existence of Jesus, examining evidence that supports the Christ myth theory against the existence of a historical Jesus, as well as other aspects of Christianity.- Jesus...


("A Way Cuddy Dis")
In The Cut

In the Cut

In the Cut is a 2003 American erotic thriller and mystery film, written and directed by Jane Campion and starring Meg Ryan, Mark Ruffalo and Jennifer Jason Leigh. Campion's screenplay is an adaption of the novel of the same name by Susanna Moore...


("Allo Allo")
Tortilla Soup

Tortilla Soup

Tortilla Soup is a 2001 American comedy-drama film directed by Maria Ripoll. The screenplay by Tom Musca, Ramón Menéndez, and Vera Blasi is based on the film Eat Drink Man Woman, which was written by Hui-Ling Wang, Ang Lee, and James Schamus.-Plot:...


("Call Waiting")
Mission: Impossible II

Mission: Impossible II

Mission: Impossible II is a 2000 action film directed by John Woo, and starring Tom Cruise, who also served as the film's producer...


("Iko Iko")
La Haine

La Haine

La Haine is a 1995 French black-and-white film written, co-edited, and directed by Mathieu Kassovitz. It is commonly released under its French title in the English-speaking world, although its American VHS release was entitled Hate. It is about three teenage friends and their struggle to live in...


("J'Attends," "Discussion," and "Songe")
Elle Magazine commercial ("Sweet Melodie")
Mercedes-Benz

Mercedes-Benz

Mercedes-Benz is a German manufacturer of automobiles, buses, coaches, and trucks. Mercedes-Benz is a division of its parent company, Daimler AG...


commercial ("Din Din")
Nokia

Nokia

Nokia Corporation is a Finnish multinational communications corporation that is headquartered in Keilaniemi, Espoo, a city neighbouring Finland's capital Helsinki...


7250 commercial ("Take Me Coco")
BMW

BMW

Bayerische Motoren Werke AG is a German automobile, motorcycle and engine manufacturing company founded in 1916. It also owns and produces the Mini marque, and is the parent company of Rolls-Royce Motor Cars. BMW produces motorcycles under BMW Motorrad and Husqvarna brands...


commercial ("Danger of Love")
Fiat

Fiat Automobiles

Fiat Automobiles S.p.A. is an Italian automaker which produces Fiat branded cars, and is part of Fiat Group Automobiles S.p.A.. This is a subsiadiary of Fiat S.p.A., the largest automobile manufacturer in Italy...


commercial ("Allo Allo")
Where in the World is Carmen Sandiego?

Where in the World is Carmen Sandiego?

Where in the World Is Carmen Sandiego? is the title of several edutainment computer games in the Carmen Sandiego series that teach geography. The World games, often marketed as the flagship products of the Carmen series, were created by Brøderbund Software from 1985 to 1996 with another version...


("Brrrlak")
External links