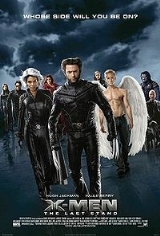 X-Men: The Last Stand
X-Men: The Last Stand
is a 2006
superhero film
Superhero film
A superhero film, superhero movie, or superhero motion picture is: action, fantasy and science fiction film; that is focused on the actions of one or more superheroes, individuals who usually possess superhuman abilities relative to a normal person and are dedicated to protecting the public...
and the third in the
X-Men series
X-Men (film series)
The X-Men film series consists of superhero films based on the Marvel Comics superhero team of the same name. The films star an ensemble cast, focusing on Hugh Jackman as Wolverine, who is drawn into the conflict between Professor Xavier and Magneto , who have opposing views on humanity's...
. It was directed by
Brett Ratner
Brett Ratner
Brett Ratner is an American film director, film producer and music video director. He is best known for directing the Rush Hour film series, The Family Man, Red Dragon, X-Men: The Last Stand, and Tower Heist. He was also a producer on the Fox drama series, Prison Break.- Early life :Ratner was...
and stars an
ensemble cast
Ensemble cast
An ensemble cast is made up of cast members in which the principal actors and performers are assigned roughly equal amounts of importance and screen time in a dramatic production. This kind of casting became more popular in television series because it allows flexibility for writers to focus on...
including
Hugh Jackman
Hugh Jackman
Hugh Michael Jackman is an Australian actor and producer who is involved in film, musical theatre, and television.Jackman has won international recognition for his roles in major films, notably as action/superhero, period and romance characters...
,
Halle Berry
Halle Berry
Halle Berry is an American actress and a former fashion model. Berry received an Emmy, Golden Globe, SAG, and an NAACP Image Award for Introducing Dorothy Dandridge and won an Academy Award for Best Actress and was nominated for a BAFTA Award in 2001 for her performance in Monster's Ball, becoming...
,
Patrick Stewart
Patrick Stewart
Sir Patrick Hewes Stewart, OBE is an English film, television and stage actor, who has had a distinguished career in theatre and television for around half a century...
,
Ian McKellen
Ian McKellen
Sir Ian Murray McKellen, CH, CBE is an English actor. He has received a Tony Award, two Academy Award nominations, and five Emmy Award nominations. His work has spanned genres from Shakespearean and modern theatre to popular fantasy and science fiction...
,
Famke Janssen
Famke Janssen
Famke Beumer Janssen is a Dutch actress and former fashion model. She is known for playing the villainous Bond girl Xenia Onatopp in GoldenEye and Jean Grey/Phoenix in the X-Men film series .- Early life and education :...
,
Kelsey Grammer
Kelsey Grammer
Allen Kelsey Grammer is an American actor and comedian. He is most widely known for his two-decade portrayal of psychiatrist Dr. Frasier Crane on the sitcoms Cheers and Frasier...
,
Anna Paquin
Anna Paquin
Anna Helene Paquin is a Canadian-born New Zealand actress. Paquin's first critically successful film was The Piano, for which she won the Academy Award for Best Supporting Actress in 1994 at the age of 11 – the second youngest winner in history...
,
Shawn Ashmore
Shawn Ashmore
Shawn Robert Ashmore is a Canadian film and television actor, perhaps best known for his role as Jake in the Animorphs television series and Iceman in the X-Men films. He is the twin brother of actor Aaron Ashmore.-Early life:...
,
Aaron Stanford
Aaron Stanford
Aaron Stanford is an American actor, best known for his role as Pyro in X2 and X-Men: The Last Stand films, and Doug Bukowski in the 2006 The Hills Have Eyes remake....
,
Vinnie Jones
Vinnie Jones
Vincent Peter "Vinnie" Jones is an English film actor and retired Welsh footballer.Born in Hertfordshire, England, Jones represented and captained the Welsh national football team, having qualified via a Welsh grandparent. He also previously played for Chelsea and Leeds United. As a member of the...
,
Rebecca Romijn
Rebecca Romijn
Rebecca Alie Romijn is an American actress and former fashion model. She is best known for her role as Mystique in the X-Men films, and for her recurring role as Alexis Meade on the television series Ugly Betty.-Early life:...
, and
James Marsden
James Marsden
James Paul Marsden is an American actor, singer and former Versace model. He is known for playing the superhero Cyclops in the first three X-Men films and for his roles in other commercially successful films such as Hop, Superman Returns, Hairspray, Enchanted, The Box, and 27 Dresses.-Early life...
. The film's script is loosely based on two X-Men comic book story arcs, "The Dark Phoenix Saga" by writer
Chris Claremont
Chris Claremont
Chris Claremont is an award-winning American comic book writer and novelist, known for his 17-year stint on Uncanny X-Men, far longer than any other writer, during which he is credited with developing strong female characters, and with introducing complex literary themes into superhero...
and artist John Byrne, and "Gifted" by writer
Joss Whedon
Joss Whedon
Joseph Hill "Joss" Whedon is an American screenwriter, executive producer, director, comic book writer, occasional composer and actor, founder of Mutant Enemy Productions and co-creator of Bellwether Pictures...
and artist
John Cassaday
John Cassaday
John Cassaday is an American comic book artist and writer, born in Fort Worth, Texas and currently residing in New York City. He is known for having a high level of precision and realism in his work....
, with a plot that revolves around a "mutant cure" that causes serious repercussions among
mutants
Mutant (Marvel Comics)
In comic books published by Marvel Comics, a mutant is an organism who possesses a genetic trait called an X-gene that allows the mutant to naturally develop superhuman powers and abilities...
and humans, and on the mysterious resurrection of
Jean Grey
Jean Grey
Jean Grey-Summers is a fictional comic book superheroine appearing in comic books published by Marvel Comics. She has been known under the aliases Marvel Girl, Phoenix, and Dark Phoenix and is best known as one of five original members of the X-Men, for her relationship with Cyclops, and for her...
.
Filming started in August 2005, budgeted at $210 million, the
most expensive film
at the time of its release, and had extensive visual effects done by eleven different companies.
[Watching McCoy's nomination as Ambassador to the United Nations] Way to go, Furball.

[To Colossus - who is recovering from a power drain due to touching Rogue] The whole world's going to hell, you gonna just sit there?

[Kicks Arm-Replacement Man in the groin] Grow those back.

[After Storm shoves Logan out of the way of a Sentinel attack - Logan loses his cigar] That was my last cigar.

[to Rogue] Hey, I'm not your father. I'm your friend.

Oh, don't get your panties in a bunch.

I'm the only one who can stop her.

[To Colossus in the danger room] Hey "tin man", come here.

[To Storm] Can't you see they're trying to kill us, why do you waste your time trying to save them?

Since when did we become a disease?