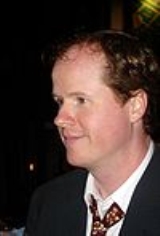 Joss Whedon
Joseph Hill "Joss" Whedon (icon; born June 23, 1964) is an American
screenwriter
Screenwriter
Screenwriters or scriptwriters or scenario writers are people who write/create the short or feature-length screenplays from which mass media such as films, television programs, Comics or video games are based.-Profession:...
,
executive producer
Executive producer
An executive producer is a producer who is not involved in any technical aspects of the film making or music process, but who is still responsible for the overall production...
,
director
Television director
A television director directs the activities involved in making a television program and is part of a television crew.-Duties:The duties of a television director vary depending on whether the production is live or recorded to video tape or video server .In both types of productions, the...
,
comic book
Comic book
A comic book or comicbook is a magazine made up of comics, narrative artwork in the form of separate panels that represent individual scenes, often accompanied by dialog as well as including...
writer, occasional
composer
Composer
A composer is a person who creates music, either by musical notation or oral tradition, for interpretation and performance, or through direct manipulation of sonic material through electronic media...
and
actor
Actor
An actor is a person who acts in a dramatic production and who works in film, television, theatre, or radio in that capacity...
, founder of
Mutant Enemy Productions
Mutant Enemy Productions
Mutant Enemy Productions is the production company created in 1997 by Joss Whedon to produce Buffy the Vampire Slayer. The company also produced the Buffy spin-off, Angel, and his two short-lived science fiction series, the space western Firefly and his high-concept Dollhouse, produced by 20th...
and co-creator of Bellwether Pictures. He is best known as the creator and showrunner of the television series Buffy the Vampire Slayer (1997–2003),
Angel
Angel (TV series)
Angel is an American television series, a spin-off of the television series Buffy the Vampire Slayer. The series was created by Buffys creator, Joss Whedon, in collaboration with David Greenwalt, and first aired on October 5, 1999...
(1999–2004),
Firefly
Firefly (TV series)
Firefly is an American space western television series created by writer and director Joss Whedon, under his Mutant Enemy Productions label. Whedon served as executive producer, along with Tim Minear....
(2002) and
Dollhouse
Dollhouse (TV series)
Dollhouse is an American science fiction television series created by writer and director Joss Whedon under Mutant Enemy Productions. It premiered on February 13, 2009, on the Fox network and was officially cancelled on November 11, 2009. The final episode aired on January 29, 2010...
(2009–2010), as well as the short film
Dr. Horrible's Sing-Along Blog
Dr. Horrible's Sing-Along Blog
Dr. Horrible's Sing-Along Blog is a 2008 musical tragicomedy miniseries in three acts, produced exclusively for Internet distribution. Filmed and set in Los Angeles, the show tells the story of Dr...
(2008). Whedon wrote and directed the movie adaptation of Marvel's The Avengers which will be released in May 2012.
I'm working on 'Buffy: Deep Space Nine. It will be dark and badly received.

Entertainment Weekly Angel TV Preview (Published in issue 727-728 Sep 12, 2003)
You can either watch TV or you can make TV.

Underground Online, interview by Michael Patrick Sullivan
My visions of the future are always pretty much standard issue. The rich get richer, the poor get poorer and there are flying cars.

TV Guide, 27 December – 2 January, 2004
The English Language is my bitch. Or I don't speak it very well. Whatever.

Let freedom ring, unless it's on vibrate.