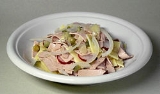 Wurstsalat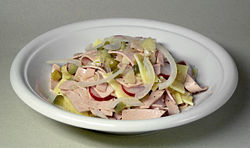 Wurstsalat
is a tart sausage salad prepared with
vinegar
Vinegar
Vinegar is a liquid substance consisting mainly of acetic acid and water, the acetic acid being produced through the fermentation of ethanol by acetic acid bacteria. Commercial vinegar is produced either by fast or slow fermentation processes. Slow methods generally are used with traditional...
,
oil
Oil
An oil is any substance that is liquid at ambient temperatures and does not mix with water but may mix with other oils and organic solvents. This general definition includes vegetable oils, volatile essential oils, petrochemical oils, and synthetic oils....
and onions. It is normally made from a sort of boiled sausage like lyoner, stadtwurst, regensburger or
extrawurst
Extrawurst
Extrawurst can be either a type of sausage or part of a German idiomatic expression.- Sausage type :Extrawurst is a type of Austrian scalded sausage. It is moist, light coloured, fine textured and made from a well-spiced mixture of beef, pork and bacon fat...
. It is a traditional snack in southern
Germany
Germany
Germany , officially the Federal Republic of Germany , is a federal parliamentary republic in Europe. The country consists of 16 states while the capital and largest city is Berlin. Germany covers an area of 357,021 km2 and has a largely temperate seasonal climate...
,
Alsace
Alsace
Alsace is the fifth-smallest of the 27 regions of France in land area , and the smallest in metropolitan France. It is also the seventh-most densely populated region in France and third most densely populated region in metropolitan France, with ca. 220 inhabitants per km²...
,
Switzerland
Switzerland
Switzerland name of one of the Swiss cantons. ; ; ; or ), in its full name the Swiss Confederation , is a federal republic consisting of 26 cantons, with Bern as the seat of the federal authorities. The country is situated in Western Europe,Or Central Europe depending on the definition....
and
Austria
Austria
Austria , officially the Republic of Austria , is a landlocked country of roughly 8.4 million people in Central Europe. It is bordered by the Czech Republic and Germany to the north, Slovakia and Hungary to the east, Slovenia and Italy to the south, and Switzerland and Liechtenstein to the...
.
To prepare the dish, the sausage is cut into thin slices or strips and placed, along with raw onion rings or cubes, in a vinegar and oil marinade, lightly seasoned with salt and pepper. Common additional ingredients are finely cut gherkins, radishes, parsley or chives. Wurstsalat is normally served with
bread
Bread
Bread is a staple food prepared by cooking a dough of flour and water and often additional ingredients. Doughs are usually baked, but in some cuisines breads are steamed , fried , or baked on an unoiled frying pan . It may be leavened or unleavened...
and sometimes also with fried potatoes.
Popular variants are the
Schwäbischer Wurstsalat
(Swabian wurstsalat), which is half composed of blood sausage, and especially the
Schweizer Wurstsalat
(Swiss wurstsalat), also called
Straßburger Wurstsalat
(Strasburg wurstsalat) or
Elsässer Wurstsalat
(Alsacian wurstsalat), and containing Emmental cheese.