 Wrinkle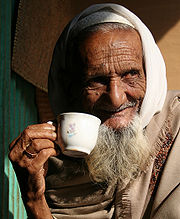 A
wrinkle
is a fold, ridge or crease in the skin. Skin wrinkles typically appear as a result of aging processes such as
glycation
Glycation
Glycation is the result of the bonding of a protein or lipid molecule with a sugar molecule, such as fructose or glucose, without the controlling action of an enzyme. All blood sugars are reducing molecules. Glycation may occur either inside the body or outside the body...
or, temporarily, as the result of prolonged (more than a few minutes) immersion in
water
Water
Water is a chemical substance with the chemical formula H2O. A water molecule contains one oxygen and two hydrogen atoms connected by covalent bonds. Water is a liquid at ambient conditions, but it often co-exists on Earth with its solid state, ice, and gaseous state . Water also exists in a...
. Wrinkling in the skin is caused by habitual facial expressions, aging, sun damage, smoking, poor hydration, and various other factors. With prolonged water exposure, the outer layer of skin starts to absorb water. The skin doesn't expand evenly, causing it to wrinkle. Depletion of water in the body, as occurs with dehydration, can also cause this puckering of the skin.
Cortisol
Cortisol
Cortisol is a steroid hormone, more specifically a glucocorticoid, produced by the adrenal gland. It is released in response to stress and a low level of blood glucocorticoids. Its primary functions are to increase blood sugar through gluconeogenesis; suppress the immune system; and aid in fat,...
causes degradation of skin
collagen
Collagen
Collagen is a group of naturally occurring proteins found in animals, especially in the flesh and connective tissues of mammals. It is the main component of connective tissue, and is the most abundant protein in mammals, making up about 25% to 35% of the whole-body protein content...
.
Tretinoin
Although the exact mode of action of
tretinoin
Tretinoin
Tretinoin is the acid form of vitamin A and is also known as all-trans retinoic acid or ATRA. It is a drug commonly used to treat acne vulgaris and keratosis pilaris. It is available as a cream or gel...
is unknown, current evidence suggests that tretinoin decreases cohesiveness of follicular epithelial cells. Additionally, tretinoin stimulates mitotic activity and increased turnover of follicular epithelial cells. Tretinoin is better known by the brand name Retin-A.
Epidermal Growth Factor
Epidermal Growth Factor
Epidermal growth factor
Epidermal growth factor or EGF is a growth factor that plays an important role in the regulation of cell growth, proliferation, and differentiation by binding to its receptor EGFR...
(EGF) is a small polypeptide of 53 amino acids and is a cytokine or cell messenger protein that stimulates epithelial cell proliferation. The discovery of EGF won Dr. Stanley Cohen a Nobel Prize in Physiology and Medicine in 1986. Taken internally, it is used to treat some devastating conditions of premature infants, as well as enlarged prostate in adult males. In cream form it stimulates cell renewal but decreases collagen production in the skin. It is also helpful for wound and burn healing and has achieved amazing cures of severe ulcerating skin diseases such as life-threatening Steven-Johnson Syndrome (SJS).
Glycosaminoglycans
Glycosaminoglycans (GAGs) are produced by the body to maintain structural integrity in tissues and to maintain fluid balance. Hyaluronic acid is a type of GAG that promotes collagen synthesis, repair, and hydration. GAGs serve as a natural moisturizer and lubricant between epidermal cells to inhibit the production of matrix metalloproteinases (MMPs). Topical glycosaminoglycans supplements can help to provide temporary restoration of enzyme balance to slow or prevent matrix breakdown and consequent onset of wrinkle formation.
Dermal fillers
Dermal fillers are injectable products frequently used to correct wrinkles, and other depressions in the skin. They are often a kind of soft tissue designed to enable injection into the skin for purposes of improving the appearance. The most common products are based on hyaluronic acid and calcium hydroxylapatite.
Botulinum toxin
Botulinum toxin is a neurotoxin protein produced by the bacterium
Clostridium botulinum
. BOTOX (onabotulinumtoxinA) is a specific form of botulinum toxin manufactured by Allergan Inc (U.S.) for both therapeutic as well as cosmetic use. Besides its cosmetic application, BOTOX is used in the treatment of other conditions including migraine headache and cervical
dystonia
Dystonia
Dystonia is a neurological movement disorder, in which sustained muscle contractions cause twisting and repetitive movements or abnormal postures. The disorder may be hereditary or caused by other factors such as birth-related or other physical trauma, infection, poisoning or reaction to...
(spasmodic
torticollis
Torticollis
Torticollis, or wryneck, is a stiff neck associated with muscle spasm, classically causing lateral flexion contracture of the cervical spine musculature...
) (a neuromuscular disorder involving the head and neck).
In 2009, a new form of botulinum toxin became available to Americans. Dysport (abotulinumtoxinA), manufactured by Ipsen, received FDA approval and is now used to treat cervical dystonia as well as glabellar lines in adults. In 2010, a new form of pure botulinum toxin, one free of complexing proteins, became available to Americans. Xeomin received FDA approval for medical indications in 2010 and cosmetic indications in 2011.
Botulinum toxin treats wrinkles by immobilizing the muscles which cause wrinkles. It is not appropriate for the treatment of all wrinkles - it is indicated for the treatment of glabellar lines (between the eyebrows) in adults. Any other usage is not approved by the FDA and is considered "off-label" use.
Pruney fingers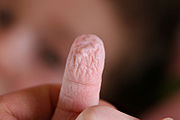 The wrinkles that occur in skin after prolonged exposure to water are sometimes referred to as
pruney fingers
or water aging. This is a temporary
skin
Skin
-Dermis:The dermis is the layer of skin beneath the epidermis that consists of connective tissue and cushions the body from stress and strain. The dermis is tightly connected to the epidermis by a basement membrane. It also harbors many Mechanoreceptors that provide the sense of touch and heat...
condition where the skin on the palms of the hand or feet becomes wrinkly. Some researchers have proposed that this wrinkling response may have imparted an evolutionary benefit by providing improved traction in wet conditions.
In the recent past the common explanation was based on water absorption in the
keratin
Keratin
Keratin refers to a family of fibrous structural proteins. Keratin is the key of structural material making up the outer layer of human skin. It is also the key structural component of hair and nails...
-laden epithelial skin when immersed in water, causing the skin to expand and resulting in a larger surface area, forcing it to wrinkle. Usually the tips of the fingers and toes are the first to wrinkle because of a thicker layer of keratin and an absence of hairs which secrete the protective oil called sebum.
In 1935, however, Lewis and Pickering were studying patients with
palsy
Palsy
In medicine, palsy is the paralysis of a body part, often accompanied by loss of sensation and by uncontrolled body movements, such as shaking. Medical conditions involving palsy include cerebral palsy , brachial palsy , and Bell's palsy ....
of the
median nerve
Median nerve
The median nerve is a nerve in humans and other animals. It is in the upper limb. It is one of the five main nerves originating from the brachial plexus....
when they discovered that skin wrinkling did not occur in the areas of the patients' skin normally innervated by the damaged nerve. This suggested that the nervous system plays an essential role in wrinkling, so the phenomenon could not be entirely explained simply by water absorption. Recent research shows that wrinkling is related to
vasoconstriction
Vasoconstriction
Vasoconstriction is the narrowing of the blood vessels resulting from contraction of the muscular wall of the vessels, particularly the large arteries, small arterioles and veins. The process is the opposite of vasodilation, the widening of blood vessels. The process is particularly important in...
. Water probably initiates the wrinkling process by altering the balance of electrolytes in the skin as it diffuses into the hands and soles via their many sweat ducts. This could alter the stability of the membranes of the many neurons that synapse on the many blood vessels underneath skin, causing them to fire more rapidly. Increased neuronal firing causes blood vessels to constrict, decreasing the amount of fluid underneath the skin. This decrease in fluid would cause a decrease in tension, causing the skin to become wrinkly.
This insight resulted in bedside tests for nerve damage and vasoconstriction. Wrinkling is often scored with immersion of the hands for 30 minutes in water or EMLA cream with measurements steps of 5 minutes, and counting the number of visible wrinkles in time. Not all healthy persons have finger wrinkling after immersion, so it would be safe to say that sympathetic function is preserved if finger wrinkling after immersion in water is observed, but if the
fingers emerge smooth it cannot be assumed that there is a lesion to the autonomic supply or to the peripheral nerves of the hand.
Animals with wrinkles
Examples of wrinkles can be found in various animal species that grow loose, excess skin, particularly when they are young. Several breeds of
dog
Dog
The domestic dog is a domesticated form of the gray wolf, a member of the Canidae family of the order Carnivora. The term is used for both feral and pet varieties. The dog may have been the first animal to be domesticated, and has been the most widely kept working, hunting, and companion animal in...
, such as the
Pug
Pug
The pug is a "toy" breed of dog with a wrinkly, short-muzzled face, and curled tail. The breed has a fine, glossy coat that comes in a variety of colors, and a compact square body with well-developed muscle. They have been described as multum in parvo , referring to the pug's personality and...
and the
Shar Pei
Shar Pei
The Shar Pei, or Chinese Shar-Pei, is a breed of dog known for its distinctive features of deep wrinkles and a blue-black tongue. The breed comes from China. The name translates to "sand skin" and refers to the texture of its short, rough coat...
, have been bred to exaggerate this trait. In dogs bred for
fighting
Dog fighting
Dog fighting is a form of blood sport in which game dogs are made to fight, sometimes to the death. It is illegal in most developed countries. Dog fighting is used for entertainment and may also generate revenue from stud fees, admission fees and gambling....
, this is the result of selection for loose skin, which confers a protective advantage. Wrinkles are also associated with
neoteny
Neoteny
Neoteny , also called juvenilization , is one of the two ways by which paedomorphism can arise. Paedomorphism is the retention by adults of traits previously seen only in juveniles, and is a subject studied in the field of developmental biology. In neoteny, the physiological development of an...
, as they are a trait associated with juvenile animals.
External links