 Windthrow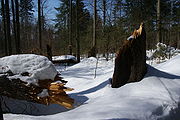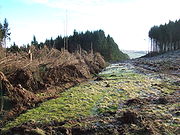 In
forestry
Forestry
Forestry is the interdisciplinary profession embracing the science, art, and craft of creating, managing, using, and conserving forests and associated resources in a sustainable manner to meet desired goals, needs, and values for human benefit. Forestry is practiced in plantations and natural stands...
,
windthrow
refers to
tree
Tree
A tree is a perennial woody plant. It is most often defined as a woody plant that has many secondary branches supported clear of the ground on a single main stem or trunk with clear apical dominance. A minimum height specification at maturity is cited by some authors, varying from 3 m to...
s uprooted or broken by
wind
Wind
Wind is the flow of gases on a large scale. On Earth, wind consists of the bulk movement of air. In outer space, solar wind is the movement of gases or charged particles from the sun through space, while planetary wind is the outgassing of light chemical elements from a planet's atmosphere into space...
. Breakage of the tree bole (trunk) instead of uprooting is sometimes called windsnap.
Causes
Windthrow is common in all forested parts of the world that experience storms or high wind speeds. The risk of windthrow to a tree is related to the tree's size (height and diameter), the 'sail area' presented by its crown, the anchorage provided by its roots, its exposure to the wind, and the local wind climate. A common way of quantifying the risk of windthrow to a forest area is to model the probability or 'return time' of a wind speed that would damage those trees at that location. Tree
senescence
Senescence
Senescence or biological aging is the change in the biology of an organism as it ages after its maturity. Such changes range from those affecting its cells and their function to those affecting the whole organism...
can also be a factor, where multiple factors contributing to the declining health of a tree reduce its anchorage and therefore increase its susceptibility to windthrow. The resulting damage can be a significant factor in the development of a forest.
Windthrow can also increase following
logging
Logging
Logging is the cutting, skidding, on-site processing, and loading of trees or logs onto trucks.In forestry, the term logging is sometimes used in a narrow sense concerning the logistics of moving wood from the stump to somewhere outside the forest, usually a sawmill or a lumber yard...
, especially in young forests managed specifically for timber. The removal of trees at a forest's edge increases the exposure of the remaining trees to the wind.
Trees that grow adjacent to lakes or other natural forest edges, or in exposed situations such as hill sides, develop greater rooting strength through growth feedback with wind movement, i.e. 'adaptive' or 'acclimative growth'. If a tree does not experience much wind movement during the stem exclusion phase of
stand succession
Forest dynamics
Forest dynamics describes the underlying physical and biological forces that shape and change a forest. That is, the continuous state of change that alters the composition and structure of a forest....
, it is not likely to develop a resistance to wind. Thus, when a fully or partially developed stand is bisected by a new road or by a clearcut, the trees on the new edge are less supported by neighbouring trees than they were and may not be capable of withstanding the higher forces which they now experience.
Trees with heavy growths of
ivy
Ivy
Ivy, plural ivies is a genus of 12–15 species of evergreen climbing or ground-creeping woody plants in the family Araliaceae, native to western, central and southern Europe, Macaronesia, northwestern Africa and across central-southern Asia east to Japan and Taiwan.-Description:On level ground they...
,
wisteria
Wisteria
Wisteria is a genus of flowering plants in the pea family, Fabaceae, that includes ten species of woody climbing vines native to the eastern United States and to China, Korea, and Japan. Aquarists refer to the species Hygrophila difformis, in the family Acanthaceae, as Water Wisteria...
, or
kudzu
Kudzu
Kudzu is a plant in the genus Pueraria in the pea family Fabaceae, subfamily Faboideae. It is a climbing, coiling, and trailing vine native to southern Japan and southeast China. Its name comes from the Japanese name for the plant, . It is a weed that climbs over trees or shrubs and grows so...
are already stressed and may be more susceptible to windthrow, the additional foliage acts as a sail to the wind.
Ecological effects
Windthrow disturbance generates a variety of unique ecological resources on which certain forest processes are highly dependent. Windthrow can be considered a cataclismic abiotic factor that can generate an entire new chain of
seral plant succession
Seral community
A seral community is an intermediate stage found in ecological succession in an ecosystem advancing towards its climax community. In many cases more than one seral stage evolves until climax conditions are attained...
in a given area. Windthrow can also be considered to act as a rejuvenating process whereby regeneration is made possible with new resource availability.
Severe uprooting opens bare patches of mineral soil that can act as seed sinks. These patches have been shown, in the
Pacific Northwest
Pacific Northwest
The Pacific Northwest is a region in northwestern North America, bounded by the Pacific Ocean to the west and, loosely, by the Rocky Mountains on the east. Definitions of the region vary and there is no commonly agreed upon boundary, even among Pacific Northwesterners. A common concept of the...
of the United States, to have higher
biodiversity
Biodiversity
Biodiversity is the degree of variation of life forms within a given ecosystem, biome, or an entire planet. Biodiversity is a measure of the health of ecosystems. Biodiversity is in part a function of climate. In terrestrial habitats, tropical regions are typically rich whereas polar regions...
than the surrounding forest floor. Additionally, the gap created in the forest canopy when windthrow occurs yields an increase in light, moisture, and nutrient availability in near proximity to the disturbance.