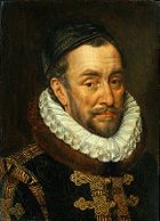 William the Silent
William I, Prince of Orange
(24 April 1533 – 10 July 1584), also widely known as
William the Silent
, or simply
William of Orange
, was the main leader of the
Dutch
Netherlands
The Netherlands is a constituent country of the Kingdom of the Netherlands, located mainly in North-West Europe and with several islands in the Caribbean. Mainland Netherlands borders the North Sea to the north and west, Belgium to the south, and Germany to the east, and shares maritime borders...
revolt against the
Spanish
Spain
Spain , officially the Kingdom of Spain languages]] under the European Charter for Regional or Minority Languages. In each of these, Spain's official name is as follows:;;;;;;), is a country and member state of the European Union located in southwestern Europe on the Iberian Peninsula...
that set off the Eighty Years' War and resulted in the formal independence of the
United Provinces
Dutch Republic
The Dutch Republic — officially known as the Republic of the Seven United Netherlands , the Republic of the United Netherlands, or the Republic of the Seven United Provinces — was a republic in Europe existing from 1581 to 1795, preceding the Batavian Republic and ultimately...
in 1648. He was born in the
House of Nassau
House of Nassau
The House of Nassau is a diversified aristocratic dynasty in Europe. It is named after the lordship associated with Nassau Castle, located in present-day Nassau, Rhineland-Palatinate, Germany. The lords of Nassau were originally titled Count of Nassau, then elevated to the princely class as...
as
Count of Nassau-Dillenburg
Nassau (state)
Nassau was a German state within the Holy Roman Empire and later in the German Confederation. Its ruling dynasty, now extinct in male line, was the House of Nassau.-Origins:...
. He became
Prince of Orange
Prince of Orange
Prince of Orange is a title of nobility, originally associated with the Principality of Orange, in what is now southern France. In French it is la Principauté d'Orange....
in 1544 and is thereby the founder of the branch
House of Orange-Nassau
House of Orange-Nassau
The House of Orange-Nassau , a branch of the European House of Nassau, has played a central role in the political life of the Netherlands — and at times in Europe — since William I of Orange organized the Dutch revolt against Spanish rule, which after the Eighty Years' War...
.
A wealthy
nobleman
Nobility
Nobility is a social class which possesses more acknowledged privileges or eminence than members of most other classes in a society, membership therein typically being hereditary. The privileges associated with nobility may constitute substantial advantages over or relative to non-nobles, or may be...
, William originally served the Habsburgs as a member of the court of
Margaret of Parma
Margaret of Parma
Margaret, Duchess of Parma , Governor of the Netherlands from 1559 to 1567 and from 1578 to 1582, was the illegitimate daughter of Charles V and Johanna Maria van der Gheynst...
, governor of the Spanish Netherlands.