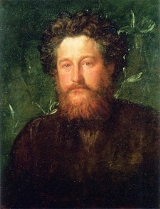 William Morris
William Morris
24 March 18343 October 1896 was an English
textile design
Textile design
Textile design is the process of creating designs and structures for knitted, woven, non-woven or embellishments of fabrics.Textile designing involves producing patterns for cloth used in clothing, household textiles and decorative textiles such as carpets. The field encompasses the actual pattern...
er, artist, writer, and
socialist
Socialism
Socialism is an economic system characterized by social ownership of the means of production and cooperative management of the economy; or a political philosophy advocating such a system. "Social ownership" may refer to any one of, or a combination of, the following: cooperative enterprises,...
associated with the
Pre-Raphaelite Brotherhood
Pre-Raphaelite Brotherhood
The Pre-Raphaelite Brotherhood was a group of English painters, poets, and critics, founded in 1848 by William Holman Hunt, John Everett Millais and Dante Gabriel Rossetti...
and the English
Arts and Crafts Movement
Arts and Crafts movement
Arts and Crafts was an international design philosophy that originated in England and flourished between 1860 and 1910 , continuing its influence until the 1930s...
. He founded a design firm in partnership with the artist
Edward Burne-Jones
Edward Burne-Jones
Sir Edward Coley Burne-Jones, 1st Baronet was a British artist and designer closely associated with the later phase of the Pre-Raphaelite movement, who worked closely with William Morris on a wide range of decorative arts as a founding partner in Morris, Marshall, Faulkner, and Company...
, and the poet and artist
Dante Gabriel Rossetti
Dante Gabriel Rossetti
Dante Gabriel Rossetti was an English poet, illustrator, painter and translator. He founded the Pre-Raphaelite Brotherhood in 1848 with William Holman Hunt and John Everett Millais, and was later to be the main inspiration for a second generation of artists and writers influenced by the movement,...
which profoundly influenced the decoration of churches and houses into the early 20th century. As an author, illustrator and medievalist, he is considered an important writer of the British Romantic movement, helping to establish the modern
fantasy
Fantasy
Fantasy is a genre of fiction that commonly uses magic and other supernatural phenomena as a primary element of plot, theme, or setting. Many works within the genre take place in imaginary worlds where magic is common...
genre; and a direct influence on
postwar
Edwardian period
The Edwardian era or Edwardian period in the United Kingdom is the period covering the reign of King Edward VII, 1901 to 1910.The death of Queen Victoria in January 1901 and the succession of her son Edward marked the end of the Victorian era...
authors such as
J. R. R. Tolkien
J. R. R. Tolkien
John Ronald Reuel Tolkien, CBE was an English writer, poet, philologist, and university professor, best known as the author of the classic high fantasy works The Hobbit, The Lord of the Rings, and The Silmarillion.Tolkien was Rawlinson and Bosworth Professor of Anglo-Saxon at Pembroke College,...
.
If you want a golden rule that will fit everybody, this is it: Have nothing in your houses that you do not know to be useful, or believe to be beautiful.

"The Beauty of Life," a lecture before the Birmingham Society of Arts and School of Design (1880-02-19), later published in Hopes and Fears for Art: Five Lectures Delivered in Birmingham, London, and Nottingham, 1878 - 1881 (1882)
Beauty, which is what is meant by art, using the word in its widest sense, is, I contend, no mere accident to human life, which people can take or leave as they choose, but a positive necessity of life.

The Beauty of Life (1880)
The greatest foe to art is luxury, art cannot live in its atmosphere.

The Beauty of Life (1880)
So long as the system of competition in the production and exchange of the means of life goes on, the degradation of the arts will go on; and if that system is to last for ever, then art is doomed, and will surely die; that is to say, civilization will die.

"Art Under Plutocracy" (1883)
I love art, and I love history, but it is living art and living history that I love... It is in the interest of living art and living history that I oppose so-called restoration. What history can there be in a building bedaubed with ornament, which cannot at the best be anything but a hopeless and lifeless imitation of the hope and vigour of the earlier world?

"The History of Pattern-Designing" lecture (1882) The Collected Works of William Morris (1910 - 1915) Vol. 22
With the arrogance of youth, I determined to do no less than to transform the world with Beauty. If I have succeeded in some small way, if only in one small corner of the world, amongst the men and women I love, then I shall count myself blessed, and blessed, and blessed, and the work goes on.

As quoted in William Morris & Red House (2005) by Jan Marsh, p. 65
Pray but one prayer for me 'twixt thy closed lips, Think but one thought of me up in the stars.

"Summer Dawn"
Wert thou more fickle than the restless sea,Still should I love thee, knowing thee for such.

Life and Death of Jason, Book ix, reported in Bartlett's Familiar Quotations, 10th ed. (1919).