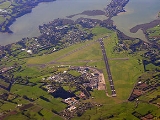 Whenuapai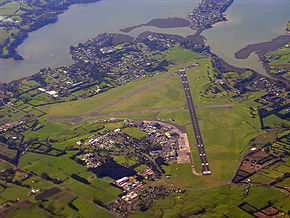 Whenuapai
is a
suburb
Suburb
The word suburb mostly refers to a residential area, either existing as part of a city or as a separate residential community within commuting distance of a city . Some suburbs have a degree of administrative autonomy, and most have lower population density than inner city neighborhoods...
and
airport
Airport
An airport is a location where aircraft such as fixed-wing aircraft, helicopters, and blimps take off and land. Aircraft may be stored or maintained at an airport...
located in the western
Waitakere
Waitakere
Waitakere City was the name of a city which existed from 1989 until 2010 in the Auckland region. It was New Zealand's fifth largest city, with an annual growth of about 2%...
area of
Auckland City
Auckland
The Auckland metropolitan area , in the North Island of New Zealand, is the largest and most populous urban area in the country with residents, percent of the country's population. Auckland also has the largest Polynesian population of any city in the world...
, in the
North Island
North Island
The North Island is one of the two main islands of New Zealand, separated from the much less populous South Island by Cook Strait. The island is in area, making it the world's 14th-largest island...
of
New Zealand
New Zealand
New Zealand is an island country in the south-western Pacific Ocean comprising two main landmasses and numerous smaller islands. The country is situated some east of Australia across the Tasman Sea, and roughly south of the Pacific island nations of New Caledonia, Fiji, and Tonga...
. It is located on the northwestern shore of the
Waitemata Harbour
Waitemata Harbour
The quite famous Waitemata Harbour is the main access by sea to Auckland, New Zealand. For this reason it is often referred to as Auckland Harbour, despite the fact that it is only one of two harbours surrounding the city, and is crossed by the Auckland Harbour Bridge. The Waitemata forms the north...
, 15 kilometres to the northwest of Auckland's city centre. It is one of the landing points for the
Southern Cross telecommunications Cables
Southern Cross Cable
The Southern Cross Cable, operated by Bermuda company Southern Cross Cables Limited, is a trans-Pacific network of telecommunications cables commissioned in 2000....
. The name is
Maori
Maori language
Māori or te reo Māori , commonly te reo , is the language of the indigenous population of New Zealand, the Māori. It has the status of an official language in New Zealand...
for
good land
.
RNZAF facilities
Construction of Whenuapai as a base for
Wellington bomber
Vickers Wellington
The Vickers Wellington was a British twin-engine, long range medium bomber designed in the mid-1930s at Brooklands in Weybridge, Surrey, by Vickers-Armstrongs' Chief Designer, R. K. Pierson. It was widely used as a night bomber in the early years of the Second World War, before being displaced as a...
aircraft began in 1937.
Post World War II Auckland became a centre for RNZAF transport and maritime squadrons. From 1945-1965 Whenuapai was also Auckland's civil international airport. Whenuapai and
Hobsonville
Hobsonville
Hobsonville is a former Royal New Zealand Air Force airfield which are currently being redeveloped as a new suburb of Auckland, in the area of the former Waitakere City, New Zealand...
bases were integrated in 1965 to form
RNZAF Base Auckland
RNZAF Base Auckland
RNZAF Base Auckland is a Royal New Zealand Air Force base located near the upper reaches of the Waitemata Harbour in Auckland, New Zealand. The base formerly comprised two separate airfields, Whenuapai and Hobsonville. Hobsonville was established as a seaplane station in 1928 and was the RNZAF's...
. Hobsonville is now closed, with the RNZAF continuing to lease a few remaining facilities.
Today, with a personnel strength of around 1100, Base Auckland is the home for:
No. 5 Squadron

No. 5 Squadron RNZAF

No. 5 Squadron RNZAF is a squadron of the Royal New Zealand Air Force formed during November 1941 in Fiji. It remains on active duty and logged 2,300 hours flight time in 2007.-World War II:...


(P-3K2 Orion

P-3 Orion

The Lockheed P-3 Orion is a four-engine turboprop anti-submarine and maritime surveillance aircraft developed for the United States Navy and introduced in the 1960s. Lockheed based it on the L-188 Electra commercial airliner. The aircraft is easily recognizable by its distinctive tail stinger or...


)
No. 6 Squadron

No. 6 Squadron RNZAF

No. 6 Squadron Royal New Zealand Air Force is the squadron operating New Zealand's navy's air arm. While historically having been disbanded several times through changes in the country's military structure, it has a history going back to before World War II, when it operated flying boats. The...


(SH-2G(NZ) Seasprite

SH-2 Seasprite

The Kaman SH-2 Seasprite is a ship-based helicopter with anti-submarine, anti-surface threat capability, including over-the-horizon targeting. This aircraft extends and increases shipboard sensor and weapon capabilities against several types of enemy threats, including submarines of all types,...


)
No. 40 Squadron

No. 40 Squadron RNZAF

No. 40 Squadron RNZAF is a transport squadron in the Royal New Zealand Air Force. It remains on active duty.- Origins :...


(C-130 Hercules

C-130 Hercules

The Lockheed C-130 Hercules is a four-engine turboprop military transport aircraft designed and built originally by Lockheed, now Lockheed Martin. Capable of using unprepared runways for takeoffs and landings, the C-130 was originally designed as a troop, medical evacuation, and cargo transport...


and Boeing 757

Boeing 757

The Boeing 757 is a mid-size, narrow-body twin-engine jet airliner manufactured by Boeing Commercial Airplanes. Passenger versions of the twinjet have a capacity of 186 to 289 persons and a maximum range of , depending on variant and cabin configuration...


)
RNZAF Parachute Training and Support Unit,
RNZAF Force Protection Dog Training School,
RNZAF Aviation Medicine Unit.
RNZAF Expeditionary Support Squadron
Whenuapai Airport 1945–65
In 1945 the government made the RNZAF Station at Whenuapai available for civil airline operations on a temporary basis and with RNZAF activities to take precedence. That "temporary basis" lasted twenty years and the RNZAF had to give up their two smaller hangars and move to the north apron of their own airfield. In the 1940s Whenuapai was one of three aerodromes in the country with sealed runways, the others being
Paraparaumu
Paraparaumu Airport
Kapiti Coast Airport , earlier called Paraparaumu Airport, is on the Kapiti Coast of New Zealand's North Island, between the Wellington dormitory suburbs of Paraparaumu Beach , Paraparaumu to the east, and Raumati Beach to the south...
and
Ohakea
RNZAF Base Ohakea
RNZAF Base Ohakea is an operational base of the Royal New Zealand Air Force. Opened in 1939, it is near Bulls, 25 km north west of Palmerston North in the Manawatu...
.
For a short time, Auckland had three aerodromes—the seaplane aerodrome at
Mechanics Bay
Mechanics Bay
Mechanics Bay is the name of a former bay on the Waitemata Harbour in Auckland City, New Zealand. It is also the name used to describe the area of the former bay that is now mainly occupied by commercial and port facilities...
where TEAL operated from 1940–54; the city's domestic airport—at the then small grass airstrip at
Mangere
Mangere
Māngere is one of the larger suburbs in South Auckland, in northern New Zealand.The suburb is located on flat land at the northeastern shore of the Manukau Harbour, to the northwest of the centre of Manukau city and 15 kilometres south of Auckland city centre...
, on the site of the present Auckland Airport; and weekly Pan American and British Commonwealth Pacific Airlines (the latter's services originally operated by Australian National Airways) services with
DC-4s
Douglas DC-4
The Douglas DC-4 is a four-engined propeller-driven airliner developed by the Douglas Aircraft Company. It served during World War II, in the Berlin Airlift and into the 1960s in a military role...
from Whenuapai. Also immediately post-war; the RNZAF operated many of the civil services while
NAC
National Airways Corporation
National Airways Corporation was the national domestic airline of New Zealand from 1947 until 1978 when it amalgamated with New Zealand's international airline, Air New Zealand. The airline was headquartered in Wellington...
was being organised, and to add to the confusion; some of Auckland's domestic services departed from Whenuapai as well.
In 1947 the government closed Mangere to all but light aircraft citing safety concerns, and NAC moved to Whenuapai. (At the same time, the government closed Wellington's
Rongotai Airport
Wellington International Airport
Wellington International Airport is an international airport located in the suburb of Rongotai in Wellington, the capital city of New Zealand. It is a secondary hub and focus city for Air New Zealand and its subsidiaries...
, for the same reasons, and NAC had to move to Paraparaumu, 35 miles from the city.)
In addition to domestic services, NAC flew a
DC-3
Douglas DC-3
The Douglas DC-3 is an American fixed-wing propeller-driven aircraft whose speed and range revolutionized air transport in the 1930s and 1940s. Its lasting impact on the airline industry and World War II makes it one of the most significant transport aircraft ever made...
weekly to
Norfolk Island
Norfolk Island
Norfolk Island is a small island in the Pacific Ocean located between Australia, New Zealand and New Caledonia. The island is part of the Commonwealth of Australia, but it enjoys a large degree of self-governance...
from Whenuapai, and fortnightly on a route that took a week each way; Whenuapai—Norfolk Island—
Nadi
Nadi International Airport
Nadi International Airport is the main international gateway for the islands of Fiji. It serves about 1.2 million people per year, and is the main hub of Air Pacific. The airport is 10km from the city of Nadi. In 2009 it handled 1,220,000 passengers on international and domestic...
—
Apia
Faleolo International Airport
Faleolo International Airport is an airport located west of Apia, the capital of Samoa.Until 1984, Faleolo could not accommodate jets larger than a Boeing 737...
—
Tongatapu
Fua'amotu International Airport
Fuaamotu International Airport is an international airport in Tonga. It is on the south side of the main island, Tongatapu, 35 km from the capital of Tonga, Nukualofa...
—
Aitutaki
Aitutaki
Aitutaki, also traditionally known as Araura, Ararau and Utataki, is one of the Cook Islands, north of Rarotonga. It has a population of approximately 2,000. Aitutaki is the second most visited island of the Cook Islands. The capital is Arutanga on the west side.-Geography:Aitutaki is an "almost...
—
Rarotonga
Rarotonga International Airport
Rarotonga International Airport is the Cook Islands' main international gateway, located in the town and district of Avarua, Rarotonga, three kilometers west of the downtown area on the northern coast....
. The Norfolk Island service continued until 1955 when Qantas, chartered to TEAL, took over the route with a DC-4; and the Pacific Service was handed over to TEAL in 1952.
The next major development at Whenuapai was in May 1954, when
British Commonwealth Pacific Airlines
British Commonwealth Pacific Airlines
British Commonwealth Pacific Airlines or BCPA, was an airline registered in New South Wales, Australia in June 1946 with headquarters in Sydney. It was formed by the governments of Australia , New Zealand and the United Kingdom to pursue trans-Pacific flights...
was wound up, its
DC-6s
Douglas DC-6
The Douglas DC-6 is a piston-powered airliner and transport aircraft built by the Douglas Aircraft Company from 1946 to 1958. Originally intended as a military transport near the end of World War II, it was reworked after the war to compete with the Lockheed Constellation in the long-range...
given to TEAL, and that airline sold all except two of its flying boats and moved to Whenuapai. It kept one
Solent
Short Solent
- External links :* * *...
in reserve and sent the other to Suva to fly the leg to Tahiti, which didn't get a landplane airport until 1960. The first part of the Coral Route was then operated by DC-6 from Whenuapai to Nadi.
Despite problems with its runway Whenuapai continued to as Auckland's international airport throughout the 1950s. In 1960 the longest runway was 6590 feet (6664 ft a few years later) which allowed BOAC Comet flights, but larger jet airliners such as the
DC-8
Douglas DC-8
The Douglas DC-8 is a four-engined narrow-body passenger commercial jet airliner, manufactured from 1958 to 1972 by the Douglas Aircraft Company...
and the
B707
Boeing 707
The Boeing 707 is a four-engine narrow-body commercial passenger jet airliner developed by Boeing in the early 1950s. Its name is most commonly pronounced as "Seven Oh Seven". The first airline to operate the 707 was Pan American World Airways, inaugurating the type's first commercial flight on...
demanded a new international airport and work on Auckland Airport began. The first international flight from Auckland Airport was on 24 November, 1965 and it officially opened on Anniversary Weekend (29 - 31 January), 1966 after which Whenuapai reverted to purely military use.
Recent developments
The operational tempo at Whenuapai continues at the level it has been at for the last forty years, although the closure of the adjacent Hobsonville base has seen the departure of rotary operations (primarily the UH1H Iroquois) to RNZAF Base Ohakea. With the budget for moving the base to Ohakea exceeding one billion dollars, the previously scheduled closure by the New Zealand Labour government (originally by 2007, now by 2010 or, at latest, 2014) is now no longer likely. There have been suggestions that it be used as Auckland's second international. Reasons put forward in favour of this are that more people in the Auckland region already live closer to the air base than live closer to Mangere Airport and that it is projected that within 15 years Whenuapai would be closer for more than a million Aucklanders.
The three local authorities that comprise the north west sector of the Auckland Region,
Rodney District Council
Rodney District
The Rodney District of New Zealand was a local government area in the northernmost part in New Zealand's Auckland Region, created in 1989 from the amalgamation of Helensville Borough and Rodney County. The seat of the district council is at Orewa, and the district includes Kawau Island to the...
, North Shore City and Waitakere City have all favoured the second airport concept at one time or another and at least one poll, by the Waitakere City Council in late 2006, indicated 77% support and just 22% opposition by the public.
However in the local body elections of October 2007 election the pro-airport incumbent North Shore mayor was defeated by an anti-airport mayoral candidate with indications that the airport issue was the most important of factors considered when voters selected their preferred candidate.
Subsequently, North Shore Council reversed support for a Whenuapai International Airport while the Waitakere City Council is still in favour.
Airlines of Whenuapai (Chronological Order)
Royal New Zealand Air Force (Civil Operations) 1945–47
Pan American World Airways 1946–65
British Commonwealth Pacific Airlines (BCPA) 1947–53
New Zealand National Airways Corporation (NAC) 1947–65
Canadian Pacific Airlines 1952–65
Tasman Empire Airways Limited (TEAL) 1954–65
Transports Aeriens Intercontinentaux (TAI) 1957–63
South Pacific Airlines of New Zealand (SPANZ) 1960–65
Qantas Empire Airways (QANTAS) 1961–65†
British Overseas Airways Corporation (BOAC) 1963–65
† This was as scheduled operations on its own account. As QANTAS owned half of TEAL until 1961; before then its aircraft only appeared at Whenuapai if chartered by TEAL, or if its aircraft were chartered for a trip across to New Zealand, although it did occasionally appear at Whenuapai between 1956–61 with its Super Constellations at peak traffic times.
External links