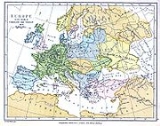 Wends
Wends
is a historic name for
West Slavs
West Slavs
The West Slavs are Slavic peoples speaking West Slavic languages. They include Poles , Czechs, Slovaks, Lusatian Sorbs and the historical Polabians. The northern or Lechitic group includes, along with Polish, the extinct Polabian and Pomeranian languages...
living near
Germanic
Germanic peoples
The Germanic peoples are an Indo-European ethno-linguistic group of Northern European origin, identified by their use of the Indo-European Germanic languages which diversified out of Proto-Germanic during the Pre-Roman Iron Age.Originating about 1800 BCE from the Corded Ware Culture on the North...
settlement areas. It does not refer to a homogeneous people, but to various peoples, tribes or groups depending on where and when it is used. Today, it is used either in historical contexts or as a catch-all term for Lusatian
Sorbs
Sorbs
Sorbs are a Western Slavic people of Central Europe living predominantly in Lusatia, a region on the territory of Germany and Poland. In Germany they live in the states of Brandenburg and Saxony. They speak the Sorbian languages - closely related to Polish and Czech - officially recognized and...
, and their descendants, like the Texas Wends.
In the
Middle Ages
Middle Ages
The Middle Ages is a periodization of European history from the 5th century to the 15th century. The Middle Ages follows the fall of the Western Roman Empire in 476 and precedes the Early Modern Era. It is the middle period of a three-period division of Western history: Classic, Medieval and Modern...
the term "Wends" often referred to Western Slavs living within the
Holy Roman Empire
Holy Roman Empire
The Holy Roman Empire was a realm that existed from 962 to 1806 in Central Europe.It was ruled by the Holy Roman Emperor. Its character changed during the Middle Ages and the Early Modern period, when the power of the emperor gradually weakened in favour of the princes...
, though not always.