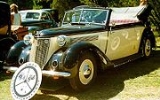 Wanderer (car)
Wanderer
was a
German
Germany
Germany , officially the Federal Republic of Germany , is a federal parliamentary republic in Europe. The country consists of 16 states while the capital and largest city is Berlin. Germany covers an area of 357,021 km2 and has a largely temperate seasonal climate...
manufacturer of bicycles, motorcycles, automobiles, vans and other
machine
Machine
A machine manages power to accomplish a task, examples include, a mechanical system, a computing system, an electronic system, and a molecular machine. In common usage, the meaning is that of a device having parts that perform or assist in performing any type of work...
ry. Established as
Winklhofer & Jaenicke
in 1896, the company used the
Wanderer
brand name from 1911, making civilian automobiles until 1941 and military vehicles until 1945.
History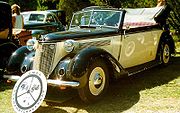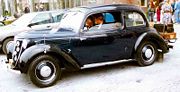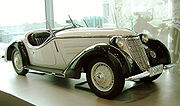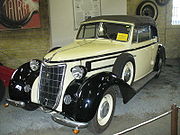 Winklhofer & Jaenicke
, the business that became eventually known for its
Wanderer
cars, was established in 1896 in
Chemnitz
Chemnitz
Chemnitz is the third-largest city of the Free State of Saxony, Germany. Chemnitz is an independent city which is not part of any county and seat of the government region Direktionsbezirk Chemnitz. Located in the northern foothills of the Ore Mountains, it is a part of the Saxon triangle...
. They built motorcycles from 1902 and automobiles from 1903. The
Wanderer
brand was chosen in 1911 for overseas exports and was soon adopted for domestic sales.
The first two or three seater models used four cylinder 1145
cc
Cubic centimetre
A cubic centimetre is a commonly used unit of volume extending the derived SI-unit cubic metre, and corresponds to the volume of a cube measuring 1 cm × 1 cm × 1 cm...
and 1220 cc engines. The 1220 cc model lasted until 1925. The first six cylinder model appeared in 1928. By 1926, when Wanderer introduced a successful
Typ 10
, the company was making 25 vehicles a day; parts were made at the old plant in Chemnitz and assembled at the new site in Siegmar, delivered by rail right to the assembly line. Motorcycle production continued in Chemnitz alone.
During the
Great Depression
Great Depression
The Great Depression was a severe worldwide economic depression in the decade preceding World War II. The timing of the Great Depression varied across nations, but in most countries it started in about 1929 and lasted until the late 1930s or early 1940s...
, in 1929, the company owner,
Dresdner Bank
Dresdner Bank
Dresdner Bank AG was one of Germany's largest banking corporations and was based in Frankfurt. It was acquired by competitor Commerzbank in December 2009.- 19th century :...
, sold the motorcycle business to
Frantisek Janeček
Jawa Motors
Jawa is a motorcycle manufacturer in the Czech republic, formerly Czechoslovakia. The name was created after its founder, Frantisek Janecek, bought the motorcycle division of Wanderer in 1929 , by concatenating the first letters of Janeček and Wanderer...
, and in 1932 divested the rest of Wanderer. The company formed part of
Auto Union
Auto Union
Auto Union was an amalgamation of four German automobile manufacturers, founded in 1932 and established in 1936 in Chemnitz, Saxony, during the Great Depression. The company has evolved into present day Audi, as a subsidiary of Volkswagen Group....
with
Horch
Horch
Horch was a car brand manufactured in Germany by August Horch & Cie, at the beginning of the 20th century.-History at a Glance:The company was established first by August Horch and his first business partner Salli Herz on November 14, 1899 at Ehrenfeld, Cologne. August Horch was a former production...
,
Audi
Audi
Audi AG is a German automobile manufacturer, from supermini to crossover SUVs in various body styles and price ranges that are marketed under the Audi brand , positioned as the premium brand within the Volkswagen Group....
and
DKW
DKW
DKW is a historic German car and motorcycle marque. The name derives from Dampf-Kraft-Wagen .In 1916, the Danish engineer Jørgen Skafte Rasmussen founded a factory in Zschopau, Saxony, Germany, to produce steam fittings. In the same year, he attempted to produce a steam-driven car, called the DKW...
. In this quartet, Horch was positioned as the luxury brand, DKW built cheap two-stroke cars, Audi and Wanderer competed in different segments of mid-priced, technologically advanced small cars (heaviest, 6-cylinder Wanderers reached 1.5 tons dry weight). Wanderers of Nazi period acquired a trademark radiator design, shaped as a heraldic shield.
The next Wanderer model (1692 cc four cylinder) was similar to a parallel DKW model. In 1933, an Audi model was equipped with a Wanderer-built 1963 cc six cylinder
ohv
Overhead valve
An overhead valve engine, also informally called pushrod engine or I-head engine, is a type of piston engine that places the camshaft within the cylinder block , and uses pushrods or rods to actuate rocker arms above the cylinder...
engine. The top model from 1936 to 1939 was
W50
, propelled by a 2257 cc six cylinder engine. There were also sporting fours (
W24
and
W25
) and another six cylinder model of 2632 cc (
W23
). Wanderer cars were always admired for their high quality and sporting character. In 1941 all civilian production was replaced with military vehicles. A subcamp of
Flossenbürg concentration camp
Flossenbürg concentration camp
Konzentrationslager Flossenbürg was a Nazi concentration camp built in May 1938 by the Schutzstaffel Economic-Administrative Main Office at Flossenbürg, in the Oberpfalz region of Bavaria, Germany, near the border with Czechoslovakia. Until its liberation in April 1945, more than 96,000 prisoners...
, KZ Siegmar-Schonau, was operated during the war to provide slave labour for the Wanderer vehicle plants.
The Siegmar and
Schönau
Schönau-Berzdorf
Schönau-Berzdorf is a municipality in the district Görlitz, in Saxony, Germany.- References :...
plants in
Saxony
Saxony
The Free State of Saxony is a landlocked state of Germany, contingent with Brandenburg, Saxony Anhalt, Thuringia, Bavaria, the Czech Republic and Poland. It is the tenth-largest German state in area, with of Germany's sixteen states....
were destroyed during
World War II
World War II
World War II, or the Second World War , was a global conflict lasting from 1939 to 1945, involving most of the world's nations—including all of the great powers—eventually forming two opposing military alliances: the Allies and the Axis...
, closing this chapter in the history of automobiles. Post-war efforts to restore East German auto industry concentrated on Auto-Union facilities in
Zwickau
Zwickau
Zwickau in Germany, former seat of the government of the south-western region of the Free State of Saxony, belongs to an industrial and economical core region. Nowadays it is the capital city of the district of Zwickau...
and
Zschopau
Zschopau
Zschopau , a town in the German state Saxony, is located on both banks of the river Zschopau, south-east from Chemnitz. It is part of the Erzgebirgskreis district. Its population is 11,584...
: Wanderer plants never recovered. Wanderer managers migrated to West Germany, being instrumental in the recovery of DKW.
Automobile models
Type
Years
Engine type
Displacement
Engine power
Top speed
W1 (5/12 PS) "Puppchen"

Wanderer Puppchen

The Wanderer Püppchen was a small car introduced by the Chemnitz based Winklhofer & Jaenicke company in 1911. It went on sale the following year. The car was delivered as an open topped tourer with two seats positioned one behind the other...



1912–1913
straight-4

Straight-4

The inline-four engine or straight-four engine is an internal combustion engine with all four cylinders mounted in a straight line, or plane along the crankcase. The single bank of cylinders may be oriented in either a vertical or an inclined plane with all the pistons driving a common crankshaft....



1147 cc

Cubic centimetre

A cubic centimetre is a commonly used unit of volume extending the derived SI-unit cubic metre, and corresponds to the volume of a cube measuring 1 cm × 1 cm × 1 cm...



12 PS (8,8 kW)
70 kilometre per hour
W2 (5/15 PS) "Puppchen"

Wanderer Puppchen

The Wanderer Püppchen was a small car introduced by the Chemnitz based Winklhofer & Jaenicke company in 1911. It went on sale the following year. The car was delivered as an open topped tourer with two seats positioned one behind the other...



1913–1914
straight-4
1222 cc
15 PS (11 kW)
70 kilometre per hour
W3 (5/15 PS) "Puppchen"

Wanderer Puppchen

The Wanderer Püppchen was a small car introduced by the Chemnitz based Winklhofer & Jaenicke company in 1911. It went on sale the following year. The car was delivered as an open topped tourer with two seats positioned one behind the other...



1914–1919
straight-4
1286 cc
15 PS (11 kW)
70 kilometre per hour
W4 (5/15 PS) "Puppchen"

Wanderer Puppchen

The Wanderer Püppchen was a small car introduced by the Chemnitz based Winklhofer & Jaenicke company in 1911. It went on sale the following year. The car was delivered as an open topped tourer with two seats positioned one behind the other...



1919–1924
straight-4
1306 cc
17 PS (12,5 kW)
78 kilometre per hour
W6 (6/18 PS)
1921–1923
straight-4
1551 cc
18 PS (13,2 kW)
80 kilometre per hour
W9 (6/24 PS)
1923–1925
straight-4
1551 cc
24 PS (17,6 kW)
85 kilometre per hour
W8 (5/20 PS) "Puppchen"

Wanderer Puppchen

The Wanderer Püppchen was a small car introduced by the Chemnitz based Winklhofer & Jaenicke company in 1911. It went on sale the following year. The car was delivered as an open topped tourer with two seats positioned one behind the other...



1925–1926
straight-4
1306 cc
20 PS (14,7 kW)
78 kilometre per hour
W10/I (6/30 PS)
1926–1928
straight-4
1551 cc
30 PS (22 kW)
85 kilometre per hour
W10/II (8/40 PS)
1927–1929
straight-4
1940 cc
40 PS (29 kW)
95 kilometre per hour
W11 (10/50 PS)
1928–1930
straight-6

Straight-6

The straight-six engine or inline-six engine is a six-cylinder internal combustion engine with all six cylinders mounted in a straight line along the crankcase...



2540 cc
50 PS (37 kW)
90 kilometre per hour
W10/IV (6/30 PS)
1930–1932
straight-4
1563 cc
30 PS (22 kW)
85 kilometre per hour
W11 (10/50 PS)
1930–1933
straight-6
2540 cc
50 PS (37 kW)
97 kilometre per hour
W14 (12/65 PS)
1931–1932
straight-6
2970-2995 cc
65 PS (48 kW)
105 kilometre per hour
W15 (6/30 PS)
1932
straight-4
1563 cc
30 PS (22 kW)
85 kilometre per hour
W17 (7/35 PS)
1932–1933
straight-6
1690 cc
35 PS (25,7 kW)
90 kilometre per hour
W20 (8/40 PS)
1932–1933
straight-6
1950 cc
40 PS (29 kW)
95 kilometre per hour
W21

Wanderer W21

The Wanderer W21 was a middle-class six cylinder sedan introduced by Auto Union's Wanderer company in 1933. The W21 replaced the Wanderer W17, from which it inherited its ohv engine...


/ W235 / W35
1933–1936
straight-6
1690 cc
35 PS (25,7 kW)
95 kilometre per hour
Wanderer W23S
1937-1939
straight-6
2651 cc
62 PS
90 kilometre per hour
W22

Wanderer W22

The Wanderer W22 was an upper middle-class six cylinder sedan introduced by Auto Union's Wanderer company in 1933. It replaced the Wanderer W20, from which it inherited its OHV engine....


/ W240 / W40
1933–1938
straight-6
1950 cc
40 PS (29 kW)
100 kilometre per hour
W245 / W250
1935
straight-6
2257 cc
50 PS (37 kW)
100 kilometre per hour - 105 kilometre per hour
W45 / W50 / Spezial W51
1936–1938
straight-6
2257 cc
55 PS (40 kW)
100 kilometre per hour - 105 kilometre per hour
W25K
1936–1938
straight-6
1950 cc
85 PS (62,5 kW)
145 kilometre per hour
W52
1937
straight-6
2651 cc
62 PS (45,6 kW)
115 kilometre per hour
W24

Wanderer W24

The Wanderer W24 was a middle market car introduced by Wanderer in 1937.The car was powered by a four-cylinder four-stroke engine of 1767 cc driving the rear wheels via a four-speed gear box. Claimed maximum power output was achieved at 3,400 rpm....



1937–1940
straight-4
1767 cc
42 PS (30,9 kW)
105 kilometre per hour
W26
1937–1940
straight-6
2651 cc
62 PS (45,6 kW)
115 kilometre per hour
W23
1937–1941
straight-6
2651 cc
62 PS (45,6 kW)
105 kilometre per hour
External links
Dates in the history of Wanderer - Audi

Audi

Audi AG is a German automobile manufacturer, from supermini to crossover SUVs in various body styles and price ranges that are marketed under the Audi brand , positioned as the premium brand within the Volkswagen Group....


USA