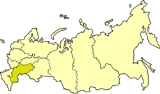 Volga economic region
Volga economic region
' onMouseout='HidePop("12296")' href="/topics/Romanization_of_Russian">tr.
Romanization of Russian
Romanization of the Russian alphabet is the process of transliterating the Russian language from the Cyrillic alphabet into the Latin alphabet...
:
Povolzhsky ekonomichesky rayon
) is one of twelve
economic regions of Russia
Economic regions of Russia
Russia is divided into twelve economic regions —groups of federal subjects sharing the following characteristics:*Common economic and social goals and participation in development programs;*Relatively similar economic conditions and potential;...
.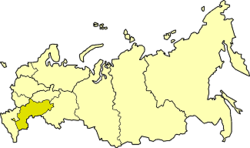 Composition
Socio-economic indicators
Popular approval of economic change is well above average in this region, both in terms of the rating of the national economy and the expectation of improvements in their own lives and in the household economy. People are also more likely than the average to have consumer goods. Life expectancy for men and women is also just above the national average.
However, reported GDP per capita is below the national average, and the regional wage levels are one-sixth below the national average. However, the likelihood of not being paid regularly is also below the national average. The discrepancies between these data and positive optimism of individuals can be influenced by the fact that in the Volga economic region those reporting having a second job are also above the national average.