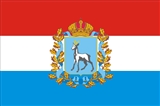 Samara Oblast
Samara Oblast
is a
federal subject
Federal subjects of Russia
Russia is a federation which, since March 1, 2008, consists of 83 federal subjects . In 1993, when the Constitution was adopted, there were 89 federal subjects listed...
of
Russia
Russia
Russia or , officially known as both Russia and the Russian Federation , is a country in northern Eurasia. It is a federal semi-presidential republic, comprising 83 federal subjects...
(an
oblast
Oblast
Oblast is a type of administrative division in Slavic countries, including some countries of the former Soviet Union. The word "oblast" is a loanword in English, but it is nevertheless often translated as "area", "zone", "province", or "region"...
). Its administrative center is the city of
Samara
Samara, Russia
Samara , is the sixth largest city in Russia. It is situated in the southeastern part of European Russia at the confluence of the Volga and Samara Rivers. Samara is the administrative center of Samara Oblast. Population: . The metropolitan area of Samara-Tolyatti-Syzran within Samara Oblast...
. Population:
In 1936–1990, it was known as
Kuybyshev Oblast
, after the Soviet name of Samara (Kuybyshev).
Demographics
Population
:
Ethnic groups
:
According to the
2002 Census
Russian Census (2002)
Russian Census of 2002 was the first census of the Russian Federation carried out on October 9 through October 16, 2002. It was carried out by the Russian Federal Service of State Statistics .-Resident population:...
the ethnic makeup of the region was:
2,708,549
Russians
Russians
The Russian people are an East Slavic ethnic group native to Russia, speaking the Russian language and primarily living in Russia and neighboring countries....
(83.60%) •
127,931
Tatars
Tatars
Tatars are a Turkic speaking ethnic group , numbering roughly 7 million.The majority of Tatars live in the Russian Federation, with a population of around 5.5 million, about 2 million of which in the republic of Tatarstan.Significant minority populations are found in Uzbekistan, Kazakhstan,...
(3.95%) •
101,358
Chuvash
Chuvash people
The Chuvash people are a Turkic ethnic group, native to an area stretching from the Volga Region to Siberia. Most of them live in Republic of Chuvashia and surrounding areas, although Chuvash communities may be found throughout all Russia.- Etymology :...
(3.13%) •
86,000
Mordvins
(2.65%) •
60,727
Ukrainians
Ukrainians
Ukrainians are an East Slavic ethnic group native to Ukraine, which is the sixth-largest nation in Europe. The Constitution of Ukraine applies the term 'Ukrainians' to all its citizens...
(1.87%) •
21,566
Armenians
Armenians
Armenian people or Armenians are a nation and ethnic group native to the Armenian Highland.The largest concentration is in Armenia having a nearly-homogeneous population with 97.9% or 3,145,354 being ethnic Armenian....
(0.67%) •
15,046
Azeris
Azeris in Russia
Aside from the large Azeri community native to Russia's Dagestan Republic, the majority of Azeris in Russia are fairly recent immigrants. Azeris started settling in Russia around the late 19th century, but their migration became intensive after World War II. It rapidly increased with the collapse...
(0.46%) •
14,918
Kazakhs
Kazakhs
The Kazakhs are a Turkic people of the northern parts of Central Asia ....
(0.46%) •
14,082
Belarusians
Belarusians
Belarusians ; are an East Slavic ethnic group who populate the majority of the Republic of Belarus. Introduced to the world as a new state in the early 1990s, the Republic of Belarus brought with it the notion of a re-emerging Belarusian ethnicity, drawn upon the lines of the Old Belarusian...
(0.43%) •
9,569
Germans
Ethnic German
Ethnic Germans historically also ), also collectively referred to as the German diaspora, refers to people who are of German ethnicity. Many are not born in Europe or in the modern-day state of Germany or hold German citizenship...
(0.30%) •
7,885
Bashkirs
Bashkirs
The Bashkirs are a Turkic people indigenous to Bashkortostan extending on both parts of the Ural mountains, on the place where Europe meets Asia. Groups of Bashkirs also live in the republic of Tatarstan, Perm Krai, Chelyabinsk, Orenburg, Tyumen, Sverdlovsk, Kurgan, Samara and Saratov Oblasts of...
(0.24%) •
6,384
Jews
Jews
The Jews , also known as the Jewish people, are a nation and ethnoreligious group originating in the Israelites or Hebrews of the Ancient Near East. The Jewish ethnicity, nationality, and religion are strongly interrelated, as Judaism is the traditional faith of the Jewish nation...
(0.20%) •
5,438
Uzbeks
Uzbeks
The Uzbeks are a Turkic ethnic group in Central Asia. They comprise the majority population of Uzbekistan, and large populations can also be found in Afghanistan, Tajikstan, Kyrgyzstan, Turkmenistan, Kazakhstan, Russia, Pakistan, Mongolia and the Xinjiang Uyghur Autonomous Region of China...
(0.17%) •
5,244
Roma (0.16%) •
4,624
Tajiks (0.14%) •
3,889
Mari
(0.12%) •
3,518
Georgians
Georgians
The Georgians are an ethnic group that have originated in Georgia, where they constitute a majority of the population. Large Georgian communities are also present throughout Russia, European Union, United States, and South America....
(0.11%) •
2,364
Moldovans
Moldovans
Moldovans or Moldavians are the largest population group of Moldova...
(0.07%) • and various other groups of less than two thousand people each. • An additional
22,489
residents declined to state their nationality or ethnocultural identity on the census questionnaire.
Births (2008): 36,439 (11.5 per 1000)
Deaths (2008): 48,593 (15.3 per 1000)
Economy
In 1997, Samara Oblast became one of the few regions to receive the approval of the President of Russia to implement external bonded loans (Presidential decree № 1212, dated 12.10.1997 "On Creating Conditions to Conduct Loans Operations on the Internal and External Capital Markets").
External links
Official website of Samara Oblast