 Volcanic crater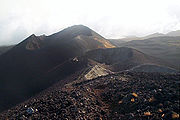 A
volcanic crater
is a circular depression in the ground caused by volcanic activity. It is typically a basin, circular in form within which occurs a vent (or vents) from which
magma
Magma
Magma is a mixture of molten rock, volatiles and solids that is found beneath the surface of the Earth, and is expected to exist on other terrestrial planets. Besides molten rock, magma may also contain suspended crystals and dissolved gas and sometimes also gas bubbles. Magma often collects in...
erupts as gases, lava, and ejecta. A crater can be of large dimensions, and sometimes of great depth. During certain types of climactic eruptions, the volcano's
magma chamber
Magma chamber
A magma chamber is a large underground pool of molten rock found beneath the surface of the Earth. The molten rock in such a chamber is under great pressure, and given enough time, that pressure can gradually fracture the rock around it creating outlets for the magma...
may empty enough for an area above it to subside, forming what may appear to be a crater but is actually known as a
caldera
Caldera
A caldera is a cauldron-like volcanic feature usually formed by the collapse of land following a volcanic eruption, such as the one at Yellowstone National Park in the US. They are sometimes confused with volcanic craters...
.
Geomorphology
In the majority of typical volcanoes, the crater is situated atop the mountain formed from the erupted volcanic deposits such as lava flows and
tephra
Tephra
200px|thumb|right|Tephra horizons in south-central [[Iceland]]. The thick and light coloured layer at center of the photo is [[rhyolitic]] tephra from [[Hekla]]....
. Volcanoes that terminate in such a
summit crater
are usually of a conical form. Other volcanic craters may be found on the flanks of volcanoes, and these are commonly referred to as
flank craters
. Some volcanic craters may fill either fully or partially with rain and/or melted snow, forming a
crater lake
Crater lake
A crater lake is a lake that forms in a volcanic crater or caldera, such as a maar; less commonly and with lower association to the term a lake may form in an impact crater caused by a meteorite. Sometimes lakes which form inside calderas are called caldera lakes, but often this distinction is not...
.
Breached craters have a much lower rim on one side than the rest. A crater may be breached during an eruption, either by explosions or by lava, or through later erosion.
Some volcanoes, such as
maar
Maar
A maar is a broad, low-relief volcanic crater that is caused by a phreatomagmatic eruption, an explosion caused by groundwater coming into contact with hot lava or magma. A maar characteristically fills with water to form a relatively shallow crater lake. The name comes from the local Moselle...
s, consist of a crater alone, with scarcely any mountain at all. These volcanic explosion craters are formed when magma rises through water-saturated rocks and causes a
phreatic eruption
Phreatic eruption
A phreatic eruption, also called a phreatic explosion or ultravulcanian eruption, occurs when rising magma makes contact with ground or surface water. The extreme temperature of the magma causes near-instantaneous evaporation to steam, resulting in an explosion of steam, water, ash, rock, and...
. Volcanic craters from phreatic eruptions often occur on plains away from other obvious volcanoes. Not all volcanoes leave craters.