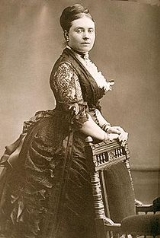 Victoria, Princess Royal
The Princess Victoria, Princess Royal
(Victoria Adelaide Mary Louisa; 21 November 1840 – 5 August 1901) was the eldest child of Queen Victoria of the United Kingdom and Prince Albert. She was created
Princess Royal
Princess Royal
Princess Royal is a style customarily awarded by a British monarch to his or her eldest daughter. The style is held for life, so a princess cannot be given the style during the lifetime of another Princess Royal...
of the
United Kingdom
United Kingdom of Great Britain and Ireland
The United Kingdom of Great Britain and Ireland was the formal name of the United Kingdom during the period when what is now the Republic of Ireland formed a part of it....
in 1841. She became
German Empress
German Empire
The German Empire refers to Germany during the "Second Reich" period from the unification of Germany and proclamation of Wilhelm I as German Emperor on 18 January 1871, to 1918, when it became a federal republic after defeat in World War I and the abdication of the Emperor, Wilhelm II.The German...
and
Queen of Prussia
Queen of Prussia
The Queen of Prussia was the queen consort of the ruler of the Kingdom of Prussia, from its establishment in 1701 to its abolition in 1918. As all rulers of Prussia had to be male, there was never a Queen regnant of Prussia. Until 1806, the Queen of Prussia was also Electress of Brandenburg; after...
by marriage to
German Emperor Frederick III
Frederick III, German Emperor
Frederick III was German Emperor and King of Prussia for 99 days in 1888, the Year of the Three Emperors. Friedrich Wilhelm Nikolaus Karl known informally as Fritz, was the only son of Emperor William I and was raised in his family's tradition of military service...
. After her husband's death, she became widely known as
Empress Frederick
(or, in German: "Kaiserin Friedrich").
Princess Victoria was born on 21 November 1840 at
Buckingham Palace
Buckingham Palace
Buckingham Palace, in London, is the principal residence and office of the British monarch. Located in the City of Westminster, the palace is a setting for state occasions and royal hospitality...
,
London
London
London is the capital city of :England and the :United Kingdom, the largest metropolitan area in the United Kingdom, and the largest urban zone in the European Union by most measures. Located on the River Thames, London has been a major settlement for two millennia, its history going back to its...
.