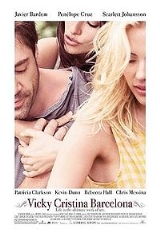 Vicky Cristina Barcelona
Vicky Cristina Barcelona
is a 2008 romance comedy-drama film written and directed by
Woody Allen
Woody Allen
Woody Allen is an American screenwriter, director, actor, comedian, jazz musician, author, and playwright. Allen's films draw heavily on literature, sexuality, philosophy, psychology, Jewish identity, and the history of cinema...
, and starring
Javier Bardem
Javier Bardem
Javier Ángel Encinas Bardem is a Spanish actor. In 2007 he won the Academy Award for Best Supporting Actor for his role as sociopathic assassin Anton Chigurh in No Country for Old Men, and has also garnered critical acclaim for roles in films such as Jamón, jamón, Carne trémula, Boca a boca, Los...
,
Penélope Cruz
Penélope Cruz
Penélope Cruz Sánchez is a Spanish actress. Signed by an agent at age 15, she made her acting debut at 16 on television and her feature film debut the following year in Jamón, jamón , to critical acclaim...
,
Scarlett Johansson
Scarlett Johansson
Scarlett Johansson is an American actress, model and singer.Johansson made her film debut in North and was later nominated for the Independent Spirit Award for Best Female Lead for her performance in Manny & Lo . She rose to further prominence with her roles in The Horse Whisperer and Ghost World...
and
Rebecca Hall
Rebecca Hall
Rebecca Maria Hall is an English actress.In 2003, Hall won the Ian Charleson Award for her debut stage performance in a production of Mrs. Warren's Profession...
. The plot centers on two American women, Vicky (Hall) and Cristina (Johansson), who spend a summer in Barcelona where they meet an artist who is attracted to both of them while still enamored of his mentally and emotionally unstable ex-wife María Elena (Cruz). The film was shot in Spain in
Avilés
Avilés
Avilés is a city in Asturias, Spain. Avilés is with Oviedo and Gijón, one of the main towns in the Principality of Asturias.The town occupies the flattest land in the municipality, in a land that belonged to the sea, surrounded by small promontories, all of them having an altitude of less than...
, Barcelona, and
Oviedo
Oviedo
Oviedo is the capital city of the Principality of Asturias in northern Spain. It is also the name of the municipality that contains the city....
, and was Allen's fourth consecutive film shot outside of the United States.
The film premiered at the
2008 Cannes Film Festival
2008 Cannes Film Festival
The 61st Annual Cannes Film Festival was held from May 14 to May 25, 2008. In addition to films selected for competition this year, major Hollywood productions such as Indiana Jones and the Kingdom of the Crystal Skull and Kung Fu Panda had their world premieres at the festival.The British press...
, then received a rolling worldwide general release that started on August 15, 2008, in the U.S., and continued in various countries until its June 2009 release in Japan.
Lirine nuk e solla une, por e gjeta ketu, ne mesin tuaj.

Translation: I have not brought you freedom, I found it here among you.