 Vicente Huidobro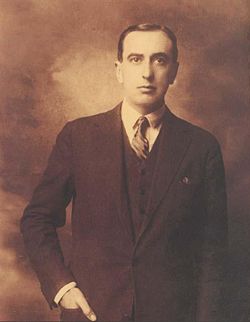 Vicente García-Huidobro Fernández
(January 10, 1893 – January 2, 1948) was a
Chile
Chile
Chile ,officially the Republic of Chile , is a country in South America occupying a long, narrow coastal strip between the Andes mountains to the east and the Pacific Ocean to the west. It borders Peru to the north, Bolivia to the northeast, Argentina to the east, and the Drake Passage in the far...
an poet born to an
aristocratic
Aristocracy
Aristocracy , is a form of government in which a few elite citizens rule. The term derives from the Greek aristokratia, meaning "rule of the best". In origin in Ancient Greece, it was conceived of as rule by the best qualified citizens, and contrasted with monarchy...
family. He was an exponent of the artistic movement called
Creacionismo
Creacionismo
Creationism was a literary movement, initiated by Chilean poet Vicente Huidobro around 1912. Creationism is based on the idea of a poem as a truly new thing, created by the author for the sake of itself — that is, not to praise another thing, not to please the reader, not even to be...
("Creationism"), which held that a poet should bring life to the things he or she writes about, rather than just describe them.
Huidobro was born into a wealthy family in
Santiago
Santiago, Chile
Santiago , also known as Santiago de Chile, is the capital and largest city of Chile, and the center of its largest conurbation . It is located in the country's central valley, at an elevation of above mean sea level...
. After spending his first years in Europe, he enrolled in a Jesuit secondary school in Santiago where he was expelled for using a ring, which he claimed, was for marriage. He studied literature at the University of Chile and published
Ecos del alma
(
Soul's Echoes
) in 1911, a work with modernist tendencies. The following year he married, and started to edit the journal
Musa Joven
(
Young Muse
), where part of his later book,
Canciones en la noche
(
Songs in the Night
) appeared, as well as his first
calligram
Calligram
A calligram is a poem, phrase, or word in which the typeface, calligraphy or handwriting is arranged in a way that creates a visual image. The image created by the words expresses visually what the word, or words, say. In a poem, it manifests visually the theme presented by the text of the poem...
, "Triángulo armónico" ("Harmonic Triangle").
In 1913, along with Carlos Díaz Loyola, he edited the three issues of the journal
Azul
, and published both
Canciones en la noche
and
La gruta del silencio
(
The Grotto of Silence
). The next year, he gave a lecture,
Non serviam
Non serviam
Non serviam is Latin for "I will not serve". The phrase is generally attributed to Lucifer, who is said to have spoken these words to express rejection to serve his God in the heavenly kingdom....
, which reflected his
aesthetic
Aesthetics
Aesthetics is a branch of philosophy dealing with the nature of beauty, art, and taste, and with the creation and appreciation of beauty. It is more scientifically defined as the study of sensory or sensori-emotional values, sometimes called judgments of sentiment and taste...
creed. In another work of the same year, he explained his religious doubts and criticized the
Jesuits
Society of Jesus
The Society of Jesus is a Catholic male religious order that follows the teachings of the Catholic Church. The members are called Jesuits, and are also known colloquially as "God's Army" and as "The Company," these being references to founder Ignatius of Loyola's military background and a...
, earning himself the reproach of his family.
In 1916 he moved to Europe with his wife and children. While in Madrid, he met Rafael Cansinos-Asséns, with whom he had exchanged letters since 1914. He settled in Paris and published
Adán
(
Adam
), a work that began his next phase of artistic development. Huidobro met and mixed with most of the Parisian avant garde of this period:
Pablo Picasso
Pablo Picasso
Pablo Diego José Francisco de Paula Juan Nepomuceno María de los Remedios Cipriano de la Santísima Trinidad Ruiz y Picasso known as Pablo Ruiz Picasso was a Spanish expatriate painter, sculptor, printmaker, ceramicist, and stage designer, one of the greatest and most influential artists of the...
,
Juan Gris
Juan Gris
José Victoriano González-Pérez , better known as Juan Gris, was a Spanish painter and sculptor who lived and worked in France most of his life...
,
Jacques Lipchitz
Jacques Lipchitz
Jacques Lipchitz was a Cubist sculptor.Jacques Lipchitz was born Chaim Jacob Lipchitz, son of a building contractor in Druskininkai, Lithuania, then within the Russian Empire...
,
Francis Picabia
Francis Picabia
Francis Picabia was a French painter, poet, and typographist, associated with both the Dada and Surrealist art movements.- Early life :...
,
Joan Miró
Joan Miró
Joan Miró i Ferrà was a Spanish Catalan painter, sculptor, and ceramicist born in Barcelona.Earning international acclaim, his work has been interpreted as Surrealism, a sandbox for the subconscious mind, a re-creation of the childlike, and a manifestation of Catalan pride...
,
Max Ernst
Max Ernst
Max Ernst was a German painter, sculptor, graphic artist, and poet. A prolific artist, Ernst was one of the primary pioneers of the Dada movement and Surrealism.-Early life:...
,
Paul Éluard
Paul Éluard
Paul Éluard, born Eugène Émile Paul Grindel , was a French poet who was one of the founders of the surrealist movement.-Biography:...
and
Blaise Cendrars
Blaise Cendrars
Frédéric Louis Sauser , better known as Blaise Cendrars, was a Swiss novelist and poet naturalized French in 1916. He was a writer of considerable influence in the modernist movement.-Early years:...
.
In October 1918 Huidobro traveled to Madrid, the first of a series of annual trips to that city. There he shared both
Creacionismo
and his knowledge of the Parisian vanguard with the artistic elite. Thus began the literary movement
Ultraísmo
Ultraist movement
The Ultraist movement was a literary movement born in Spain in 1918, with the declared intention of opposing Modernismo, which had dominated Spanish poetry since the end of the 19th century....
. He corresponded with
Tristan Tzara
Tristan Tzara
Tristan Tzara was a Romanian and French avant-garde poet, essayist and performance artist. Also active as a journalist, playwright, literary and art critic, composer and film director, he was known best for being one of the founders and central figures of the anti-establishment Dada movement...
and collaborated with him on his Dadaist journal. The following year he brought a rough draft to Madrid of the series of poems that would eventually become his masterwork,
Altazor
.
While Huidobro continued to write in Paris, in 1921 he founded and edited the international journal of art,
Creación
in Madrid; the journal featured a Lipchitz sculpture and the paintings of
Georges Braque
Georges Braque
Georges Braque[p] was a major 20th century French painter and sculptor who, along with Pablo Picasso, developed the art style known as Cubism.-Early Life:...
, Picasso, Gris and
Albert Gleizes
Albert Gleizes
Albert Gleizes , was a French painter. Born Albert Léon Gleizes and raised in Paris, he was the son of a fabric designer who ran a large industrial design workshop...
. In November he printed the second issue in Paris and entitled it
Création Revue d'Art
. In December he presented his famous lecture,
La Poesía
(
Poetry
), which served as prologue to
Temblor de Cielo
(
Tremor of Heaven
).
He continued his diverse artistic activities in Europe until 1925, when he moved back to Chile to edit and publish
political journalism
Political journalism
Political journalism is a broad branch of journalism that includes coverage of all aspects of politics and political science, although the term usually refers specifically to coverage of civil governments and political power....
and criticism. Youthful supporters proclaimed him their candidate for president. A bomb explosion followed in front of his house, however Huidobro escaped unharmed.
He returned to Europe by the late 1920s, where he began to write the novel,
Mío Cid Campeador
; he also continued his work on
Altazor
and began
Temblor de Cielo
. It was at this time that he discovered that he was heir to the
Marquisate of Casa Real
Marquisate of Casa Real
Marquisate of Casa Real is a title of the Spanish nobility that was granted on 8 November 1760 to the existing viscounty of San Jerónimo a Francisco García de Huidobro, Tesorero Perpetuo de la Real Casa de Moneda de Chile y Caballero de Santiago....
. He also participated to the
Mandrágora
Mandrágora
For other uses see Mandragora .La Mandrágora was a Chilean Surrealist group "officially founded" on 12 July 1938 by Braulio Arenas , Teófilo Cid and Enrique Gómez Correa . The group had met in Talca and first started exchanging in 1932...
Surrealist movement founded in 1938.
The poet is survived by various family members including his daughter Raquel Huidobro, and grandchildren including Raimundo Rubio Huidobro, an artist living in NY.
Books
The Selected Poetry of Vicente Huidobro, edited with an introduction by David M. Guss, Eliot Weinberger

Eliot Weinberger

Eliot Weinberger is a contemporary American writer, essayist, editor, and translator. His work regularly appears in translation and has been published in some thirty languages...


, W.S. Merwin, Jerome Rothenberg

Jerome Rothenberg

Jerome Rothenberg is an internationally known American poet, translator and anthologist who is noted for his work in ethnopoetics and poetry performance.-Early life and work:...


, and Michael Palmer

Michael Palmer

Michael Palmer is an American poet and translator. He attended Harvard University where he earned a BA in French and a MA in Comparative Literature. He has worked extensively with Contemporary dance for over thirty years and has collaborated with many composers and visual artists...


, translated from the Spanish by David Guss. New Directions Publishing. 1981
The Poet is a Little God

The Poet is a Little God

The Poet is a Little God, by Vicente Huidobro, is a book of poems written originally in Spanish.- Synopsis :A bilingual edition of El espejo de agua, Poemas arcticos and Ecuatorial by the Chilean poet who strove to compete with nature itself in creative imagery.- Summary :A bilingual edition of...


, by Vicente Huidobro, translated from Spanish by Jorge García-Gómez, with an Introduction by Gary Kern. Grand Terrace, CA: Xenos Books

Xenos Books

Xenos Books is a publishing company in Riverside, California that was founded in 1985 by Karl Kvitko and Verona Weiss. The company is known for publishing bilingual books, and modern American and foreign writers in translation.- Poetry :...


.