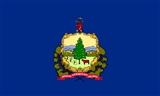 Vermont
Topics
Vermont
Quotations

Quotations
Vermont
is a
U.S.
state located in
New England
. The state ranks 43rd in land area (9,250 sq mi), is the most rural, and its population (608,827) ranks as the second smallest of the 50 states. As the only New England state with no coastline along the Atlantic Ocean, Vermont is notable for the Green Mountains in the west and Lake Champlain in the northwest.
Sourced
The gods of the valley are not the gods of the hills, and you shall understand it.

Ethan Allen, in reply to the King's attorney-general, in a New York court case decided against him, prior to his armed resistance to claims of New York authority over Vermont; quoted in Curiosities of Human Nature (1844) by Samuel Griswold Goodrich, p. 145.
Vermont is a state I love. I could not look upon the peaks of Ascutney, Killington, Mansfield, and Equinox without being moved in a way that no other scene could move me. It was here that I first saw the light of day; here that I received my bride; here my dead lie, pillowed on the loving breast of our everlasting hills.
I love Vermont because of her hills and valleys, her scenery and invigorating climate, but most of all because of her indomitable people. They are a race of pioneers who have almost beggared themselves to serve others. If the spirit of liberty should vanish in other parts of the union and support of our institutions should languish, it could all be replenished from the generous store held by the people of this brave little state of Vermont.

Speech by president Calvin Coolidge at Bennington, Vermont (21 September 1928)
Vermont is a small state which makes an enormous difference.

Fred Rogers, Commencement Address at Middlebury College (May 2001)
I am Vermont.

Valerie Frankel, "Runway To The White House: Searching for a Defining Look In the Land of Ben & Jerry's", New York Times, August 31, 2003
Unsourced
I'm a Vermonta, I do what I wanna.
You can't get there from here.

Reliable Vermont directions, also a "Maine", and general "New England" proverb.
It's called a creemee, and if you don't like it get the fuck out.

Common response to anyone who uses the word "soft serve" in Vermont
He's as happy as a moose!

Vermonter interjectional saying ('Mid-19th' to 'Late 20th' Century)
Take Back Vermont

Bumper sticker, opposing Civil Unions.
Take Vermont From Behind

Bumper sticker, in favor of Civil Unions.
Don't talk unless you can improve the silence.
Don't Mess With Vermont

Bumper sticker, seen following Jim Jefford's departure from the Republican Party, which shifted the balance of power in the Senate to the Democrats in 2001
In Vermont authenticity is all, they do not try to keep it real, they are real.
There may be nothing to do, so that is why we make videos!
There ant no grass like good old Vermont grass."