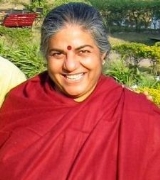 Vandana Shiva
Vandana Shiva
also called Nagari , is an abugida alphabet of India and Nepal...
: वन्दना शिवा; b. November 5, 1952, Dehra Dun,
Uttarakhand
Uttarakhand
Uttarakhand , formerly Uttaranchal, is a state in the northern part of India. It is often referred to as the Land of Gods due to the many holy Hindu temples and cities found throughout the state, some of which are among Hinduism's most spiritual and auspicious places of pilgrimage and worship...
,
India
India
India , officially the Republic of India , is a country in South Asia. It is the seventh-largest country by geographical area, the second-most populous country with over 1.2 billion people, and the most populous democracy in the world...
), is a philosopher, environmental activist, and
eco feminist
Ecofeminism
Ecofeminism is a social and political movement which points to the existence of considerable common ground between environmentalism and feminism, with some currents linking deep ecology and feminism...
. Shiva, currently based in
Delhi
Delhi
Delhi , officially National Capital Territory of Delhi , is the largest metropolis by area and the second-largest by population in India, next to Mumbai. It is the eighth largest metropolis in the world by population with 16,753,265 inhabitants in the Territory at the 2011 Census...
, has authored more than 20 books and over 500 papers in leading scientific and technical journals. She was trained as a physicist and received her Ph.D. in physics from the
University of Western Ontario
University of Western Ontario
The University of Western Ontario is a public research university located in London, Ontario, Canada. The university's main campus covers of land, with the Thames River cutting through the eastern portion of the main campus. Western administers its programs through 12 different faculties and...
,
Canada
Canada
Canada is a North American country consisting of ten provinces and three territories. Located in the northern part of the continent, it extends from the Atlantic Ocean in the east to the Pacific Ocean in the west, and northward into the Arctic Ocean...
, in 1978 with the doctoral dissertation "Hidden variables and locality in quantum theory."
She is one of the leaders and board members of the International Forum on Globalization, (along with
Jerry Mander
Jerry Mander
Jerold Irwin "Jerry" Mander is an American activist and author, best known for his 1977 book, Four Arguments for the Elimination of Television...
,
Edward Goldsmith
Edward Goldsmith
Edward René David Goldsmith , widely known as Teddy Goldsmith, was an Anglo-French environmentalist, writer and philosopher....
,
Ralph Nader
Ralph Nader
Ralph Nader is an American political activist, as well as an author, lecturer, and attorney. Areas of particular concern to Nader include consumer protection, humanitarianism, environmentalism, and democratic government....
,
Jeremy Rifkin
Jeremy Rifkin
Jeremy Rifkin is an American economist, writer, public speaker, political advisor and activist. He is the founder and president of the Foundation On Economic Trends...
, et al.), and a figure of the global solidarity movement known as the
alter-globalization movement
Anti-globalization
Criticism of globalization is skepticism of the claimed benefits of the globalization of capitalism. Many of these views are held by the anti-globalization movement however other groups also are critical of the policies of globalization....
.
Earth Democracy connects people in circles of care, cooperation, and compassion instead of dividing them through competitoin and conflict, fear and hatred.

The nexus between modern science and violence is obvious from the fact that 80 percent of all scientific research is devoted to the war industry and is frankly aimed at large-scale violence.

Biopiracy (is) biological theft; illegal collection of indigenous plants by corporations who patent them for their own use. -- Quoted in a booklet No Patents on Seeds: A Handbook For Activists, collectively authored by the the Navdanya Team, run by Dr Shiva and her colleagues, first published in Feburary 2005 and republished in January 2006.

No to patents on seeds. Yes to bija swaraj (seed freedom).

If enough work is done on both sides, there will be (enough space for industrial workers too in a green scheme of things).

They've been told earn your own money, you won't get government grants. Instead of saying you jolly well have to support a research or university system, since every society needs knowledge systems. They're fumbling around trying to see how they can fit into corporate culture.

Globalisation is about liberalised imports and exports, which makes India export our best natural wealth and import the junk and wasted pollution of international production, including of the Western economies.

We're going through a very major rewriting of the Social Contract, or the contract between governments and people. What we're getting is a whole series of new policies that is turning the government from being an instrument that people can use, into being an instrument that only foreign corporations use against the Indian people.