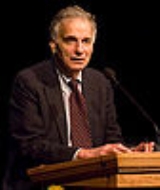 Ralph Nader
Ralph Nader
is an American political activist, as well as an author, lecturer, and attorney. Areas of particular concern to Nader include
consumer protection
Consumer protection
Consumer protection laws designed to ensure fair trade competition and the free flow of truthful information in the marketplace. The laws are designed to prevent businesses that engage in fraud or specified unfair practices from gaining an advantage over competitors and may provide additional...
,
humanitarianism
Humanitarianism
In its most general form, humanitarianism is an ethic of kindness, benevolence and sympathy extended universally and impartially to all human beings. Humanitarianism has been an evolving concept historically but universality is a common element in its evolution...
,
environmentalism
Environmentalism
Environmentalism is a broad philosophy, ideology and social movement regarding concerns for environmental conservation and improvement of the health of the environment, particularly as the measure for this health seeks to incorporate the concerns of non-human elements...
, and democratic government.
Nader came to prominence in 1965 with the publication of his book
Unsafe at Any Speed
Unsafe at Any Speed
Unsafe at Any Speed: The Designed-In Dangers of the American Automobile by Ralph Nader, published in 1965, is a book detailing resistance by car manufacturers to the introduction of safety features, like seat belts, and their general reluctance to spend money on improving safety...
, a critique of the safety record of American automobile manufacturers in general, and most famously the
Chevrolet Corvair
Chevrolet Corvair
-First generation :The 1960 Corvair 500 and 700 series four-door sedans were conceived as economy cars offering few amenities in order to keep the price competitive, with the 500 selling for under $2,000...
. In 1999, an NYU panel of journalists ranked
Unsafe at Any Speed
38th among the top 100 pieces of journalism of the 20th century.
Nader is a five-time candidate for
President of the United States
President of the United States
The President of the United States of America is the head of state and head of government of the United States. The president leads the executive branch of the federal government and is the commander-in-chief of the United States Armed Forces....
, having run as a write-in candidate in the 1992 New Hampshire Democratic primary, as the
Green Party
Green Party (United States)
The Green Party of the United States is a nationally recognized political party which officially formed in 1991. It is a voluntary association of state green parties. Prior to national formation, many state affiliates had already formed and were recognized by other state parties...
nominee in
1996
United States presidential election, 1996
The United States presidential election of 1996 was a contest between the Democratic national ticket of President Bill Clinton of Arkansas and Vice President Al Gore of Tennessee and the Republican national ticket of former Senator Bob Dole of Kansas for President and former Housing Secretary Jack...
and
2000
United States presidential election, 2000
The United States presidential election of 2000 was a contest between Republican candidate George W. Bush, then-governor of Texas and son of former president George H. W. Bush , and Democratic candidate Al Gore, then-Vice President....
, and as an independent candidate in
2004
United States presidential election, 2004
The United States presidential election of 2004 was the United States' 55th quadrennial presidential election. It was held on Tuesday, November 2, 2004. Republican Party candidate and incumbent President George W. Bush defeated Democratic Party candidate John Kerry, the then-junior U.S. Senator...
and
2008
United States presidential election, 2008
The United States presidential election of 2008 was the 56th quadrennial presidential election. It was held on November 4, 2008. Democrat Barack Obama, then the junior United States Senator from Illinois, defeated Republican John McCain, the senior U.S. Senator from Arizona. Obama received 365...
.
Up against the corporate government, voters find themselves asked to choose between look-alike candidates from two parties vying to see who takes the marching orders from their campaign paymasters and their future employers. The money of vested interest nullifies genuine voter choice and trust.

The "democracy gap" in our politics and elections spells a deep sense of powerlessness by people who drop out, do not vote, or listlessly vote for the "least worst" every four years and then wonder why after every cycle the "least worst" gets worse.

Like knowing hostages, the AFL-CIO and its unions march in tandem to endorse the Democratic presidential nominees early in the primary season. They have given up their capacity for negotiation, so frightened are they of the Republicans. Meanwhile, the rank-and-file workers suffer their dwindling status in silence.

...organized labor...rushes to support the party without demanding a turn away from corporatism toward workers' needs. This is the logic of the lesser of two evils. It tethers labor to a relentless slide deeper into the corporate power pits year after year.

...the Democrats know that no matter how many GATTs, NAFTAs, empty OSHAs, and other betrayals...they heap on those labor leaders, they can be had because, once again, the Republicans are deemed worse.

The tired whine of "But the Republicans are worse" will fall flat as more young Americans take charge of their future and move, with their reenergized elders, toward the Green Party and parallel civic and political movements.

We must strive to become good ancestors.

The shortcomings of America's political leaders do not stop at our borders.

Unlike members of Congress, Big Business knew what the WTO agreements contained. That's because corporate lobbyists helped draft them.

Half of democracy is about just showing up.