 Ussuri Bay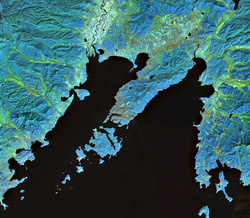 Ussuri Bay
is a northern east part of
Peter the Great Gulf
Peter the Great Gulf
The Peter the Great Gulf is the largest gulf of the Sea of Japan adjoining the coast of Russia's Primorski Krai...
.
Its length is 67 km, a wide is 10–55 km, depth is approximately 40 (max 69) m.
Ussuri Bay is a popular
recreation area
Recreation area
A recreation area is a type of protected area designated in some jurisdictions. In the United States, National Recreation Areas are administered by several different agencies. They typically do not meet the strict guidelines to become national parks. In U.S...
in
Primorsky Krai
Primorsky Krai
Primorsky Krai , informally known as Primorye , is a federal subject of Russia . Primorsky means "maritime" in Russian, hence the region is sometimes referred to as Maritime Province or Maritime Territory. Its administrative center is in the city of Vladivostok...
(
Shamora
Shamora
Lazurnaya Bay - part of the Ussuri Bay of the Sea of Japan. Shamora is a Chinese and traditional Russian name. The Chinese name translates as "sandy desert", referring to the sandy beaches that attract scores of holiday-makers from Vladivostok and other towns of the Russian Far East. Several rest...
).
Vladivostok
Vladivostok
The city is located in the southern extremity of Muravyov-Amursky Peninsula, which is about 30 km long and approximately 12 km wide.The highest point is Mount Kholodilnik, the height of which is 257 m...
is situated on a western coast of the
bay
Bay
A bay is an area of water mostly surrounded by land. Bays generally have calmer waters than the surrounding sea, due to the surrounding land blocking some waves and often reducing winds. Bays also exist as an inlet in a lake or pond. A large bay may be called a gulf, a sea, a sound, or a bight...
, and Bolshoy Kamen on an eastern. Other settlements are
Shkotovo
Shkotovo
Shkotovo is an urban locality and a railway station in Shkotovsky District of Primorsky Krai, Russia. Population:...
, Yemar and Pod'yapolskoye.
The
Eastern Bosphorus
Eastern Bosphorus
Eastern Bosphorus is a strait that separates the Muravyov-Amursky Peninsula and Russky Island, and connects Amur Bay and Ussuri Bay.The depth is up to 50 m...
connects
Amur Bay
Amur Bay
Amur Bay is a north western part of Peter the Great Gulf.Its length is 65 km, width is 10-20 km, and depth is approximately 20 m....
and Ussuri Bay. Artemovka, Shkotovka, Sukhodol, Petrovka rivers flow into Amur Bay.