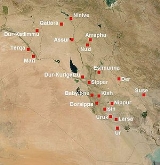 Ur
Ur
was an important
city-state
City-state
A city-state is an independent or autonomous entity whose territory consists of a city which is not administered as a part of another local government.-Historical city-states:...
in ancient
Sumer
Sumer
Sumer was a civilization and historical region in southern Mesopotamia, modern Iraq during the Chalcolithic and Early Bronze Age....
located at the site of modern
Tell el-Muqayyar
in
Iraq
Iraq
Iraq ; officially the Republic of Iraq is a country in Western Asia spanning most of the northwestern end of the Zagros mountain range, the eastern part of the Syrian Desert and the northern part of the Arabian Desert....
's
Dhi Qar Governorate
. Once a coastal city near the mouth of the
Euphrates
Euphrates
The Euphrates is the longest and one of the most historically important rivers of Western Asia. Together with the Tigris, it is one of the two defining rivers of Mesopotamia...
on the
Persian Gulf
Persian Gulf
The Persian Gulf, in Southwest Asia, is an extension of the Indian Ocean located between Iran and the Arabian Peninsula.The Persian Gulf was the focus of the 1980–1988 Iran-Iraq War, in which each side attacked the other's oil tankers...
, Ur is now well inland, south of the Euphrates on its right bank, 16 kilometres (9.9 mi) from
Nasiriyah
Nasiriyah
Nasiriyah is a city in Iraq. It is on the Euphrates about 225 miles southeast of Baghdad, near the ruins of the ancient city of Ur. It is the capital of the province of Dhi Qar...
.
The city's patron deity was
Nanna
Sin (mythology)
Sin or Nanna was the god of the moon in Mesopotamian mythology. Nanna is a Sumerian deity, the son of Enlil and Ninlil, and became identified with Semitic Sin. The two chief seats of Nanna's/Sin's worship were Ur in the south of Mesopotamia and Harran in the north.- Name :The original meaning of...
, the Sumerian
moon god
Lunar deity
In mythology, a lunar deity is a god or goddess associated with or symbolizing the moon. These deities can have a variety of functions and traditions depending upon the culture, but they are often related to or an enemy of the solar deity. Even though they may be related, they are distinct from the...
, and the name of the city is in origin derived from the god's name, being the classical Sumerian spelling of
LAK
-32.UNUG
KI
, literally "the abode (UNUG) of Nanna (LAK-32)".
The site is marked by the ruins of the
Great Ziggurat of Ur
Great Ziggurat of Ur
The Ziggurat of Ur is a Neo-Sumerian ziggurat in what was the city of Ur near Nasiriyah, in present-day Dhi Qar Province, Iraq...
, which contained the shrine of Nanna, excavated in the 1930s.