 University of California Museum of Paleontology
The
University of California Museum of Paleontology
(
UCMP
) is a
paleontology
Paleontology
Paleontology "old, ancient", ὄν, ὀντ- "being, creature", and λόγος "speech, thought") is the study of prehistoric life. It includes the study of fossils to determine organisms' evolution and interactions with each other and their environments...
museum located on the campus of the
University of California, Berkeley
University of California, Berkeley
The University of California, Berkeley , is a teaching and research university established in 1868 and located in Berkeley, California, USA...
.
The museum is within the
Valley Life Sciences Building
(VLSB), designed by Arthur Brown Jr. Its collections are primarily intended for research and are thus not accessible to the public. A limited number of fossils from the collection is on display in the VLSB. Although located on the Berkeley campus, the museum is the primary locality for storing fossils collected statewide. The original fossils, around which the current collection has grown, were those gathered as part of the
California Geological Survey
California Geological Survey
Although it was not until 1880 that the California State Mining Bureau, predecessor to the California Geological Survey, was established, the "roots" of California's state geological survey date to an earlier time...
from 1860-1867.
Website
UCMP was one of the first museums to have its own
website
Website
A website, also written as Web site, web site, or simply site, is a collection of related web pages containing images, videos or other digital assets. A website is hosted on at least one web server, accessible via a network such as the Internet or a private local area network through an Internet...
in the early 1990s, due to its location within a technology-oriented university with a good
Internet
Internet
The Internet is a global system of interconnected computer networks that use the standard Internet protocol suite to serve billions of users worldwide...
connection. The site has been applauded for its use of visually appealing graphics, was nominated for a
Webby Award
Webby Awards
A Webby Award is an international award presented annually by The International Academy of Digital Arts and Sciences for excellence on the Internet with categories in websites, interactive advertising, online film and video, and mobile....
five times, and received a medal from the
Smithsonian Institution
Smithsonian Institution
The Smithsonian Institution is an educational and research institute and associated museum complex, administered and funded by the government of the United States and by funds from its endowment, contributions, and profits from its retail operations, concessions, licensing activities, and magazines...
. It also had a cameo appearance in the movie
Deep Impact
Deep Impact (film)
Deep Impact is a 1998 science-fiction disaster-drama film released by Paramount Pictures and DreamWorks in the United States on May 8, 1998. The film was directed by Mimi Leder and stars Robert Duvall, Elijah Wood, Téa Leoni, and Morgan Freeman...
, albeit under an incorrect name.
Notable figures
Annie Montague Alexander
Annie Montague Alexander
Annie Montague Alexander was an American philanthropist and paleontological collector. She established the University of California Museum of Paleontology , Museum of Vertebrate Zoology , and financed their collections as well as a series of paleontological expeditions to the western United States...
was the first benefactor of the museum, and led some early expeditions.
Faculty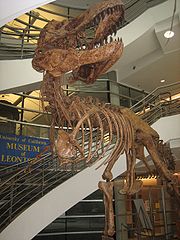 Many notable paleontologists have worked as staff at UCMP. Dates given after each name indicate when the person was part of the university faculty or working in the museum.
John C. Merriam

John C. Merriam

John Campbell Merriam was an American paleontologist. The first vertebrate paleontologist on the West Coast of the United States, he is best known for his taxonomy of vertebrate fossils at the La Brea Tar Pits in Los Angeles, particularly with the genus Smilodon, more commonly known as the...


(1894–1920)
Charles Lewis Camp

Charles Lewis Camp

Charles Lewis Camp was a notable palaeontologist and zoologist, working from the University of California, Berkeley...


(1921-1975)
William Diller Matthew

William Diller Matthew

William Diller Matthew FRS was a vertebrate paleontologist who worked primarily on mammal fossils....


(1927–1930)
Ruben Arthur Stirton (1930–1966)
Samuel Paul Welles

Samuel Paul Welles

Samuel Paul Welles was an American palaeontologist, who was Research Associate at the Museum of Palaeontology, University of California, Berkeley. He took part in excavations at the 'Placerias Quarry' in 1930 and the Shonisaurus discoveries of 1954 and later, in what is now the Berlin-Ichthyosaur...


(1940–1997)
Directors
Bruce L. Clark (1880-1945)
William Diller Matthew

William Diller Matthew

William Diller Matthew FRS was a vertebrate paleontologist who worked primarily on mammal fossils....


(1871-1930)
Charles Lewis Camp

Charles Lewis Camp

Charles Lewis Camp was a notable palaeontologist and zoologist, working from the University of California, Berkeley...


(1893-1975)
Ruben Arthur Stirton (1901-1966)
Donald E. Savage (1917-1999)
Joseph T. Gregory

Joseph T. Gregory

Dr. Joseph Tracy Gregory was an American paleontologist and professor.Joseph Tracy Gregory was born in Eureka, California, the only child of Frank Gregory, a civil engineer, and Edith Tracy, a high school teacher...


(1914-2007)
William B. N. Berry
William A. Clemens Jr.

William A. Clemens Jr.

Dr. William "Bill" A. Clemens, Jr. is a professor emeritus at the University of California at Berkeley. He has been on the faculty of the Department of Integrated Biology since 1994, and since 1967 in the Department of Paleontology and the UC Museum of Paleontology...



Jere H. Lipps

Jere H. Lipps

Dr. Jere Henry Lipps has been a professor at the University of California at Berkeley in the Department of Integrative Biology since 1988 and Curator of Paleontology at the UC Museum of Paleontology. Lipps is also a past director of the museum and chair of the department...



David R. Lindberg

David R. Lindberg

David R. Lindberg is an American malacologist and professor of integrative biology at the University of California, Berkeley. He is also the Curator for the University of California Museum of Paleontology and co-editor of the journal Molecular Systematics and Phylogeography of Mollusks.Much of his...



Roy L. Caldwell
Charles R. Marshall
External links