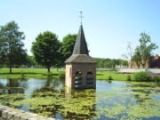 Universiteit Twente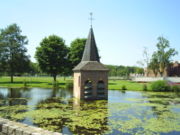 University of Twente
is a
university
University
A university is an institution of higher education and research, which grants academic degrees in a variety of subjects. A university is an organisation that provides both undergraduate education and postgraduate education...
located in
Enschede
Enschede
Enschede , also known as Eanske in the local dialect of Twents, is a municipality and a city in the eastern Netherlands in the province of Overijssel and in the Twente region...
,
Netherlands
Netherlands
The Netherlands is a constituent country of the Kingdom of the Netherlands, located mainly in North-West Europe and with several islands in the Caribbean. Mainland Netherlands borders the North Sea to the north and west, Belgium to the south, and Germany to the east, and shares maritime borders...
. It offers research and degree programmes in the social and behavioral sciences and in engineering. In keeping with its entrepreneurial spirit, the University is committed to making economic and social contribution to the region of the Netherlands where it is based. The UT collaborates with
Delft University of Technology
Delft University of Technology
Delft University of Technology , also known as TU Delft, is the largest and oldest Dutch public technical university, located in Delft, Netherlands...
and
Eindhoven University of Technology
Eindhoven University of Technology
The ' is a university of technology located in Eindhoven, Netherlands. The motto of the university is: Mens agitat molem . The university was the second of its kind in the Netherlands, only Delft University of Technology existed previously. Until mid-1980 it was known as the...
under the umbrella of the 3TU.Federation, and is also a partner in the
European Consortium of Innovative Universities
European Consortium of Innovative Universities
The European Consortium of Innovative Universities was founded in 1997 by 10 European universities. The goal was to create a European network, where participating universities could exchange experience and best practice of projects within education, research and regional development. The ECIU...
(ECIU).
History
The University was founded in 1961 as the Technische Hogeschool Twente, the Netherlands' third higher vocational institute of technology later to become a university (the other two being Delft and Eindhoven). The Dutch government's decision to locate the new institute in Enschede, the main city of
Twente
Twente
Twente is a non-administrative region in the eastern Netherlands. It encompasses the most urbanised and easternmost part of the province of Overijssel...
, had much to do with the north-eastern province's rich industrial history. Another important consideration was the fact that the local economy needed a boost to compensate for the dwindling textile industry.
Campus
The University of Twente was built on the former country estate of Drienerlo, situated between Hengelo and Enschede. On this beautifully landscaped 140 hectare estate, comprising woodland, meadows and water, architects Van Tijen and Van Embden designed the Netherlands' first - and so far only - campus university along American lines. Students and staff live, work and pursue their leisure activities on campus. Through the years, several other important architects and artists have made their own contributions to the design of the campus.
Students and staff at the University of Twente continue to form an active academic community. The beautiful campus of the University has excellent sports and cultural facilities that have stimulated the development of a rich mix of student societies, student social events, and a constant flow of new initiatives. The Student Union, which is run entirely by students, promotes the interests of all student societies and also manages several premises, including the student social centre in the heart of Enschede.
Mission statement
The University of Twente is an entrepreneurial research university with special focus on technological developments in the knowledge society. The university needs to be responsive to the requirements of the modern society and also has a special responsibility to develop and implement a broad knowledge potential in science and technology. In order to meet these challenges, the University of Twente advocates the establishment of a single Federation of Technical Universities in the Netherlands in 2010. The three technical universities agreed to join forces in 2005 and on 7 February 2007 the 3TU Federation was launched. The 3TU Federation aims to operate effectively at both national and international level. Within the 3TU framework the University of Twente promotes outstanding educational standards and world class research that leads the way in a number of specific areas. In pursuit of these goals, the University of Twente also wants to stimulate economic and social development regionally: in
Twente
Twente
Twente is a non-administrative region in the eastern Netherlands. It encompasses the most urbanised and easternmost part of the province of Overijssel...
, the north-east of the Netherlands, and in the Gronau-Twente Euregio.
A focus on the interdependent relationship between social and technological innovation is a distinguishing feature of the University of Twente and this is reflected in the way it carries out its core activities. Strategic networks of public and private partners are encouraged. On campus, academic training occupies a central position and the University's special character is reflected in the organisation of its degree programmes.
Teaching is of the highest standard and the University is committed to:
an educational programme that is in tune with the latest international research developments;
an approach that allows students to seek challenges in the study programmes they are being offered;
Bachelor's programmes that are broad-based, with ample opportunity for excellent students to be put on the international honours track, and to adapt their study programme to fit their personal profiles;
providing a limited number of selective Master's programmes that reflect the University's core research activities, in addition to the standard Master's programmes that follow on from the Bachelor's;
ensuring that the research Master's programmes, whenever possible and desirable, lead to a fast-track PhD programme;
giving academic training a central place in both the Bachelor's and the Master's degree programmes;
the application of modern educational insights across all teaching programmes;
an explicit and continuous orientation towards the requirements of the labour market;
the application of internationally agreed quality norms.
The University of Twente conducts world class research that:
contributes to social and technological innovation by carrying out empirical, experimental and design-oriented scientific research with unique combination of social, behavioural and engineering research;
is underpinned by a strong focus on the implications of technological innovation and the development of the knowledge society;
is multidisciplinary in character, and rooted in the knowledge base of the underlying disciplines;
is organised in a limited number of distinctive and internationally acclaimed research institutes;
is carried out in a context of intensive interaction with the public and the private sectors;
creates opportunities for new areas of development, rich in potential.
This mission is being accomplished by a highly motivated, outstanding academic community with the full support of a Student Union charged with the tasks of promoting an active student community and a specific range of high-quality services. Financial prudence, modern human resource management, and adequate housing and facilities are important preconditions to ensure its success.
Faculties
There are Six Faculties at the University of Twente:
Each Faculty is in turn organized into several departments.
Programmes
The degree programmes at the University of Twente range from business administration,
psychology
Psychology
Psychology is the study of the mind and behavior. Its immediate goal is to understand individuals and groups by both establishing general principles and researching specific cases. For many, the ultimate goal of psychology is to benefit society...
to
applied physics
Applied physics
Applied physics is a general term for physics which is intended for a particular technological or practical use.It is usually considered as a bridge or a connection between "pure" physics and engineering....
,
engineering
Engineering
Engineering is the discipline, art, skill and profession of acquiring and applying scientific, mathematical, economic, social, and practical knowledge, in order to design and build structures, machines, devices, systems, materials and processes that safely realize improvements to the lives of...
and
biomedical technology
Biomedical technology
Biomedical technology broadly refers to the application of engineering and technology principles to the domain of living or biological systems. Usually inclusion of the term biomedical denotes a principal emphasis on problems related to human health and diseases, whereas terms like "biotechnology"...
. The curriculum is broad, flexible and relevant to the labour market. Most students combine coursework in their major subject with a coherent set of minors in another discipline. A growing number of foreign students are finding their way to the UT. Almost all postgraduate programmes (and several undergraduate programmes) are taught in English. Half of all PhD students at the UT now come from outside the Netherlands.
The University of Twente has a world class research programme. In the applied sciences, the emphasis is on nanotechnology, process technology, engineering, information & communication technology, and the biomedical sciences. The University also has a strong track record in management and behavioural sciences.
The University of Twente sets great importance on the useful application of knowledge in the society. Patents, life-long learning programmes, and spin-off companies testify to this commitment, as does UT's intensive involvement in research programmes that enhance knowledge infrastructure in the Netherlands. So far, the UT has produced 600 spin-off companies; more than any other Dutch university.
From the outset, the University of Twente has sought to put the applied sciences in a wider social context. Students and researchers are always challenged to look beyond the boundaries of their own subject area and to establish links between different disciplines. The University of Twente believes that a multidisciplinary approach will stimulate innovation in science and society alike.
Institutes
Knowledge and research centres
CEPTES - Center for Philosophy of Technology and Engineering Science (CEPTES+)
CES - Center for European Studies (CES+)
CHEPS - Center for Higher Education Policy Studies (CHEPS+)
CHOIR - Center for healthcare operations improvement & research (CHOIR+)
CIPV - Centre for integrated manufacturing and development (CIPV+)
CSSTS - Center for Studies of Science, Technology and Society (CSSTS+)
CSTM - Center for clean technology and environmental policy (CSTM+)
Drebbel - Drebbel institute for Mechatronics (Drebbel +)
Institute for Sport & Leisure (sport en leisure+)
IPIT - Instituut voor maatschappelijke veiligheidsvraagstukken (IPIT+)
ITM - Institute of Technical Medicine (ITM+)
Nikos - Dutch institute for knowledge intensive entrepreneurship (Nikos+)
STeHPS - Science, Technology, Health and Policy Studies (STePHS+)
TESI - Twente Embedded Systems Initiative (TESI+)
TWC - Twente Water Centre (TWC+)
TwiCor - Twente institute for Communication research
VRINT - Virtual Reality Initiative Twente (VRINT+)
Graduate and Undergraduate studies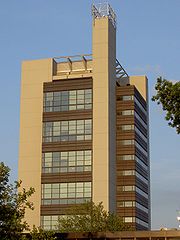 Technical and Engineering Sciences
Advanced Technology
Applied Mathematics
Applied Physics
Biomedical Engineering
Business Information Technology
Chemical Engineering
Civil Engineering and Management
Creative Technology
Computer Science
Electrical Engineering
Embedded Systems
Environmental and Energy Management
Geoinformatics
Human Media Interaction
Industrial Design Engineering
Industrial Engineering and Management
Mechanical Engineering
Mechatronics
Nanotechnology
Sustainable Energy Technology
Technical Medicine
Telematics
Business and social sciences
Business Administration
International Business Administration
Industrial Engineering and Management
European Studies
Public Administration
Public Management
Environmental and Energy Management
Health Sciences
Behavioural sciences
Communication Studies
Educational Science and Technology
Philosophy of Science, Technology and Society
Psychology
Social Systems Evaluation and Survey Research
University presidents
1963 - 1967: Professor Gerrit Berkhoff

Gerrit Berkhoff

Gerrit Berkhoff was a Dutch chemist and the first Rector Magnificus of the University of Twente, The Netherlands.-Education:...



1967 - 1971: Professor Jo Vlugter
1971 - 1974: Professor Pieter Zandbergen
1974 - 1976: Professor Jan Kreiken
1976 - 1979: Professor Willem van Spiegel
1979 - 1982: Professor Harry van den Kroonenberg
1982 - 1985: Professor Wiebe Draijer
1985 - 1988: Professor Harry van den Kroonenberg (Second term)
1988 - 1992: Professor Jos de Smit
1992 - 1997: Professor Theo Popma
1997 - 2004: Professor Frans van Vught
2005 - 2009: Professor Henk Zijm
2009 - present: Professor Ed Brinksma
Rankings
In 2010
QS World University Rankings
QS World University Rankings
The QS World University Rankings is a ranking of the world's top 500 universities by Quacquarelli Symonds using a method that has published annually since 2004....
ranked the University of Twente 199th overall in the world. Its subject rankings were: 138th in Engineering & IT, 226th in Natural Sciences, and 252nd in Social Sciences.
External links