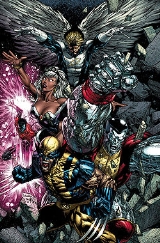 Uncanny X-Men
Uncanny X-Men
, first published as
The X-Men
, is the flagship
Marvel Comics
Marvel Comics
Marvel Worldwide, Inc., commonly referred to as Marvel Comics and formerly Marvel Publishing, Inc. and Marvel Comics Group, is an American company that publishes comic books and related media...
comic book
Comic book
A comic book or comicbook is a magazine made up of comics, narrative artwork in the form of separate panels that represent individual scenes, often accompanied by dialog as well as including...
series for the
X-Men
X-Men
The X-Men are a superhero team in the . They were created by writer Stan Lee and artist Jack Kirby, and first appeared in The X-Men #1...
franchise. It is the mainstream continuity featuring the adventures of the
eponym
Eponym
An eponym is the name of a person or thing, whether real or fictitious, after which a particular place, tribe, era, discovery, or other item is named or thought to be named...
ous group of
mutant
Mutant (Marvel Comics)
In comic books published by Marvel Comics, a mutant is an organism who possesses a genetic trait called an X-gene that allows the mutant to naturally develop superhuman powers and abilities...
superhero
Superhero
A superhero is a type of stock character, possessing "extraordinary or superhuman powers", dedicated to protecting the public. Since the debut of the prototypical superhero Superman in 1938, stories of superheroes — ranging from brief episodic adventures to continuing years-long sagas —...
es. While hugely successful now, the book was initially met with a lukewarm reception, and took a number of years for the X-Men's first issue (cover dated September 1963) to secure even mild success.