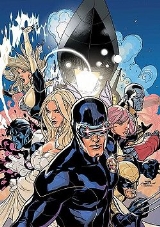 X-Men
The
X-Men
are a superhero team in the . They were created by writer
Stan Lee
Stan Lee
Stan Lee is an American comic book writer, editor, actor, producer, publisher, television personality, and the former president and chairman of Marvel Comics....
and artist
Jack Kirby
Jack Kirby
Jack Kirby , born Jacob Kurtzberg, was an American comic book artist, writer and editor regarded by historians and fans as one of the major innovators and most influential creators in the comic book medium....
, and first appeared in
The X-Men
Uncanny X-Men
Uncanny X-Men, first published as The X-Men, is the flagship Marvel Comics comic book series for the X-Men franchise. It is the mainstream continuity featuring the adventures of the eponymous group of mutant superheroes...
#1 (September 1963). The basic concept of the X-Men is that under a cloud of increasing anti-
mutant
Mutant (Marvel Comics)
In comic books published by Marvel Comics, a mutant is an organism who possesses a genetic trait called an X-gene that allows the mutant to naturally develop superhuman powers and abilities...
sentiment,
Professor X
Professor X
Professor Charles Francis Xavier, also known as Professor X, is a fictional character, a Marvel Comics superhero known as the leader and founder of the X-Men....
avier created a haven at his
Westchester
Westchester County, New York
Westchester County is a county located in the U.S. state of New York. Westchester covers an area of and has a population of 949,113 according to the 2010 Census, residing in 45 municipalities...
mansion
X-Mansion
In the fictional Marvel Comics universe, the X-Mansion is the common name for Professor Xavier's mansion. It is the base of operations and training site of the X-Men and the location of a school for mutant teenagers, the Xavier Institute for Higher Learning, formerly Xavier's School for Gifted...
to train young mutants to use their powers for the benefit of humanity, and to prove mutants can be heroes. Xavier recruited
Cyclops
Cyclops (comics)
Cyclops is a fictional character, the leader of the X-Men superhero team in the . A mutant, Cyclops emits a powerful energy beam from his eyes...
,
Iceman
Iceman (comics)
Iceman is a fictional Marvel Comics superhero, a member of the X-Men. Created by writer Stan Lee and artist/co-writer Jack Kirby, he first appeared in X-Men vol. 1 #1, ....
, Angel,
Beast
Beast (comics)
Beast , Dr. Henry Philip "Hank" McCoy, is a comic book character, a Marvel Comics superhero and a member of the mutant team of superheroes known as the X-Men...
, and
Marvel Girl
Jean Grey
Jean Grey-Summers is a fictional comic book superheroine appearing in comic books published by Marvel Comics. She has been known under the aliases Marvel Girl, Phoenix, and Dark Phoenix and is best known as one of five original members of the X-Men, for her relationship with Cyclops, and for her...
, calling them "X-Men" because they possess special powers due to their possession of the "X-gene," a gene which normal humans lack and which gives mutants their abilities.
Comics

Astonishing X-Men
Movies

X-Men (movie)
Television Shows

X-Men: Animated Series