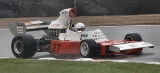 Trojan (Racing team)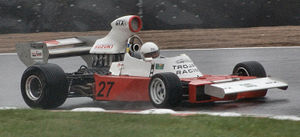 Trojan
was an
automobile
Automobile
An automobile, autocar, motor car or car is a wheeled motor vehicle used for transporting passengers, which also carries its own engine or motor...
manufacturer and a
Formula One
Formula One
Formula One, also known as Formula 1 or F1 and referred to officially as the FIA Formula One World Championship, is the highest class of single seater auto racing sanctioned by the Fédération Internationale de l'Automobile . The "formula" designation in the name refers to a set of rules with which...
constructor from the
United Kingdom
United Kingdom
The United Kingdom of Great Britain and Northern IrelandIn the United Kingdom and Dependencies, other languages have been officially recognised as legitimate autochthonous languages under the European Charter for Regional or Minority Languages...
. The complete history can be found at
http://www.trojanmuseumtrust.org
The car producer
Trojan Limited
Trojan (automobile)
Trojan was a British automobile manufacturer. Cars with the Trojan marque were made from 1914 and 1974.-Early history:The company was founded by Leslie Hayward Hounsfield who went into business as a general engineer in a small workshop called the Polygon Engineering Works in Clapham, South London...
was founded by Leslie Hounsfield in 1914 in
Purley Way
Purley Way
Purley Way is a section of the A23 trunk road in the London Borough of Croydon, in the areas of Purley, Waddon and West Croydon, and has given its name to the out-of-town shopping area alongside it with a catchment area covering most of South London. It was designed as a bypass for Croydon and was...
,
Croydon
Croydon
Croydon is a town in South London, England, located within the London Borough of Croydon to which it gives its name. It is situated south of Charing Cross...
,
South London
South London
South London is the southern part of London, England, United Kingdom.According to the 2011 official Boundary Commission for England definition, South London includes the London boroughs of Bexley, Bromley, Croydon, Greenwich, Kingston, Lambeth, Lewisham, Merton, Southwark, Sutton and...
and produced cars and especially delivery vans until 1964.
Around 1960, the Trojan factory was sold to Peter Agg who sold
Lambretta
Lambretta
Lambretta can refer to:* Lambretta, a petrol-powered scooter made by Innocenti* Lambretta , a clothing brand* Lambretta , a Swedish rock band* The Lambrettas, a British mod revival band...
scooters for the British market. In 1962, the right to manufacture the
Heinkel
Heinkel
Heinkel Flugzeugwerke was a German aircraft manufacturing company founded by and named after Ernst Heinkel. It is noted for producing bomber aircraft for the Luftwaffe in World War II and for important contributions to high-speed flight.-History:...
microcar
Microcar
A microcar is the smallest automobile classification usually applied to standard small car . Such small cars were generally referred to as cyclecars until the 1940s. More recent models are also called bubblecars due to their egg-shaped appearance.-Definition:The definition of a microcar has varied...
was acquired and the production line was moved from
Dundalk
Dundalk
Dundalk is the county town of County Louth in Ireland. It is situated where the Castletown River flows into Dundalk Bay. The town is close to the border with Northern Ireland and equi-distant from Dublin and Belfast. The town's name, which was historically written as Dundalgan, has associations...
,
Ireland
Ireland
Ireland is an island to the northwest of continental Europe. It is the third-largest island in Europe and the twentieth-largest island on Earth...
to Croydon,
Surrey
Surrey
Surrey is a county in the South East of England and is one of the Home Counties. The county borders Greater London, Kent, East Sussex, West Sussex, Hampshire and Berkshire. The historic county town is Guildford. Surrey County Council sits at Kingston upon Thames, although this has been part of...
. Production then commenced of the renamed Trojan cabin cruiser. Production continued until 1965 when some 6,000 cars had been produced. Also in 1962, Trojan acquired the
Elva
Elva (car manufacturer)
Elva was a sports and racing car manufacturing company based in Bexhill, then Hastings and Rye, East Sussex, United Kingdom. The company was founded in 1955 by Frank G. Nichols. The name comes from the French phrase elle va .-Racing cars:...
sports car business and started to make the Mk IV Elva Courier.
This in turn led onto the manufacturing of McLaren racing cars until vehicle production finally ceased in the early 1970s. Trojan Limited still exists as an independent company though the factory was sold in the 1970s.
They participated in eight grands prix, entering a total of 8 cars. In 1974
David Purley
David Purley
David Charles Purley, GM, was a British racing driver born in Bognor Regis, West Sussex. He participated in 11 Formula One World Championship Grands Prix, debuting at Monaco on 3 June 1973...
won the
Brighton Speed Trials
Brighton Speed Trials
The Brighton Speed Trials, in full The Brighton National Speed Trials, is commonly held to be the oldest running motor race. The first race was held July 19–22, 1905 after Sir Harry Preston persuaded Brighton town council to tarmac the surface of the road adjacent to the beach between the Palace...
driving a Trojan-Chevrolet T101. While Formula One remained the major series, sports cars were also fashionable on either side of the Atlantic. The McLaren M1 was put into production by Peter Agg's Lambretta Trojan Group in Rye, Sussex. They would make 200 McLarens during ten years.
Complete Formula One results
Year
Chassis
Engine
Tyres
Drivers
1
2
3
4
5
6
7
8
9
10
11
12
13
14
15
Pts.
WCC
1974

1974 Formula One season

The 1974 Formula One season was the 25th season of FIA Formula One motor racing. It featured the 1974 World Championship of F1 Drivers and the 1974 International Cup for F1 Manufacturers, contested concurrently over a fifteen race series which commenced on 13 January and ended on 6 October...



Trojan T103
Ford

Ford Motor Company

Ford Motor Company is an American multinational automaker based in Dearborn, Michigan, a suburb of Detroit. The automaker was founded by Henry Ford and incorporated on June 16, 1903. In addition to the Ford and Lincoln brands, Ford also owns a small stake in Mazda in Japan and Aston Martin in the UK...


V8

V8 engine

A V8 engine is a V engine with eight cylinders mounted on the crankcase in two banks of four cylinders, in most cases set at a right angle to each other but sometimes at a narrower angle, with all eight pistons driving a common crankshaft....



ARG

1974 Argentine Grand Prix

The 1974 Argentine Grand Prix was a Formula One race held in Buenos Aires on January 13, 1974.-Start-of-season preliminaries:It had been one of the most frantic close seasons ever with only Ronnie Peterson, Denny Hulme, Carlos Reutemann and James Hunt remaining with their teams. Emerson Fittipaldi...



BRA

1974 Brazilian Grand Prix

The 1974 Brazilian Grand Prix was a Formula One motor race held at Interlagos on January 27, 1974.- Race summary :Emerson Fittipaldi took pole position for his home race from Carlos Reutemann. The start of the race was delayed as the track had to be swept clear of broken glass from over-exuberant...



RSA

1974 South African Grand Prix

The 1974 South African Grand Prix was a Formula One motor race held at Kyalami on 30 March 1974.- Race summary :It was initially uncertain that the South African Grand Prix would go ahead due to the power crisis, but it did so, albeit belatedly in March...



ESP

1974 Spanish Grand Prix

The 1974 Spanish Grand Prix was a Formula One motor race held at Jarama on April 28, 1974.- Race summary :With James Hunt's Hesketh having won the International Trophy, the season was one of the most open ever, with four different drivers from different teams having won the first four races and a...



BEL

1974 Belgian Grand Prix

The 1974 Belgian Grand Prix was a Formula One motor race held at Nivelles on May 12, 1974.- Classification :- Notes :*Pole position: Clay Regazzoni - 1:09.82*Fastest lap: Denny Hulme - 1:11.31 on lap 37-Standings after the race:...



MON

1974 Monaco Grand Prix

The 1974 Monaco Grand Prix was a Formula One motor race held at Monaco on May 26, 1974.- Classification :- Notes :*Pole position: Niki Lauda - 1:26.3*Fastest lap: Ronnie Peterson - 1:27.9 on lap 57-Standings after the race:...



SWE

1974 Swedish Grand Prix

The 1974 Swedish Grand Prix was a Formula One race held at the Scandinavian Raceway on June 9, 1974.The race was totally dominated by the two Tyrrell-Cosworth 007s of Jody Scheckter and Patrick Depailler. Depailler took pole position, however Scheckter beat him by 0.380 sec in the race, to score...



NED

1974 Dutch Grand Prix

The 1974 Dutch Grand Prix was a Formula One motor race held at Circuit Zandvoort on June 23, 1974.- Classification :- Notes :*Pole position: Niki Lauda - 1:18.31*Fastest lap: Ronnie Peterson - 1:21.44 on lap 63...



FRA

1974 French Grand Prix

The 1974 French Grand Prix was a Formula One motor race held at Dijon on July 7, 1974.- Race summary :To honor the 80th birthday of the ACF, a parade of vintage cars was organized with a selection of great drivers from the 20s and 30s up to the present day. The race itself was largely uneventful...



GBR

1974 British Grand Prix

The 1974 British Grand Prix was a Formula One motor race held at Brands Hatch on 20 July 1974.- Classification :- Notes :*Pole position: Niki Lauda - 1:19.7*Fastest lap: Niki Lauda - 1:21.1 on lap 25...



GER

1974 German Grand Prix

The 1974 German Grand Prix was a Formula One motor race held at the Nürburgring on August 4, 1974. It was the 36th German Grand Prix and the 33rd to be held at the Nürburgring complex of circuits. The race was won by Swiss driver Clay Regazzoni driving a Ferrari 312B3...



AUT

1974 Austrian Grand Prix

The 1974 Austrian Grand Prix was a Formula One motor race held at Österreichring on August 18, 1974.- Classification :- Notes :*Pole position: Niki Lauda - 1:35.40*Fastest lap: Clay Regazzoni - 1:37.22 on lap 46-Standings after the race:...



ITA

1974 Italian Grand Prix

The 1974 Italian Grand Prix was a Formula One motor race held at Monza on September 8, 1974.- Classification :- Notes :*Pole position: Niki Lauda - 1:33.16*Fastest lap: Carlos Pace - 1:34.2 on lap 46...



CAN

1974 Canadian Grand Prix

The 1974 Canadian Grand Prix was a Formula One motor race held at Mosport Park on September 22, 1974.- Classification :- Notes :*Pole position: Emerson Fittipaldi - 1:13.188*Fastest lap: Niki Lauda - 1:13.659 on lap 60*First race: Penske...



USA

1974 United States Grand Prix

The 1974 United States Grand Prix was a Formula One race held on October 6, 1974, at the Watkins Glen Grand Prix Race Course in Watkins Glen, New York.__FORCETOC__-Summary:...



0
NC
Tim Schenken

Tim Schenken

Timothy "Tim" Theodore Schenken is a former racing driver from Sydney, Australia. He participated in 36 Formula One World Championship Grands Prix, debuting on 16 August 1970. He achieved 1 podium, and scored a total of 7 championship points...



14
10
Ret
DNQ
Ret
DNQ
10
Ret
External links