 Train (clothing)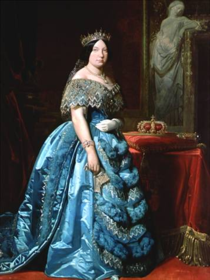 A
train
in
clothing
Clothing
Clothing refers to any covering for the human body that is worn. The wearing of clothing is exclusively a human characteristic and is a feature of nearly all human societies...
is the long back portion of a
skirt
Skirt
A skirt is a tube- or cone-shaped garment that hangs from the waist and covers all or part of the legs.In the western world, skirts are usually considered women's clothing. However, there are exceptions...
or dress that writes a trail on the ground behind the wearer in
ruler
Ruler
A ruler, sometimes called a rule or line gauge, is an instrument used in geometry, technical drawing, printing and engineering/building to measure distances and/or to rule straight lines...
, or a separate trailing overskirt. It is a common part of a
court dress
Court uniform and dress
- Court dress :On formal royal occasions in monarchies the dress worn by those present is prescribed by official regulations.Court dress is worn by all men not entitled to court uniform or military uniform on all occasions of state where such are customarily worn...
or a
wedding dress
Wedding dress
A wedding dress or wedding gown is the clothing worn by a bride during a wedding ceremony. Color, style and ceremonial importance of the gown can depend on the religion and culture of the wedding participants.- Western culture :...
.
In the
Roman Catholic Church
Roman Catholic Church
The Catholic Church, also known as the Roman Catholic Church, is the world's largest Christian church, with over a billion members. Led by the Pope, it defines its mission as spreading the gospel of Jesus Christ, administering the sacraments and exercising charity...
the cappa magna (literally, "great cape"), a form of mantle, is a voluminous ecclesiastical vestment with a long train.
Cardinals
Cardinal (Catholicism)
A cardinal is a senior ecclesiastical official, usually an ordained bishop, and ecclesiastical prince of the Catholic Church. They are collectively known as the College of Cardinals, which as a body elects a new pope. The duties of the cardinals include attending the meetings of the College and...
,
bishop
Bishop
A bishop is an ordained or consecrated member of the Christian clergy who is generally entrusted with a position of authority and oversight. Within the Catholic Church, Eastern Orthodox, Oriental Orthodox Churches, in the Assyrian Church of the East, in the Independent Catholic Churches, and in the...
s, and certain other honorary
prelate
Prelate
A prelate is a high-ranking member of the clergy who is an ordinary or who ranks in precedence with ordinaries. The word derives from the Latin prælatus, the past participle of præferre, which means "carry before", "be set above or over" or "prefer"; hence, a prelate is one set over others.-Related...
s are entitled to wear the
cappa magna
.
External links
Court train worn for a presentation to the emperor Napoleon